Making Miracles Happen
03 Aug 2013
Wilmington's new Miracle Field and playground gives kids with disabilities an opportunity to play baseball
By LAUREN FRYE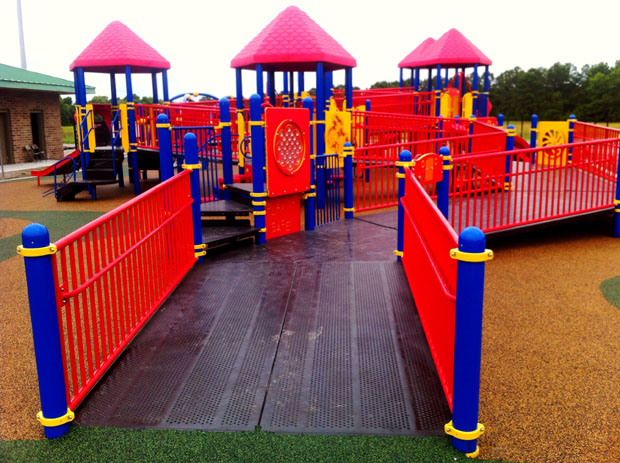 Bo Dean stands in the middle of the largest Miracle Field in the country, arms outstretched, and smiles.
"You see all this?" he asks. "The Wilmington community built this. It's truly a labor of love."
Dean is talking about the brand new, universal access baseball park and playground located in Olsen Park behind Laney High, which will soon be the home field of the Miracle League Wilmington. As Executive Director of Accessible Coastal Carolina Events Sports and Services (ACCESS), and Project Manager of Miracle League Wilmington, Dean has dedicated the past two years to seeing this labor of love through to fruition.
Miracle League is a national organization founded in 1997 in Alpharetta, GA, with the mission of making baseball accessible to all kids, regardless of physical or mental disabilities. Since then, more than 240 community groups across the nation have formed Miracle Leagues, serving some 200,000 kids and adults with disabilities.
Dr. Dan Johnson, Associate Professor of Therapeutic Recreation at UNCW and an advocate for universal access and inclusiveness, led the charge on bringing a Miracle League to Wilmington when he learned of the important work the national organization was doing. He formed ACCESS as a platform to launch Miracle League.
"Our region—New Hanover, Brunswick and Pender counties—has the largest percentage of people with disabilities in the state," says Dean. "It's extremely important that we provide a safe and accessible place for this population to exercise, play and socialize."
Dr. Johnson and the ACCESS team decided to take the Wilmington Miracle League one step further than the national model—in addition to kids, it will serve the area's wounded warriors and seniors with varying levels of abilities.
"We built the largest Miracle Field in the country so we could use it for many kinds of sports and activities, and make it accessible for all ages and abilities," says Dean. They anticipate adding adult wheelchair softball and will invite Special Olympics and Wounded Warrior athletes, hockey, soccer, kickball and bocce ball players to the 33,000 square foot field. "We have big plans for this place," Dean says with a grin.
A Community Partnership
Once the idea of bringing Miracle League to the Port City was in place, there was the important matter of funding. ACCESS set up the Wilmington Believes in Miracles campaign to begin raising the funds to build the field and adjacent playground.
The city of Wilmington stepped up to the plate and donated the tract of land in Olsen Park, kicking off a series of generous donations of time, money and in-kind goods and services that surpassed even Dean's and Johnson's expectations.
"We've raised close to $1.2 million so far," says Dean. "If you figure in all the in-kind donations we've received, the figure is closer to $2 million."
Some of the larger naming opportunities were snapped up quickly—the adjacent playground has been dubbed Kiwanis Miracle Playground, and the entire complex is named Brax Stadium. According to Dean, additional naming opportunities in Miracle Field are still available, and the Buy a Brick campaign allows donors to support Miracle Field by purchasing a brick in the Walk of Champions for just $100.
"The community really got behind this project," Dean continues. "They understood the health and wellness benefits that come with the Miracle Field, and how important they are." The fact is, statistics regarding cardiovascular health and obesity among kids with disabilities are scary.
Dean points out, "There's a health crisis, and we need to provide more options and opportunities for people of all abilities to be active. That's what this is all about."
Play Ball
At first glance, the Miracle Field looks a lot like a typical baseball diamond, but it has many built-in features that make it safer and more accessible. The rubber, non-latex surface is helpful and safe for people with mobility difficulties, and the bases are inlaid to allow wheelchairs and other devices freedom to navigate without obstruction.
Universal access is the most important aspect of Miracle Field, according to Dean. People of all abilities, using any type of mobility device, can get on and off the field and playground easily. This includes the road leading to the field, parking areas and bathroom complex.
The adjacent Kiwanis Miracle Playground is any kid's dream—large, bright and full of opportunities for fun and exploration. The ground is made of a poured rubber surface, which has a slight bounce and makes the play experience safer (and more fun—it's a little like walking on the moon). Unique equipment like a rolling table is geared toward kids with autism, while a large jungle gym complex is completely wheelchair accessible.
"I met a kid the other day who told me, 'I've seen playgrounds, but I've never played on one," says Dean. "I love the fact that this playground will be totally accessible to him."
The playground was built, both physically and financially, by the community. Volunteers from the Kiwanis club, baseball teams from local high schools and sponsors came out to shovel dirt, put equipment together and help keep the project moving along.
Miracle Playground was designed and donated by a group called Carolina Parks and Play, who specialize in inclusive equipment. "You'll not see another playground like this in the area," says Dean. "It's one-of-a-kind."

When the Miracle Field complex opens on June 20, 2013, the playground will be open every day and accessible to kids with all abilities. "The idea behind inclusive play is to have all children playing together and learning from one another."
Dean anticipates there will be 20 teams in the Miracle League, which is forming now. Games will be free and open to the public, and Dean hopes the Wilmington community will continue to show its support by coming out to a game and cheering the athletes on.

As for Dean, he couldn't be happier that his path lead him to the Miracle League. "Everything in life is about showing up," says Dean. "That's my philosophy. I showed up, and the Miracle League showed up for me."
To learn more about Miracle League Wilmington, visit their website at miracleleaguewilm.org.