Selling the Coast
03 Aug 2013
We sit down with Vance Young of Intracoastal Realty to talk shop about the current market conditions
By LAUREN FRYE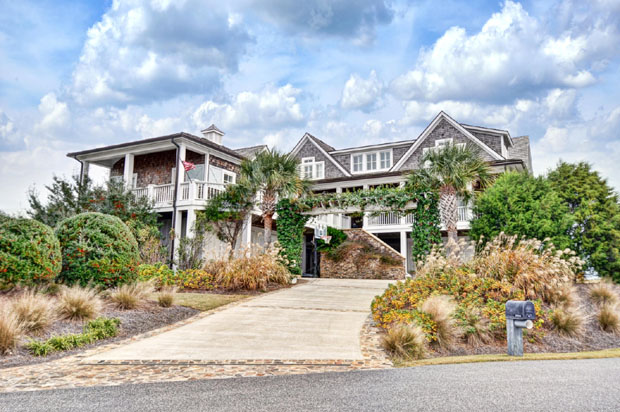 Real estate markets fluctuate—sometimes quickly and without warning—and Vance Young has seen the Wilmington market change significantly since he got his start here in 1988.
Back then, Landfall—still on the verge of becoming one of Wilmington's premier addresses—had little more than a few dirt roads and a dozen houses. Lumina Station was a trailer park, Mayfaire a cow pasture. It wasn't so long ago, but back them Wilmington wasn't in the spotlight the way it is today. Route 40 did not yet reach all the way east to the Port City, leaving the charms of the town and the beauty of the nearby beaches largely undiscovered.
In 1988, Vance Young found himself moving from his New York City finance job to a different career path—selling real estate in Landfall. As the first houses went up, Young was challenged with the tricky task of selling lots and homes based on the vision of a still young and growing community. With Young on board, Landfall grew, I-40 opened, and the Wilmington real estate market began to reach new heights.
"I was just lucky to be at the right place at the right time," said Young. "The Wilmington and Landfall family has been very good to me."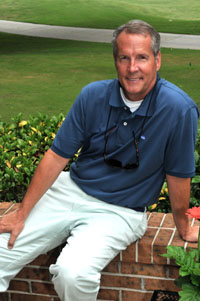 By 2000, the market was booming and Young had sold some 600 home and homesites in Landfall, by now a well-established, high-end development. He was eager to spread his wings and explore the market in other areas of the region, so he decided to join forces with an agency. The choice wasn't difficult; he called on Intracoastal Realty. Jim Wallace, owner of Intracoastal, and Young were acquaintances and had spoken on and off over the years.
"The more I got to know him, the more impressed I was," said Young. "I liked that Intracoastal was locally owned and operated. They had a great reputation in the upper-end market and it just felt like a natural fit." Additionally, Intracoastal has eight offices with 250 agents in the area, and is affiliated with Leading Real Estate Companies of the World and Luxury Portfolio International, partnerships which extend the Intracoastal network and increase its already powerful reputation.
Today, Young and his team of 10 agents handle properties across a variety of price points and in many neighborhoods. "I'm proud of my team members, and especially grateful to have Maureen Robison as my right hand," said Young.
The team handles properties from Topsail to Southport, but primarily represent homes that are situated on or near our greatest natural amenity: the water.

Tracking the Market
Though the national news began reporting a downward trend for real estate in 2006, Young saw signs of the decline as early as 2005, especially in the luxury home market. "After Hurricane Katrina (August, 2005), we saw people starting to slow down their spending, especially in the second home and high end markets."
The Wall Street crash in 2008 solidified the decline, and the market finally bottomed out in the fourth quarter of 2011. Since then, a steady, albeit sometimes shaky, recovery has been taking place. Last year saw confidence rising in both buyers and sellers, but sales figures still lagged. The first two quarters of this year have already shown great improvement.
"2013 has marked the return of the upper-end buyer," said Young. "Second home buyers still aren't fully engaged in the recovery, but primary home buyers certainly are. The Wilmington area is seeing a lot of activity right now."
The statistics back up Young's assertion. The Wilmington Regional Association of REALTORS reports that luxury home sales (homes priced $1 million or more) in 2013 are up 61% in transactions and 75% in dollar volume this year versus the same period last year. In other words, things are improving quickly.
Young attributes this growth to a variety of factors affecting both buyers and sellers. The distressed home market has shrunk (according to Young, more than 85% of foreclosures and short sales have been flushed out), which is great news for sellers because it means they don't have to compete with the severely reduced prices these properties often fetch. This translates to a more equal playing field and better returns for sellers.
Buyers are also becoming more active. Because home prices have yet to take a significant turn north, Young is seeing folks who have been on the sidelines for years—wanting to buy but waiting for the market to stabilize—finally making their move.
"I just sold a property on Wrightsville Beach to a couple who had been watching it for more than a year," explained Young. "The price was reduced $800,000 and they jumped on it. They got a great deal."
All this movement is keeping Young busy. "There are 25 homes under contract in Landfall right now, and eight of those are new construction," he said. "This is good news for Wilmington."

Ask the Expert
Taking advantage of the positive turn in the market requires a little bit of savvy, and Young has advice for buyers and sellers to help get the most out of the recovery.

For sellers, it's all about getting the price right. "Sellers have to price their homes to the market if they want to move them," said Young. "It's about more than just doing comps. Have an agent who's knowledgeable about the area work with you to price your home correctly."
The condition of the home is very important, too. Young says the penalty a potential buyer will impose on the price is much bigger than the cost of making the improvements. "If your house needs $10,000 in upgrades, the buyer will penalize you $25,000 for it," he explained. "I always advise sellers to make these improvements and make the home feel as move-in ready as possible. It will help move your home more quickly and save you money in the long run."
In the past year Young's client base was weighted more heavily to sellers, a sign that the market was still slow to recover. But this year, that's changed. "I've seen a definite shift, and I'm now working with more buyers," says Young.
Perhaps this is because potential buyers are in a great position to start shopping. "The bottom is clearly behind us, but prices still haven't gone up significantly yet," he said. "Prices drive everything. Once the price hits people start buying." 910-509-1965, vanceyoung.com.