Rx Restaurant & Bar
03 Aug 2013
Southern cuisine made with ingredients from local farmers and fishermen
By LIZ BIRO » Photos by JAMES STEFIUK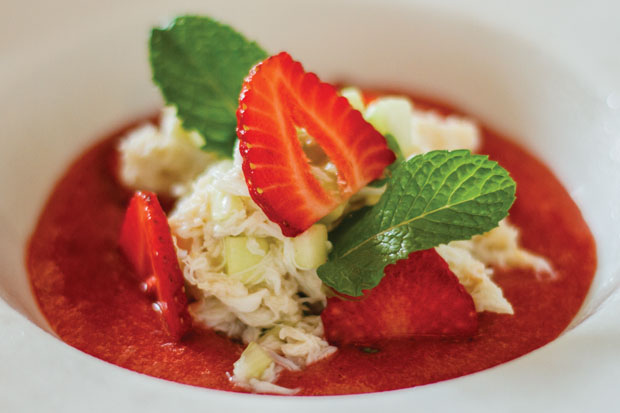 Two boyhood chums standing arms locked around each other's shoulders is an image so common it seems cliché. Yet, whenever such a pair appears, whether post-secret blood pact or dirt-smeared faces boasting football victory, onlookers hearts enlarge.
That brothers-forever kind of photograph is the one James Doss and Josh Novicki in winter 2012 took of themselves, and attached to a Facebook page announcing the men's Rx Restaurant and Bar.
Good buddies in business was the picture's immediate, feel-good impression. Today, the snapshot represents deep affection that touches every aspect of Rx.
Doss and Novicki describe Rx in matter-of-fact terms oft-heard in these farm-to-table restaurant times.
"Seasonally inspired, ingredient-driven, Southern cuisine," Doss said.
Get to know Rx and other words emerge: Loyal. Generous. Humble. Loving. Family.
The story begins in wee Goldsboro, an eastern North Carolina pulled pork hub and hometown to both Doss, 35, and Novicki, 37. The men grew up a few doors apart. They played together as preschoolers, hung out in high school and earned spending money, as many teens do, working restaurant kitchens.
Doss' grandmother got him his first cooking job at Atlantic Beach's private Dunes Club, where she also worked. Novicki began at his parents' country club in Goldsboro.
From those starting points, each man went his separate way.
Doss hit Wilmington restaurants, learning from respected chefs and ultimately working with Charleston, S.C., favorite culinary son Sean Brock at Brock's award-winning Husk. When Bon Appetit magazine came to Charleston in 2011 to celebrate Husk as America's best new restaurant, Doss prepared the chicken that appeared on that year's August issue cover.
Novicki attended East Carolina University's art school in Greenville, N.C., was side-tracked by music and ended up an in-demand disc jockey. He moved to Wilmington, toured as a band's master of samplers, turn tables, keyboards, drum machines, "all kinds of gadgets," Novicki said. He still sidelined at restaurants. When Novicki chased his music dreams to New York City, cooking was the steady job he found.
Doss loved the kitchen; Novicki preferred music but couldn't shake food service. Simultaneously, each man had a vision he did not know the other shared: a restaurant in Wilmington, N.C.
The men ran into each other over Christmas 2011 in Goldsboro. Novicki had just discovered an interesting Wilmington building that for years, served as a well-known drug store. It was in south downtown Wilmington's emerging, in some minds questionable, Castle Street neighborhood. The area had become an antiques district hosting a popular café, but still suffered a reputation for crime.
"I was trying to figure out how to make it (a restaurant) happen, and I was like, oh, there's James. We really had literally known each other—forever," Novicki said. "And many many beers and shots later…"
Their holiday celebration forged a quick business partnership. Within weeks, the men were at Novicki's grandparents' Deep Run farm, where they salvaged wood, including parts of an old tobacco barn. With the help of a master carpenter, friends and family, Doss and Novicki transformed the ex-drugstore from a dull, green and vanilla shell to many shades of warm brown on new tile.
The duo used the farm-salvaged wood to build a honey-colored bar, rustic window boxes and every table, each one with a custom inlay. They put a garden on the roof and crowded herbs in the window sills.
A large canvass stamped with images of canning jars dominated the front wall.
As they labored, Doss designed the menu. He combined home-cooking that the friends were reared on with contemporary twists they encountered during their travels. Doss tapped the region's fishers and farmers and Rx's rooftop garden for fresh, truly local ingredients, he knew would frequently change the menu based on what ingredients came available each week.
The results were selections that grew into Rx signatures: Buffalo-sauced crispy pig ears to dip in blue cheese dressing; shrimp and grits with Andouille sausage and seasonal vegetables; roasted pork belly resting on creamy cheddar grits under a poached egg.
Novicki focused on the dining room, adding an old-school jukebox. He put a DJ booth in the back corner where he and other vinyl-lovers could spin cool tunes during service, or for late-night lingerers.
"It was always, like, ok, we're not fine dining," Novicki said. "We wanted something where people could come in a tuxedo. People could come from Thalian Hall, or people could come from the beach."
"Everything's out the door when you come in here," Novicki says.
Rx turned into a neighborhood haunt and destination restaurant, helping renew its Castle Street surroundings. The dining room's pastoral feel, and the kitchen's comforting fare are hard to resist. Those varying dinner and Sunday brunch menus Doss visualized cinch walk-ins and reservations. The place can be as full on Tuesday night as it is on notoriously busy Friday and Saturday evenings.
Doss heads the kitchen but oftentimes works the front of the house while Novicki's DJ career puts him in New York, Los Angles, San Diego and other major cities. When Doss leaves the stove, he relies on some of Wilmington's best young chefs. Up-and-comers consider Rx a place to grow.
"Everyone learns off each other; everyone feeds off each other," Doss said.
Toques turn out perfect, little biscuits; house-cured charcuterie; chicken fried in a cast-iron kettle of bubbling lard; and homemade pimento cheese served with from-scratch crackers and bacon jam made by Doss' brother, Will, who also works the Rx kitchen.
The ambitious-but-unpretentious menu might list Bright Leaf brand hot dogs "all the way," next to cornbread-stuffed quail with toasted farro and bacon-braised greens. Winter may bring cauliflower soup with smoked red peppers; spring, roasted rack of lamb with ramps, turnips and whole-grain jus; summer, fried flounder sandwiches; and fall, sweet potato and chèvre ravioli with mizuna, smoked pork and brown butter jus.
Many regulars dine at the bar. North Carolina beers are on tap and house cocktails like Southern Dose (Trey Herring's Carolina Bourbon, muddled mint, lemon and sweet tea) draw inspiration from below the Mason-Dixon line.
Most weeks, someone from Goldsboro visits, and Doss proudly shares Rx's smoked baby back ribs and pulled pork barbecue sandwich served with coleslaw, just like back home.
Rx Restaurant & Bar
421 Castle St., Wilmington
910-399-3080
www.rxwilmington.com