Building a Dream
03 Mar 2018
Schumacher Homes demonstrates no compromise is necessary when building your custom home
By CHRISTINE HENNESSEY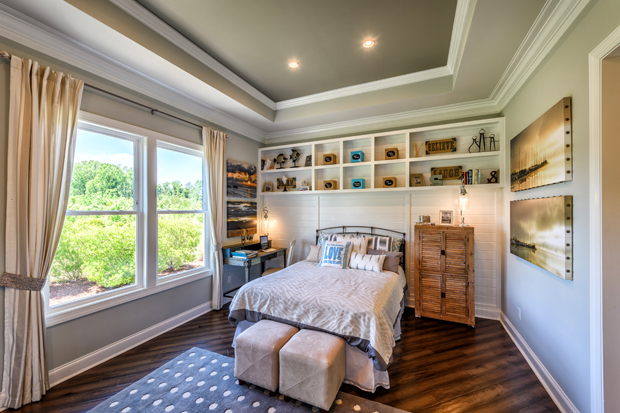 It all started back in the 90s, with a little blue house that Paul Schumacher was renovating. When he finished the job, he handed the keys to the new homeowners and saw a look of pure delight cross their faces. In that moment, he found his passion. Soon after, he founded Schumacher Homes.
Today, Schumacher Homes is the largest and most decorated custom homebuilder in the country, an American empire devoted to high quality, affordable, and unique houses. The result of this single-minded mission is impressive, including more than 17,500 homes in fourteen states, stretching from Texas to Pennsylvania.
Buying an existing home, no matter what neighborhood it's in or how well it has been kept, requires some amount of compromise. Schumacher Homes' philosophy is centered on the belief that with the right help, anyone can afford their dream home—no compromises necessary.
Close to Home
Schumacher Homes has been building in the eastern North Carolina area since 2007, and they aren't tied to any particular city or neighborhood. "We build a custom home on your lot, and my area stretches from the bottom of Horry County up to New Bern and over to Lumberton," Mike Gavrillen, general manager of Schumacher Homes' Wilmington division, explains. "We're a scattered site builder, but we're unique in that we have 80 or so plans that serve as starting points. You can keep them as is or you can customize them as much or as little as you like."
Schumacher Homes' local headquarters resides in Winnabow. Located right off the highway, it offers plenty of space for both a large design center and three fully furnished onsite model homes. "Business has tripled since we moved out here," Gavrillen says. This isn't surprising—it's hard to drive past the model homes without being drawn to their beauty and craftsmanship.
The interiors of the model homes are just as stunning and are a key part of the Schumacher experience. Here, families can see the latest architecture trends in action, feel the high-end quality of the homes, and touch the custom features that make them so unique. These homes aren't an end-point, however—they're simply the first step in designing a truly unique home, a journey whose process is just as pleasant as the end product.
A Custom Experience
"When a family comes to the design center, they're immediately greeted at the front door," Gavrillen says. Once the customer has their bearings, they're set loose, free to explore on their own and ask questions as needed. The studio is interactive, filled with kitchen vignettes as well as samples of all the materials and choices available, including everything from exteriors to tile.
Vignettes, however, can only tell so much of the Schumacher story. To get the full experience, only a finished and furnished home will do. That's why customers are encouraged to check out the models.
"Families are free to walk through them on their own—it's really a self-guided tour," Gavrillen says. "They're breathtaking pieces of property, warm and inviting. We encourage visitors to sit down and relax, really make themselves at home."
Of the homes, two in particular offer a great overview of how Schumacher Homes can help any family find the right fit. Whether you're designing for a growing family or a comfortable retirement, they're a builder that can plan for anything.
The Heritage
As customers approach the model homes they are greeted by the Heritage, a one-level home that clocks in 2,163 square feet. This particular plan was designed in honor of Paul Schumacher's parents, to celebrate their 60th wedding anniversary, and as such it exudes peace and comfort.
The floor plan is generous and open, full of natural light from the large picture windows in the great room. The owners' retreat is spacious, with a huge tray ceiling. The real showstopper, however, is the master closet. "It's as big as a bedroom," Gavrillen says.
Perfect for large parties and family gatherings, but cozy enough for a smaller family, the Heritage is a home that can do it all. An optional covered porch offers another oasis for relaxing and enjoying one another.
Perhaps the most unique part of this home is an attached mother-in-law suite, which is connected to the breakfast area by a covered breezeway. This self-contained apartment adds an additional 640 square feet, and includes its own kitchenette, bathroom, laundry room, and utilities. This space may be smaller, but the same level of care and attention went into its construction. The living area is separated from the kitchen with a wall covered in rectangular coral stone, a nod to its coastal location.
"We actually won an award for multigenerational design at the builders show," Gavrillen mentions. "We were really excited about that, because multigenerational living is something we like to focus on. It's great not only for aging parents, but also college kids. In this design, the apartment is basically a tiny house but, because it's attached, the whole thing is considered one dwelling."
The Monroe
The larger model home is known as the Monroe, and features a more traditional layout that spans 2,817 square feet. Here, a centrally located morning room and generous kitchen leads to the great room. While it's not as open as the Heritage, it is a two-story design. The added privacy this provides makes it perfect for a large or growing family. This particular version includes a junior suite, which adds a second master bedroom on the second floor. Ten-foot ceilings and tall windows invite natural light into the home.
On the left side of the house, visitors will find the large owners' retreat. Flanked by enormous windows that face the backyard, it offers a great view for relaxing and unwinding.
The showstopper in this model is the vaulted loft on the second floor. Ideal for use as a game room or for guests, it also makes a great children's room. "You can hear them, even if you can't see them," Gavrillen says. "This home is great for a growing family, where you need the extra bedrooms. It's not a retirement home by any means."
While this home is more traditional, certain accents, such as the metal roof and wood beams, give it a relaxed, coastal look. It's the perfect choice for those who live near the beach, or simply dream of it.
The Next Step
Once customers have toured the homes to their hearts' content, they return to the design center and sit down with a consultant. "We do a price quote, but ours is very unique," Gavrillen says. "It's a full report, including what they picture with a description and a price. They can leave knowing exactly what their house will cost to build. It's an interesting system and unlike any I've been a part of."
When it comes to the types of families you're most likely to find in a Schumacher Home, anything goes. "Our plans range from $100K to $700K," Gavrillen says. "We truly can build a custom home for just about anybody that walks through that door."
In fact, some of Gavrillen's favorite customers are the first time homebuyers who've never built a custom home—who never thought the option was a possibility.
"At the end of the day, they're ecstatic to have exactly what they want, something no one else has," he says. "As a builder, there's something powerful to be said for that."
Resource
Schumacher Homes, 877-267-3482, schumacherhomes.com