CAM's Vision of Sharing Art
03 Mar 2022
Exhibits untap worlds of art, history and nature in interactive ways

By Vera Wilson » Photos by G. Frank Hart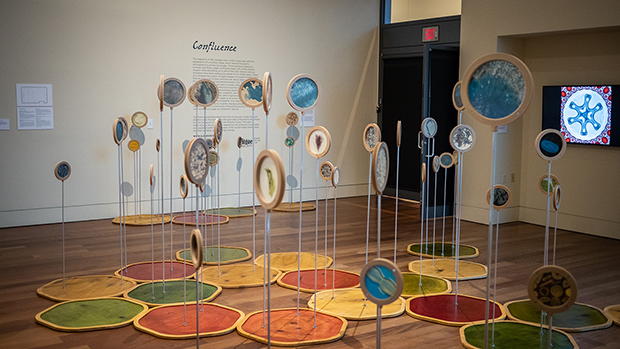 Many museums have a specific raison d'etre, a focus on a particular person, place, or thing. But Wilmington's Cameron Art Museum (CAM) has refused to set boundaries, instead preferring to transport residents and tourists to the worlds of art, history, and nature by way of an impressive variety of exhibits and events. And it's proven, time and time again, it can do so masterfully.

Anne Brennan, CAM's Executive Director, heads the team of employees and volunteers that keep the cultural center humming like a well-oiled machine. Brennan has risen through the ranks, serving first as a volunteer at the museum in the mid-80s, then later as curator and registrar of collections before being named Executive Director in 2011. But Brennan could be found in the museum long before then. As a child, she visited and took classes at St. John's Museum of Art, which would later be named Cameron Art Museum when it moved to its current location in 2001.

"My first understanding of what a painting was, or a sculpture, was at this museum," she says.

The museum's newest staff member, cultural curator Daniel Jones, enjoys the opportunities to take on different roles. Since his hiring in 2021, Jones has provided behind-the-scenes support for the education department, helped with the docent program, and is currently conducting research on one of the museum's permanent exhibits.

"Working here allows me to use all my skills and explore every avenue, which I love," Jones says.

To gather inspiration for the museums' exhibitions, the staff need not look further than their own backyard. The nine-plus acre site on which it's erected has rich historical and environmental significance as a battle site and nature reserve.

"Since the Cameron family gave this site to the museum, we realize that observation of the natural world would be one of our objectives," Executive Director Anne Brennan explains. "And also, with the award of this land, deputizing us as stewards of an extraordinarily important Civil War battle that led to the fall of Wilmington, history would be another primary leg."

Their current visiting exhibitions, Confluence and Stephen Hayes: Voices of Future's Past, echo this philosophy—the former through an interactive high-tech science experience and the latter through more traditional yet provocative works of art.

Science and art come together with Confluence, a site-specific multi-sensory exhibit featuring algae, the often-misunderstood life form. Interpreted through the mediums of 3D printed sculptures, sound and video productions, and digital microscopes, visitors can observe algae growing in the museum's own onsite pond or view what algae looks like from as far away as space. Brennan calls the algae formations exquisite, as if she was describing a classical work of art, but gives an appreciative nod to the unique way that the guest curator, Gene Felice, presents his work.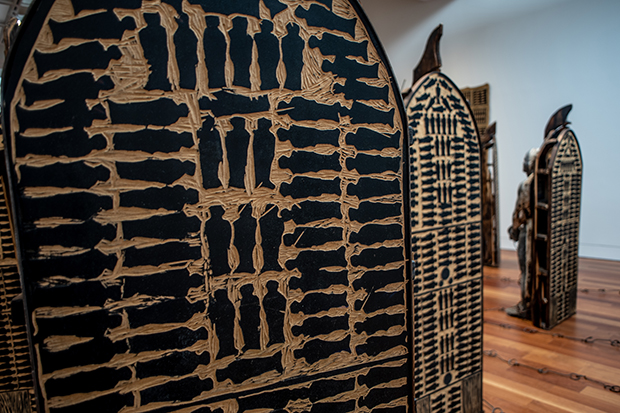 "Contemporary artists are using tech in these highly creative ways now to bring us into these worlds we would not know otherwise," Brennan says.

Interactive exhibits such as Confluence are the norm at CAM and illustrate how museums have been reinventing themselves for decades. For example, Brennan spoke enthusiastically about the tremendously popular 2018-19 exhibit called teamLab, geared toward younger art enthusiasts.

"Participants could color a fish, scan the fish and then it began to swim across the wall," Brennan says. "There was a digital tableau undersea for the fish to inhabit, and you could chase your fish around and tap it, and it would scoot around and tuck under coral. Think—what would ordinarily be the height of transgression—running in an art museum, screaming and laughing—those transgressions are so liberating! We were quite pleased to bring that to the community."

Also presently at CAM is the Stephen Hayes: Voices of Future's Past exhibit, which explores issues of race and socioeconomics and what it means to grow up black in America. Powerful sculptures evoke what it was like to be a slave in America, while young Black men from Wilmington share their present-day stories through audio recordings.

A permanent outdoor sculpture entitled Boundless, also created by Hayes, was unveiled at the exhibit's launch this past November. It depicts soldiers of the United States Colored Troops (USCT) who served voluntarily in the Union Army and fought in the Battle of Forks Road, waged on the museum site in 1865.

Honoring a pledge to the original benefactor, the late Bruce Cameron, the museum staff began to explore ways to pay homage to the battle. With the help of Civil War reenactors, they learned the fight was for control of Wilmington, and the Union Army's frontline combatants were the USCT.

"It's a story of tenacity and a victory brought about by USCT," Brennan explains. "The heroism and bravery of these men who were fighting for their freedom and their family's freedom—we've found through the years that this is our story, and it's so incredibly important."

Brennan hopes the sculpture, along with everything else the museum offers, promotes learning and a thirst for knowledge.

"Our primary mission is education. Art's primary job, above all, is hopefully to create conversation and create curiosity," she says.

So dedicated are they to this mission that the museum offers countless adult and youth art classes, including some virtual options. You can spend a few hours in class and walk away with a woven hand-built ceramic basket for your home, or take a more comprehensive class like Continuing Flowing Watercolors or Potters' Wheel for Teens.

The museum believes it can and should play a part in the region's public schools beyond the classes and field trips they offer. CAM provides professional development workshops and educator nights, designed to show teachers how to elevate learning through the arts.

"For example, with the unveiling of the new sculpture Boundless," Brennan shares, "our staff has a wonderfully in-depth lesson plan booklet that's accessible to all teachers."

Not surprisingly, COVID has proved to be a disrupter for the museum, forcing a months-long shutdown and layoffs while also depleting their roster of volunteers. Fortunately, the museum staff was able to pivot quickly.

"Under the brilliant leadership of our deputy director, Heather Wilson, two days after closing we had rolled out #ConnectwithCAM, which was virtual programming," Brennan says. "Our curator, Bob Unchester, rolled out virtual exhibitions. We did tours from inside our art vault and virtual conversations with artists, and we found strengths that we didn't know were possible with virtual programming because we hadn't investigated them. And we've continued with what was advantageous."

Events are a tried-and-true tradition at CAM, but they are constantly evolving. Readings and panel discussions with artists and experts on topics that the museum is currently highlighting are well-received, such as cultural curator Daniel Jones' recent interview with Stephen Hayes.

A quick trip to their website lists over twenty upcoming events and programs to choose from, and that's only through April. Beloved programs endure like Jazz@CAM, in its 11th year, and the museum's Earth Day celebration, FlowILM. Participatory programs such as yoga and a St. Patrick's Day scavenger hunt are part of the offerings as well.

This spring, CAM will hold two major fundraisers that raise money to support the museum's operating expenses. Local artists will be cleaning out their closets and slashing prices for the Humble Jumble Art Sale to be held April 30. Coming May 6 is the return of Design NC, which celebrates and acknowledges the impact design has in our lives. There will be presentations by renowned NC designers and lunch for all attendees.

For more information on Cameron Art Museum and to subscribe to their newsletter, go to cameronartmuseum.org.