Caprice Bistro
22 Jul 2015
Caprice Bistro
10 Market Street, Wilmington
910-815-0810
capricebistro.com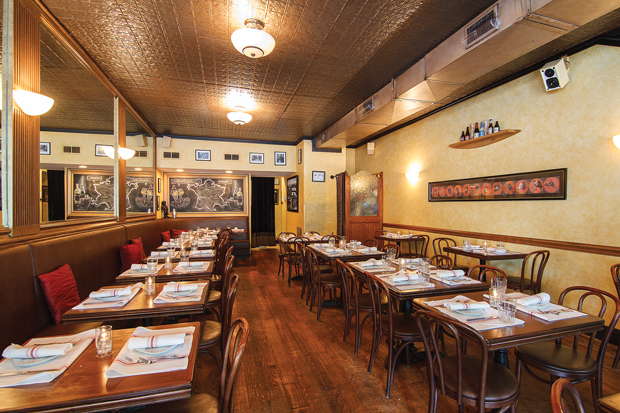 By BRIDGET CALLAHAN » Photos by JAMES STEFIUK
One of the more endearing qualities about Wilmington is the seemingly random assortment of brilliant people who end up here. There are Pulitzer prize winning authors, engineers of egg cartons, international saxophone repairmen, and wind-surfing choreographers. I once met a man on the beach who made his fortune selling one very specific part of an electric guitar. Consequently, one never knows who you're going to meet through any doorway, or what you'll find. For instance, on Market Street, you can buy some seashells at a touristy shop, have a piece of fudge, pick up your guitar strings, and then walk through the doorway of Caprice Bistro to find yourself suddenly in a genuine French bistro, run by the talented, old-school French chef of legend, and his impossibly charming wife. This gem of a restaurant and its talented owners may be one of the last of its kind in the country, and we're lucky enough to have it here in downtown Wilmington.
Chef Thierry Moity is originally from the town of Nantua in Central France, and had been apprenticing and cooking in kitchens since he was thirteen. Patricia his wife, is from French Flanders near Belgium, and had a background working in hospitality and resorts. They met in Cannes in 1975, and two years later, young and adventurous, traveled to America with the intention of moving to California and then Australia. But New York City caught them, and in 1987 they opened up their first restaurant there, the Cafe de Bruxelles. Eighteen years later, like so many other New Yorkers, they finally felt a need to slow down, and North Carolina called to them. First they moved to Charlotte, opening up Patou Bistro in 1995. Then in 2001, to the chagrin of their devoted Charlotte following, they came to Wilmington and opened Caprice Bistro. The couple will celebrate their 40th marriage anniversary this year, and it's a storybook partnership. He runs the back of the house, and she runs the front.
"This one, he doesn't like to come out, he likes to be in the kitchen," Patricia Moity says, smiling at her husband.
"It's better," he responds, "we complete each other. We're not here to compete, we're here to complete."
"Many chefs I see, the young chefs," Thierry adds, "they don't spend that much time in their kitchen. They like to spend more time in their dining room, and that's wrong, that concept is wrong. A cook should be in the kitchen, a waiter should be in the dining room. We see things here in a very simple way."
That kind of straightforward simplicity and focus defines the atmosphere at Caprice. It's not the sort of place you need to get dressed up to feel comfortable in; both business suits and sandals are welcome here. The tables are authentic bistro style, meaning you're sitting right next to your neighbors, and there is no pretense of privacy. But don't mistake the small quarters for a lack of intimacy. From the moment you walk in, there is a sense that the staff just wants everyone to have a good time, and eat some very good food. Moity is passionate about keeping his menu accessible, and diners will find that reflected in the extremely reasonable prices, with the highest priced entree on the menu coming in at only twenty four dollars. Hardly the stereotype of a classic French restaurant.
"I like to keep this kind of food easy to reach for everyone. I'm French. We think like socialists. What's the sense of doing food that is only reachable for only a few? We've got to try and reach more. It's just the way I think, just the way I think we have to be," he says.
The menu includes many familiar classics - duck confit, steak frites, coq au vin, and escargot are all dishes the American diner has probably heard of before. But there are other wonderful, less familiar dishes to try. The house specialty is waterzooi, a rich seafood dish served in a creamy, savory broth. A new addition (which doesn't happen very often, since the regulars are strict in their expectations) is the lamb tagine, tender shank meat served with a citrusy, spicy blend of cinnamon spiced lemons, apricots, almonds and ratatouille. The appetizers not to miss are the braised pork cheeks, a treat to see on any menu, or the tian provencal, a beautiful, classic French dish of bright summer vegetables.
All the desserts are made in house, and by Moity himself; there is no pastry chef. He says it relaxes him to spend the morning making pastry and pate. The dessert menu is extensive, with ten options to choose from, ranging from traditional macarons to creamy, sweet profiterolles, and of course the always-in-fashion creme brulee with a crackling sugar crust.
The full menu is also available in the upstairs lounge, the "New York Style" section, which is filled with local art and great lighting. The lounge is also the perfect place to enjoy a martini, gimlet, or champagne cocktail. Dark and Stormy's come served in a lovely, chilled copper cup, or you can order a cloudy Pernod with sweet mint and soda. The wine list is not huge, but very well-priced, with that same level of accessibility in mind. On any given night, after the dining room downstairs closes, there are still several couples whispering to each other on couches and sipping bourbons late into the night. Patricia has a wonderful eye for keeping the space comfortable, but classy, and both the lounge and the dining room are her doing, as well as the stellar staff. Many successful first dates have her to thank.