Wisconsin On My Mind
22 Jul 2015
Put this destination on your radar for a bit of exotica that's not too far from home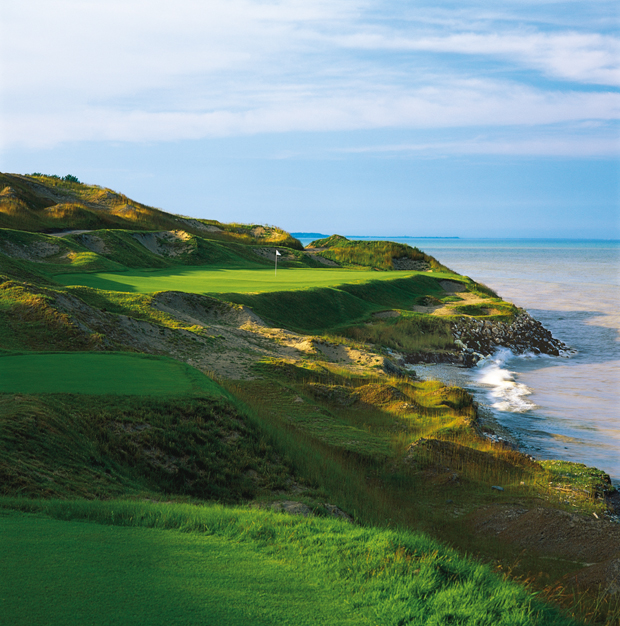 By KATIE MCELVEEN
From the look on my driver's face as I walk toward him in the Milwaukee, Wisconsin airport, I can tell he's not entirely pleased with me. I suspect it's not the size of my suitcase – small – that's caught his eye, but rather the size of the frozen custard – large – that I'm carrying. I hadn't planned on starting my visit with dessert, but Northpoint's frozen custard is famous in the Milwaukee area and I had to give it a try. Lucky for him I passed up bratwurst at Usinger's, another local favorite.
Turns out the custard wasn't the problem. During the hour-long trip from the airport to the American Club Resort in Kohler, Wisconsin, he explained that he was just hungry. "I didn't have time for lunch," he tells me. "See if you can try Culver's frozen custard while you're here. They've got a caramel flavor of the day that's amazing."
I never did make it to Culver's, but that's ok. With all the hiking, spa time, exploring and eating I did, I couldn't have squeezed one more activity into my time at Kohler's American Club resort. And there was plenty I didn't get a chance to do, including golf, horseback riding, fishing, canoeing, shooting clays, hunting and shopping.
Kohler, Wisconsin may seem like an offbeat choice for a summer or early fall vacation, but that's kind of the point. Steeped in Midwestern sensibility, it's so far removed from North and South Carolina that it seems oddly exotic, complete with its own language and foods. Water fountains, for instance, are called bubblers. Instead of grilling out, food is fried out, as in "We're going to fry out steaks tonight." Instead of snacking on boiled peanuts before dinner, cheese curds, a yummy byproduct of cheese making, are gobbled up by the basketful. But there's nothing exotic about the weather, which tops out in the low 80s during the heat of the summer, dropping into the 60s at night. It's easy to reach as well: Kohler is less than three hours driving from Chicago or an hour from Milwaukee, which has regular air service from Atlanta.
Kohler – yes, that Kohler, the bathroom design company – didn't get its start as a resort town. The company built a foundry in 1899 in what was then called Riverside. In 1917, then-president Walter J. Kohler hired the Olmsted brothers (whose other projects include the US Capitol Grounds, Piedmont Park in Atlanta and Stanford University) to design Kohler Village as a planned community around the foundry and company headquarters. The Tudor-styled American Club was built to house the company's immigrant workers until they became citizens and could move into one of the small homes within the village. In 1978, the American Club underwent a full restoration, opening three years later as a luxury hotel. Today, there are two other properties, the adjoining 55-room Carriage House, another hotel and a private cabin. In 2000, in a flash of logical brilliance, the company opened the Kohler Waters Spa as part of the resort.
I stayed in the Carriage House, where freshly-renovated rooms are named for a different type or style of carriage and each spa-like bathroom features a varied array of Kohler products that might include gorgeous sinks, multi-head showers, bathtubs that fill from the ceiling, steam showers and soaking tubs tricked out with underwater speakers.
Those bathrooms are just a preview of what awaits in the 24,000 square-foot spa, where robe-clad clients can hang out between treatments in front of a massive subterranean waterfall or a top-floor solarium. FYI, the beauty salon is called the "finishing spa." Within the spa's 21 treatment rooms, an incredible variety of therapies take place, from not-so-basic massages and facials (the spa uses both Kerstin Florian and Skin Authority products) to innovative services that include a bath that simulates a rushing river, a specially-designed Vichy shower that runs on its own, allowing for simultaneous water and hand therapy and a pine-infused massage and exfoliation treatment designed for men.
The menu is constantly evolving, too, as therapists transform ideas for soothing, softening and balancing clients into zen-inducing reality. One of the newest treatments is the Bamboo Bliss Massage, which is performed entirely with heated stalks of bamboo in varying lengths and widths. The massage began with a light but insistent pummeling. Then, for the next hour or so, the therapist rolled the warm stalks up and down my legs, arms and back, using smaller stalks to focus on problem areas when necessary. Rice oil softened my skin and allowed the bamboo tubes to glide over my tight muscles. The result: a relaxing Swedish-like massage, but with the benefits of deep issue work. As much as I adored the treatment, my therapist liked it even more, since she could apply more pressure with less effort.
In addition to the Green Bay Packers, cheese is probably one of Wisconsin's more notable products: more than 600 varieties are produced within the state. At the American Club's Immigrant Restaurant, a six-page menu devoted exclusively to cheese introduced me to some of the state's lesser-known varieties, including a lemony sheep's milk cheese called Driftless and Twelve-year old Cheddar that was studded with salty calcium crystals. The restaurant also offers cheese flights—six cheddars, for example, or a trio of blues—and wine pairings.
To continue my culinary tour of Wisconsin, I popped into the Horse and Plow, where Wisconsin microbrews are served with warm, soft homemade pretzel nuggets that arrived with a dish of melty beer cheese for dipping, fried cheese curds, cheddar-cheese soup and grilled bratwurst made in nearby Sheboygan.
Lots of resorts offer hiking and other outdoor activities, but few have anything like Kohler's River Wildlife, a 500-acre plot of forest, meadow, riverfront and valley, complete with a hunting reserve (pheasant and partridge hunting begins in September), clays and an archery range. During the off season, hikers can explore the area; during hunting times, they can wander the 30-odd miles of trails that wind through the adjacent 300-acre wildlife sanctuary. Operating as a club, River Wildlife has a staff of professionals that will do everything from transporting guests to a canoe put-in so they can float back to the lodge, to taking them on guided hunting and fishing expeditions. The lodge itself is a 1970s log cabin where lunch and dinner are served in front of a rustic stone fireplace. My smoked pheasant was tender, with a subtle sweet smokiness; a ham and cheese sandwich grilled on cinnamon bread and served with apple jam was a sweet and salty delight.
Golf is perhaps the American Club's best-known outdoor activity. The resort is home to four courses, one of which, the Pete Dye-designed Straights at Whistling Straights, has been the site of three PGA Championship Tournaments. In 2020 it will host the Ryder Cup. The course got its start as a dream for Kohler CEO Herb Kohler, who envisioned an Irish links course on the flat two-mile stretch of land meandering along Lake Michigan. More than 13,000 truckloads of sand later, the Straights were a reality and today, Scottish blackface sheep (and a few local deer) graze on the rustic dunes and emerald-green fescue fairways. The clubhouse, which resembles an Irish manor house, presides over the scene.
Hiking. Spa time. Cheese. In my short visit to the American Club, I only scratched the surface of what the resort has to offer. If you go, take my advice: spend at least three nights and don't forget your sweater. To a southerner, 60 degrees can feel almost cold this time of year. americanclubresort.com