Celebrate Spring
15 Mar 2015
This Italy-inspired menu is perfect for every occasion
By KATHERINE PETTIT Photos by CARTER WADE
Planning a family get-together as Winter melts into Spring? We put together some of our favorite Italian recipes and the results are sure to please your guests (including that Italian grandmother who longs for flavors from her homeland).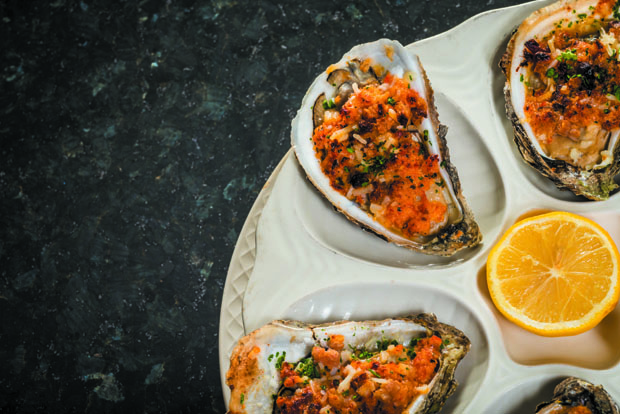 Oysters Divino
Makes 6-8 servings
Ingredients
36 oysters in the shell
6 strips of bacon, small dice
2 Tbs olive oil
¼ cup fennel bulb, small dice
½ cup onion small dice
½ cup red bell pepper small dice
1 banana pepper, small dice
2 garlic cloves, chopped
¼ tsp Spanish Paprika
¼ Tbs dry oregano
¼ cup white wine
1 Tbs Pecorino cheese
½ Tbs Asiago cheese
¼ cup Panko crumbs
Directions
Preheat the oven to 350 degrees.
Clean each oyster, rinse and separate oyster from its shell, keeping the oyster in the half shell. Place each oyster in a large roasting pan in a single layer.
In a medium sauté pan cook the bacon till crispy, then add the five next ingredients, stir and sauté for a minute, then add paprika and oregano and cook for five minutes until ingredients are tender. Pour the wine into the sauté pan, and cook until the liquid has evaporated. Transfer the mixture to a mixing bowl and stir in pecorino, Asiago, and Panko.
Top each oyster with the mixture and bake for 10 minutes.
Saffron Mussels

Makes 4-7 servings
Ingredients
2 oz bacon, diced
3 shallots, finely chopped
1 Tbs garlic, minced ¼ tsp smoked Spanish paprika
1 cup white wine
1 cup heavy cream
1 cup minced fresh basil
3-4 lbs mussels
3 fresh tomatoes, diced
Directions
Over medium-low heat, sauté bacon until crispy. Then, add butter, shallots and garlic. Sauté for 3-4 more minutes; add smoked Spanish paprika and mussels, then sauté for three minutes. Add white wine, cream, basil and tomatoes. Cover and bring back to a simmer for 7-8 minutes. Salt and pepper to taste. Discard any unopened mussels.
Sweet Basil Vinaigrette (for Salad)
Makes about 2 cups
Ingredients
1 cup packed fresh basil leaves
½ cup white balsamic vinegar
1 egg yolk 1 tsp Dijon mustard
2 tsp honey
½ tsp black pepper
¼ tsp salt
1 ½ cups olive oil
Directions
In a blender combine the first six ingredients on medium speed, then slowly drizzle in the olive oil to emulsify.
Serve over mixed baby greens with strawberries, pine nuts, shaved fennel, and a bit of goat cheese.
Stuffed Banana Peppers with Italian Sausage
Serves 4
Ingredients
2 Tbs olive oil
10 banana peppers
2 pounds bulk Italian sausage
1 cup cream cheese (softened)
1 cup shredded Parmesan cheese
1 cup shredded mozzarella cheese
Directions
Preheat the oven to 375 degrees. In a large saucepot bring water to a boil.
Blanch banana peppers for two minutes, then transfer them to a bowl with ice water to stop cooking process. Pat each pepper dry, cut each one lengthwise, and set aside.
In a large skillet over medium-high heat sauté the Italian sausage until cooked (about 10 minutes). Remove and allow cooked meat to cool in a separate bowl.
Combine the Parmesan and cream cheese with the cooled meat in a food processor. Process until just combined with a creamy texture. Stuff each pepper with about 3-4 ounces of the filling. Top with the shredded mozzarella. Bake for 15 minutes.
Bolognese
Makes 8-10 servings
Ingredients
2 Tbs olive oil
3 pounds ground lean sirloin beef
3 pounds Italian sausage
2 Tbs dried Italian herbs
½ Tbs garlic
½ Tbs fresh-ground nutmeg
½ Tbs cinnamon
1 small onion
2 celery stalk
4 cup of dry red wine
4 Tbs tomato paste
2 32oz containers of beef stock
½ cup heavy cream
¼ cup grated Parmesan cheese
Directions
Dice celery, onion and garlic to ¼ inch. Over medium high heat in a large saucepot, sauté sirloin until brown. Remove the browned meat from the pot and place in a bowl. Over medium-high heat in the same saucepot combine celery, onion and garlic and cook for five minutes.
Return the meat to the pot, stir and continue to cook for an additional five minutes. Stir in cinnamon, nutmeg, Italian spice, garlic, tomato paste, wine, and beef stock. Cook until all of the liquid evaporates. Add heavy cream and Parmesan at the end.
Molten Chocolate Cake
Serves 8
Ingredients
4 whole eggs
4 egg yolks
¾ cup sugar
½ cup all-purpose flour
¾ cup unsalted butter
6 ozs semi-sweet chocolate morsels
Directions
Preheat oven to 400 degrees. Whisk together eggs, yolks and sugar until well combined. Add flour and mix until incorporated.
Melt chocolate and butter in the top of a double boiler. Add chocolate to flour mixture, whisk until combined. Pour batter into greased muffin pan, filling each cup ¾ full. Let batter set in the refrigerator for about 30 minutes, or until chilled.
Bake for 14 minutes, or until center is just set, but still wobbly. Remove from oven and let cool 10 minutes. Be delicate, as cakes are very fragile.