A Walk Through the Low Country
15 Mar 2015
Coastal waters, expansive skies, and languid landscapes are the inspirations for this Landfall home
By DAVID HOWELL Photos by G. FRANK HART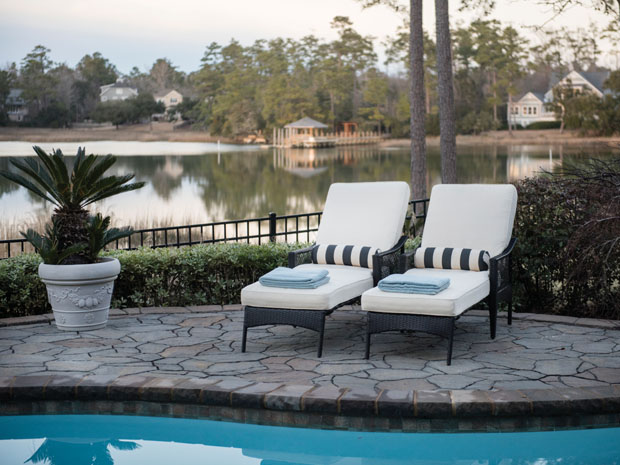 It's not easy to define the phrase "low country." You'd be hard-pressed to find anyone from the southern coastal plains, for example, who would tell you that, by definition, "low country" is a term referring to the part or region of a southern coastal state that progresses inland to a fall line—a specific geographical location where the land literally drops in sea level from one height to a lower one.
That definition may be scientific. However, it is void of all the life, color, and environmental and cultural goodness that makes the low country what it is: a lifestyle defined by coastal waters, expansive skies, and one's willingness to slow down long enough to enjoy the all little things such a landscape can provide.
All those little things are what inspire Nicole Hinson at Low County Interiors, and you can see them all in her very own home located on the shores of Howe Creek deep inside the community of Landfall. Nicole, along with and her husband, Scott, who also owns Low Country Landscaping, have designed and renovated their home inside and out to be the very personification of low country. The home is filled with their personal and professional tastes, and from the minute details to the home's many large windows, there is purpose, definition, and a true passion for celebrating the culture and our local surroundings.
According to Nicole, it all starts at the entrance. Upon entering the house through two large solid mahogany and glass-paneled doors, you might immediately take note of a string of oyster shells painted gold. This found art and subtle design detail is reflective of the environment, and, "it speaks to our whole design aesthetic, and with that comes bringing what is outside to the inside. The unique nature that we live in inspires everything we do," she says. This is represented by the many Art LaMay paintings of marsh birds in the home, as well. Such aesthetics speak to a respect for the natural world that also equals an appreciation for how an artist's touch might enhance that world. The shells were created by a local artist and according to Nicole, "they also have the right mix of guild and glamour," which she notes is also very southern, very low country.
Mentioned before, another much larger design element is the front door. "The front door is the crown jewel of the house. We wanted to make a statement in that we feel that the entry is going to be a sneak peek of what your whole house is going to be." The solid mahogany door was custom built to the space by Todd Kampschroeder at Artworks Builders, LLC, who was also involved in other portions of the home's renovation.
Once through the entrance, the home opens up into the living area, also filled with pieces of art and furnishings that represent the local culture of our coast. Before you, an entire wall of large windows overlooks the tidal shores of Howe Creek, just one of Wilmington's many waterways that offer the chance to observe a true ecotone—a place where the environment of the sea blends in and reacts with the environment of the land. From kayaks and boats to scores of oyster shells and the occasional pod of dolphins, Nicole's home overlooking Howe Creek maintains a constant view of a changing and definitive coastal world.
It is there, in front of these windows, that you can find one of Nicole's more interesting low country pieces, a joggling bench, or what is traditionally known in Charleston as a "kissing bench." The idea was that a young couple could sit at opposite ends of the bench and bounce their way toward each other in the middle. If they kissed when they met there, they were officially engaged. From a design point of view, the addition of a piece like this brings the traditional into the contemporary, the old into the new. It also exists as proof of a time in the past representative of the fun, romantic south that makes its way into so many novels and films.
At both ends of the bench are glass doors leading onto two distinct porches. "That's definitely a big part of the South," says Nicole. "You have to have great porches." One is a screened in porch that is complete with a (faux) swinging rope bed. "It's a quiet place to sit and read, to enjoy the sounds and smell of the creek," she says. The other porch leads down to the back yard. "We've done massive amounts of landscaping with the addition of the pool," Nicole explains. The backyard gently slopes downhill towards Howe creek, and "so great attention and care was used in organically placing the pool in such as way to make it seem as if it had always been there," in order to strike a balance between the nature she loves and the home in which she lives.
While many of the home's features are cosmetic in nature, a great deal of renovation and homemade furniture makes up the interior of the house. All of the original wooden windows in the home have been replaced in order to stand the test of time and weather. Nicole made the chandelier that hangs above the dining room table. Embellished with repurposed fishing lures and other objects, it hangs humbly below another southern tradition, a ceiling painted haint-blue or haunt-blue. Traditional southern folklore holds that if a house is haunted, the owner can clear the dwelling by painting the ceiling of the front porch a light blue color. That way, any wayward spirits, or "haints," will be scared away by the colors extension of light. The blue is also rumored to keep spiders and other insects away, and it's another example of Nicole bringing the outside in. She and Scott also built the long desk that provides the centerpiece to his office, and Nicole also did the upholstery work on much of the furniture in their family room herself.
Speaking of the family room, three of its four walls are windowed and look over Howe Creek. Nicole says it's "where we spend our time together as a family. I also do most of my work over there." She points to a corner of the room and says that it's her unofficial office, "with great inspiration right outside."
All of these trends continue to the upstairs of the house, where each bedroom presented their own special designs and unique challenges. In the guest bedroom, Nicole used two of her grandmother's lamps that date back to the 1950s that light at both the top and bottom. She says they were difficult to place, but "as a designer, I just had to treat them as works of art on their own, and try to make the rest of room work with them." She used sea-grass rugs and baskets, as well as calming blue hues in order to let the lamps be a meaningful part of the room.
The master bedroom hosts it's own porch overlooking the yard and the creek. More of her grandmother's lamps are here, along with a rice bed that harkens back to the traditions low country heritage is so proud to bring to design. The master bath was completely renovated with the addition of a claw-foot tub to keep a sense of history along with another Charleston artist on the wall. The halls are lined with local flora and fauna—magnolias, hydrangeas and more—to "keep the place alive," says Nicole.
Last but certainly not least, Nicole's son's room has been designed and renovated to show off the coastal, low country life through the eyes of a ten-and-a-half-year-old surfer and student. Another family-made item is his bed, which looks like a boat. She says, "we tried to find soft, yet boyish colors and design elements that produced a true nautical feel." Nicole also employed the use of an old baker's cabinet with corrugated metal to cover the doors as a one-of-a-kind dresser.
Other rooms in the house emit a similar aesthetic and approach that is not unlike the approach Nicole brings to her clients. "I definitely want to meet the needs of any and all of my clients. Most of the designs in our area fall within my style," she says. "I'm coastal but not beachy, and we try to bring a down-home, low country feel to even clients who want clean modern lines." Low Country's design approach is engineered to be welcoming and artfully beautiful, and that too is something unique that helps define the low country itself.
Resources
Renovations: Artwork Builders, LLC, Todd Kampschroeder, 910-279-4828, artworkbuilders.com; Landscaping: Low Country Landscaping, Inc., Scott Hinson, 910-200-1489; Pool: Shoreline Pools, Mike Carpenter, 910-228-8356; Interior Design: Low Country Interiors, LLC, Nicole Hinson, 910-231-0110.