College Football Preview
08 Sep 2021
Sports writer Brian Mull breaks down all you need to know about N.C.'s favorite teams

By BRIAN MULL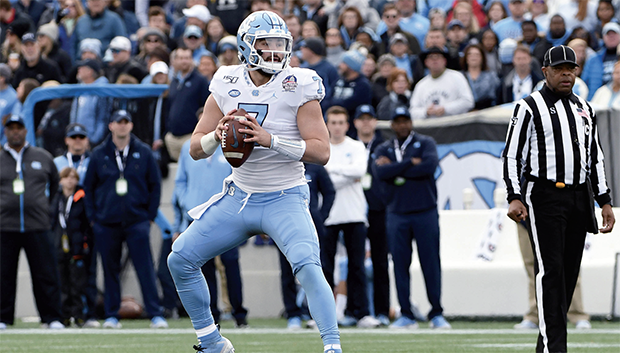 Summer is fading. The kids are heading back to school. Jeans and hooded pullovers will soon replace shorts and t-shirts. Folks will tie their shoes again, trade sunscreen for sweaters, turn their thoughts to cooler days.

And yes, college football will return.

What a return it will be. Packed stadiums! Marching Bands! Cheerleaders! Elaborate pregame tailgates with abundant fixins and libations!

After the strangest of seasons, the colorful symphony entwined with the 60-minute game between the sidelines will share the stage again, providing the pageantry fans took for granted in the past.

The NCAA granted players a free year of eligibility so rosters are stacked with returning players. Coaches are relishing the opportunity to direct the experienced leaders guiding their teams. Unprecedented optimism swirls around most of the Tar Heel state's football programs, including those in Chapel Hill and Raleigh that annually garner the most attention.

Those aforementioned Tar Heels and Wolfpack have top-25 and championship dreams. Wake Forest seeks a sixth consecutive bowl game appearance, which would extend a school record. East Carolina is trending upward in Mike Houston's third season. Duke hopes to hang onto the ball and shift its path in a positive direction.

Before the first football flies through humid air across blue skies on a steamy Saturday afternoon, here's what you need to know about the state's four ACC schools and ECU.


Tar Heels ready to make national noise

Mack Brown needed only two seasons to repair and renovate a devastated program. The immediate success - two winning records and an Orange Bowl appearance last season - buoyed by consecutive top-15 recruiting classes means expectations around Chapel Hill have never been higher. UNC enters the season ranked in the top-10 in national polls and welcomes back sensational quarterback Sam Howell, a strong candidate to win the Heisman Trophy.

Howell has completed 68 percent of his attempts in two years as the Tar Heels' signal caller, passing for more than 7,200 yards and 68 touchdowns. He's the ideal general for offensive coordinator Phil Longo's attack and while his best weapons from a year ago have moved on to the NFL, he has no shortage of options thanks to his coaching staff's relentless recruiting and acute player development skills.

The Tar Heels return nine offensive starters and 18 of the 22 players from last year's two-deep. The most important piece of the arsenal, though, is a newcomer.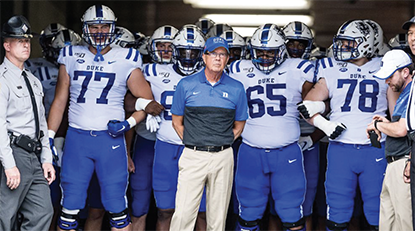 Ty Chandler rushed for 2,046 yards and 13 touchdowns in four seasons at Tennessee. The graduate student runs for power inside, has speed on the perimeter and has sure hands in the passing game.

He'll also enjoy running behind a veteran offensive line.

Beau Corrales, Emory Simmons and Antoine Green lead a deep and talented corp of receivers. Howell has command of the offense and a strong relationship with Longo, enabling the Tar Heels to line up in the proper formations and call the appropriate plays.

Scoring shouldn't be an issue. The Tar Heels lit up the scoreboard for 41.7 points per game last season and a similar output is a reasonable expectation.

Defense will determine whether Carolina belongs with the nation's elite teams. Last season, UNC ranked 65th in scoring defense (29.4 ppg), 74th in yards allowed per play (5.8), surrendered 25 rushing touchdowns and struggled to keep opponents out of the end zone once they entered the red zone.

Brown believes the defensive line is the most improved unit in the program, possessing the speed and skill to harass opposing quarterbacks. The Tar Heels expect to shuttle 8 to 10 linemen - each weighing at least 285 pounds - into a game without sacrificing performance.

"You've got to be able to stop the run and disrupt the pass," Brown said. "We have not been able to consistently do that. We're gonna get off the bus and walk into the stadium looking like a much better football team than we have in the past."

Desmond Evans, a 6-6, 260-pound former in-state blue chip recruit could also shine this season at defensive end and outside linebacker. The secondary should be among the ACC's best.

The Tar Heels will likely be Vegas favorites in their first seven games, setting up a potential tasty matchup against Notre Dame in South Bend on Halloween Eve between two highly ranked, if not unbeaten, teams. If that scenario unfolds, the Carolina Blue crowd will be focused solely on the football field, not yet ready to turn their attention toward preseason basketball scrimmages and such.

A rare occurrence, indeed.


Wolfpack ready to howl after surprising 2020

N.C. State starts the season outside the preseason top-25, however, coach Dave Doeren likes the experienced talent he observed on the practice field in training camp. The Wolfpack should also benefit from a full offseason, a luxury their two new coordinators didn't enjoy a year ago.

The Wolfpack exceeded preseason prognostications in 2020, posting an 8-4 overall record and 7-3 ACC mark, earning a Gator Bowl bid. Not that N.C. State is satisfied. This season they have the depth to take the program further.

"It's a hungry team. And it's competitive, there's guys trying to get on the field versus other guys that are also really good, and they can't really have a down day and keep their job," says Doeren.

In what will become a familiar refrain in this post pandemic college football season, N.C. State returns 20 starters, including four 'super' seniors (players who chose to return for a fifth season of college football).

Devin Leary's resume is less impressive than his rival quarterback in Chapel Hill, however, his arm strength and pocket poise put him on the radar of NFL scouts. Injuries limited Leary to four games last season and the Pack won three of those as he passed for 222 yards per game.

He won't have to carry the offensive burden alone. Zonovan "Bam" Knight received preseason All-ACC accolades after rushing for 1,533 yards and two touchdowns in his first two seasons at N.C. State.

All-ACC offensive tackle Ickey Ekwonu will help plow holes and provide protection.

Emeka Ekezie, the Wolfpack's top receiver, was hobbled during August training camp but is scheduled to play in the opener. He led the team with 47 receptions for 738 yards and five TDs in 2020.

The offense should evolve in offensive coordinator Tim Beck's second season. Doeren described last year's attack as "watered down" out of necessity.

The defense was decent a year ago, ranking top 15 in the nation in sacks (32) and top 30 in interceptions (10). Getting off the field was often a problem, though. The Wolfpack ranked 75th in rushing defense, allowing 173.9 yards per game. Preseason All-ACC pick Payton Wilson believes the Pack has the requisite depth and experience to be among the best in the conference - if not the nation. He leads an excellent group of linebackers and there are more able bodies available in the secondary.

After the first month of the season, N.C. State will know where it stands. The Wolfpack must navigate an unfavorable schedule throughout. It travels to face Mike Leach's Air Raid attack at Mississippi State in week two and heads to Death Valley to battle league powerhouse Clemson on Sept. 25th. A date with Miami is another key road matchup before the regular season ends with a visit from UNC.


Demon Deacons

Wake Forest missed out on a fifth consecutive winning season in part because it was denied the usual complement of nonconference games due to COVID-19 induced ACC regulations.

Still, opponents who overlook the Demon Deacons often pay a price.

Dave Clawsen has sustained a solid, fundamentally sound program in Winston-Salem and if not for a couple of blown leads in the second half, it could have been another special season.

Wake's offense was electric behind quarterback Sam Hartman, who passed for more than 2,200 yards and 13 touchdowns to produce a school-record 36 points per game. The Demon Deacons could have been even more proficient if not for a lack of physicality up front that proved costly in short yardage situations. Clawsen described the squad as the weakest at Wake since 2014, leading a strength coach change after the season.

The offensive line is smaller than most of its ACC counterparts, but athletic and quick. Hartman lost leading receiver Donavon Greene to a torn ACL, although he can still rely on Jaquarii Roberson, who averaged more than 100 yards per game receiving.

Christian Beal-Smith (732 yards and five TDs), Justice Ellison and Christian Turner give the Deacs a three-headed rushing attack.

Wake must show improvement on defense. Miles Fox (10.5 tackles for loss) was a bright spot and returns to solidify the interior defensive line. The rest was a mess. Wake ranked 87th or worse nationally in rushing defense, passing defense and scoring defense.

Miles Fox had 10.5 tackles for loss and solidifies the interior of the Deacons' defensive line. Wake's linebackers are unproven, but the secondary should be able to match the ACC's talented fleet of receivers, assuming the line can do its part and apply pressure on opposing passers.

The Deacs face a backloaded schedule in 2021 with matchups against UNC, N.C. State and Clemson in the final month.


Blue Devils hope to solve turnover troubles

Throughout his coaching career, Duke's David Cutcliffe has built teams that protected the football and minimized mistakes. There's been a much different story in Durham the last two years. The Blue Devils committed a staggering 39 turnovers in 11 games a year ago, prompting the staff to institute 10 minutes of ball security drills in every practice last spring.

They'll try to correct those mistakes with a first-time playcaller, 32-year-old co-offensive coordinator Jeff Faris, a former Duke walk-on and graduate assistant under Cutcliffe.

He'll hand the ball to first-time starter Gunnar Holmberg, who is in peak condition and gives the Blue Devils a running and passing threat. Holmberg missed the 2019 season with an injury and completed 18 of 25 passes for Duke last season in a backup role.

He'll certainly spend many plays handing off to Mataeo Durant, one of the ACC's top running backs and a strong candidate to become Duke's first 1,000-yard rusher since 2003.

The 6-5, 215-pound wide receiver Jake Bobo and surehanded Jalon Calhoun are the top receivers. The Blue Devils entered training camp searching for a reliable deep threat to join them.

Finding one is critical considering the Blue Devils ranked last in the ACC in pass plays of 30 yards or more last season, managing only 11 in a 2-9 campaign that closed with four consecutive defeats.

The defense probably wasn't as bad as the numbers (38 ppg, 444 ypg) appeared last season. Giving the football to the other team with a short field makes any defense look worse. But in a conference loaded with playmakers, the questions at linebacker are a concern entering the season.

Cutcliffe believes the offensive line, which allowed an alarmingly high rate of sacks and tackles for a loss a year ago, is one of the team's strongest groups this season. If so, the Blue Devils should be much more competitive.

The early schedule (Charlotte, N.C. A&T, Northwestern, Kansas) should allow the Blue Devils to develop much needed confidence before they enter the ACC fray, traveling to UNC on Oct. 2nd and later visiting Virginia, Wake Forest and Virginia Tech before closing the season in Wallace Wade Stadium against Miami.


Pirates ready to bowl again

In the 16 college football seasons between 1999 and 2014, ECU participated in 11 season-ending bowl games. The Pirates enjoyed nine winning records in the span. They've not finished above .500 nor tasted a postseason reward since.

There's reason to believe ECU could snap both streaks in 2021.

Let's face it. Mike Houston inherited a smoking dumpster fire when he was named head coach in the first week of December in 2018. The talent level in the program, not to mention the players' strength, conditioning, depth and even discipline were poor, at best.

Slowly and surely, he and his staff have improved the athleticism, skill level and toughness while building the depth required to compete against American Athletic Conference opponents. It's yet to show up in the win / loss column - ECU is 7-14 the last two years - but there was obvious growth late last season capped by impressive wins over Temple and SMU to close the season.

ECU produced 30 ppg last season (50th in the nation) and Holton Ahlers resumes control of the offense, looking to continue his personal progression. Ahlers, a 6-3, 230-pounder in his fourth college season, has 7,099 passing yards, 51 touchdowns. He's also rushed for 1,060 yards and 13 TDs. That pedigree makes him the Pirates' obvious leader and in the spring he called the Pirates a "bowl program."

Tyler Snead is a favorite target, snagging 134 receptions for 1,519 yards and 14 TDs.

When he's not launching passes, Ahlers, one of nine returning starters on offense, has two terrific options leading the rushing attack. Rahjai Harris, the 2020 AAC Rookie of the Year, and Keaton Mitchell combined for 1,067 yards in an ECU attack that averaged 173 rushing yards per game.

"You look at the offensive line and I feel good about that group, because you have a mix of younger guys and older guys with some experience," Houston said. "Our lines were probably the weak point in the program when we got here. I think we've strengthened that significantly."

"The defensive line's ability to control the run game and generate a consistent pass rush could be the key to the Pirates' season," Houston said. There's talent returning, but overall it's a smaller group which puts ECU at a disadvantage against physical AAC opponents such as Cincinnati and Navy.

The top eight tacklers return, including Xavier Smith at linebacker. His ball-hawking skills propelled the Pirates to 18 takeaways. If the Pirates can stop the run, teams may have difficulty passing because the secondary has never been stronger in recent program history.

Like some of their in-state brethren, ECU will understand its strengths and weaknesses early. The Pirates open on Thursday, Sept. 2 in Charlotte against Appalachian State in Bank of America Stadium, home of the Carolina Panthers. They play host to SEC member South Carolina the following week and travel to Marshall from there. A 3-1 start in September should keep the bowl talk buzzing in Greenville well into the fall.