Connecting with Culture
08 Sep 2018
Joy Allen's exposure and natural attraction to distinctive cultures inspired the feat of preserving Wilmington's colonial history
By Teresa A. McLamb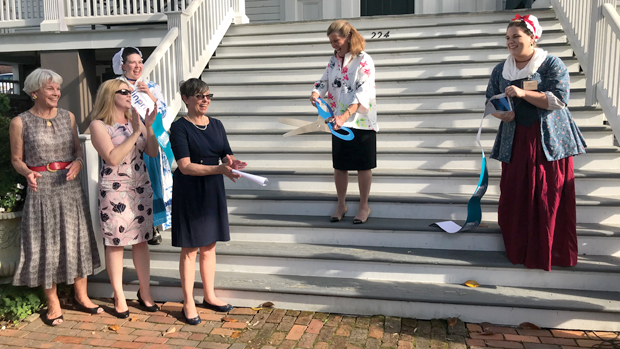 Growing up in New Orleans, Joy Allen reveled in its rich cultural mix of Spanish, English and French people, its historic architecture, and the easy blend of religious ritual with laissez le bon temps rouler.
"The city, and my mother, influenced my interest and love for historic architecture. That's where my passion began. We went to the French Quarter on weekends; ate beignets and walked around the Quarter, just soaking it all in," she said. There were regular trips to the riverside plantations, the study of the French language and culture beginning in elementary school. "It laid the foundation that would enable me to embrace the French culture," Allen said.
While studying at Vanderbilt University, located in Nashville, TN, Allen learned of a study abroad program in Aix-en-Provence. Already majoring in English with goals of being a writer ("The school has a strong English department that has honed the skills of many great writers," she said.), Allen applied for the year abroad and added French as a second major. Ultimately, she spent a year in France and a year at Leeds University in England.
The time spent in Nashville and abroad gave her an appreciation for just how distinctive people and their cultures are from others. Allen remembers thinking Nashville is "very different from [her] part of the South." It was her first foray outside of Louisiana and Texas. She gained an appreciation for bluegrass music and rural culture. "Now that I've lived in other places, I've realized the South is very different from one state to the next, and the accents are different all over. It fascinates me, because I wonder how this particular accent that originated from the English colonial period evolved into something so different in Georgia and Mississippi," she said.
Allen is grateful for the time abroad. "Living in a foreign culture opens your mind. You see that other people live differently and think differently. Whether you adapt to their way of thinking or not, it helps you reach a considered opinion about things, rather than just what has been fed to you by your own culture or you've soaked up by osmosis. I wish every young person would have the opportunity to do that," she said.
Armed with curiosity and energy, Allen returned from Europe to Nashville, then moved to Gainesville, Florida where she set up a screen-printing business that allowed her the luxury of a steady income and free time to write. Just shy of her 30th birthday, she moved to New York City where she took classes at Parson's School of Design, then worked for an ad agency, followed by accepting a position as an art director for a manufacturing company, all before setting up her own marketing company.
On a trip to High Point, Allen and a friend took a quick detour to Wilmington's historic district. She recalls, "I fell in love with it, and I started a plan."
Jobs in her industry were sparse. "Nothing paid what I was accustomed to," said Allen.
Creating her own opportunity, she operated a graphic design business here and freelanced for a magazine before launching a business magazine in January 2000. "It was based on my enthusiasm for what was happening with growth in Wilmington. "The first few months were a challenge," she said, "but the business community soon saw the value of the publication and began seeking to be a part of it." A few years later, she launched a women's magazine. Allen explained, "We didn't want it to be your typical women's magazine with fluff and fashion and makeup. Our intent was to celebrate local women's achievements; we had meaty content." Allen is quick to praise her staff and freelance writers. "We had really good writers."
Seizing another opportunity, Allen sold both publications in 2007. She stayed on for about six months to help in the transition, but not before taking a long overdue vacation to Isla Holbox off the Yucatan Peninsula. "There's nothing to do but enjoy nature. There are no cars," Allen said.
At the end of the transition period, she took off for Dominica, describing it as a "very underdeveloped, non-tourism island that's very beautiful and lush."
Over the next five years, she worked with the Coastal Land Trust and became the first executive director of Cape Fear Green Building Alliance, among other things.
In 2012, an ad on Craigslist peeked her curiosity. It mentioned historic preservation. The love affair she had with New Orleans and downtown Wilmington caused her to respond.
The National Society of the Colonial Dames of America in the State of North Carolina was looking for its first executive director. Founded in 1894, the society had been managed by volunteers. Allen said, "They were looking for someone with a business background rather than a historian or a preservationist. Although, it certainly helps that I have that passion."
The Dames own four historic properties in North Carolina, including their headquarters building, the Burgwin-Wright House at Third and Market Streets. Allen's office is in the house, which came perilously close to the wrecking ball in the 1930s when Standard Oil announced intentions to purchase it for a gas station. There was also "a gentleman from Connecticut who wanted to purchase it, disassemble it and move it up to Connecticut." Allen explains, "The ladies thought it was a matter of southern pride to not let that happen. He ended up helping to convince the bank to work with the Dames so they could preserve it. It would have been terrible to lose it. There are not many colonial structures left in Wilmington."
The Dames tried, unsuccessfully, in 1930, to create a volunteer historic preservation committee or council through the city's government. Wilmington would have been the first city in the nation to do so. Instead, Charleston holds the distinction of being the first.
Nonetheless, the Dames continued their historic preservation efforts alongside supporting the nation's active military and veterans.
Jumping into the newly created job, Allen put policies in place that have helped the organization and its real estate. "When you work for a small business, nonprofit or otherwise, you have to wear a lot of hats. I use my marketing and graphic design hats for the Society and for Burgwin-Wright," she said.
With a membership of 1,850, North Carolina's society is the largest. There are twenty-two county committees which meet regularly and two statewide meetings a year. Allen is involved in the state meetings and the twice-annual meetings that rotate around the state.
Membership to the society is by invitation for women who descend from an individual who provided a service during the colonial era, such as holding office prior to the revolution. "Signers of the Declaration of Independence are qualifying ancestors," she said. The organization's website has a list of all qualifying ancestors.
As they approach their 125th anniversary, Allen reflected on the many things the organization has accomplished. "During WWII, they dropped everything and got greatly involved in the war effort. Now, they collect money and supplies for veterans' hospitals and erect monuments and plaques to commemorate events and people, including one on Market Street. The Burgwin-Wright House is a blue-star museum," she said, "which means active military can visit free between Memorial Day and Labor Day."
Allen has concentrated much effort on the house, which recently underwent a large-scale renovation. "The museum was essentially failing, and now, we've turned it around," she said. Allen credits the museum director and staff for much of the success, which includes increased visitation, better customer service, higher visibility, physical condition of the property and accuracy of the tour.
"There's more activity here; more programming, lectures. We've become a stop on the 4th Friday Gallery Walk. We have a new art show in here every month, bringing in a new audience that may not have been familiar with the museum otherwise. We usually do a pop-up exhibit of items from the museum along with the featured art show. The shows are booked through 2020, because artists want to exhibit their work there," Allen said.
Allen concluded by saying, "I love working with the Dames. I really do enjoy the relationships I've formed with them. I feel like I'm president of their fan club."