Where Fantasy Meets Reality
08 Sep 2018
Juhde Justad's vibrant art, inspired by love, forges creative bridges in the community
By KIM HENRY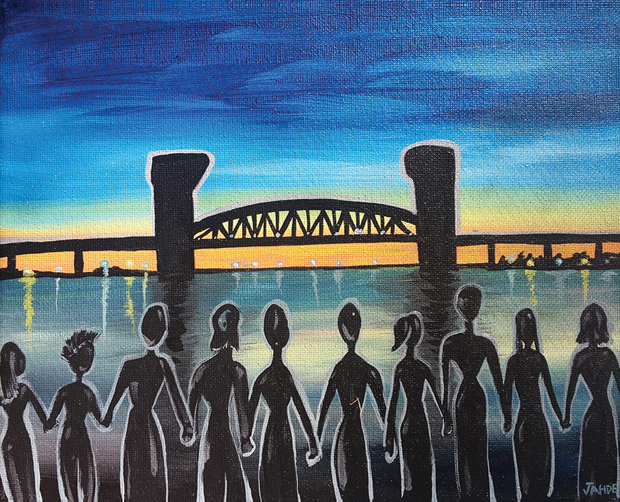 "Every child is an artist. The problem is how to remain an artist once we grow up."
Never were the insightful words of Picasso more applicable than to Wilmington's own Jahde Danielle Justad. Inspired by beauty and magic since being a child, Justad's art is where fantasy and reality merge into a riot of color, joy and imagination. As an ever-evolving full time artist, her most recent work also aims to address social and environmental issues, both on her own doorstep and further afield.
Growing up in a big, artistic family gave Justad an intrinsic love of creativity and the confidence to explore her own. As we know, it really does take a village and Justad's face lights up when she pays tribute to her parents and four brothers for being her own personal support system. "My dad plays music at a lot of my shows and my mom is an excellent painter who inspires my constant growth. My youngest brother has been my business advisor, my older brother provides all of my printing and my other brothers and sisters in law have all been super supportive. I am so grateful to have the big beautiful family that I do," Justad enthuses with gratitude.
Although she was born in Mesa, Arizona, Justad grew up in different parts of NC and credits her mother for being her original teacher and showing her many different artistic techniques. Wanting to develop her skills, in 2009 Justad began a BA in Studio Art at UNCW. By the time she graduated, she had fallen in love with Wilmington's sandy shores and thriving art scene. Forging creative bridges with many different areas of the community has been an integral aspect of this artist's journey. Between painting live at music concerts, giving classes at Paint and Wine establishments, participating in the Riverfest, and contributing to Cameron Art Museum exhibits and the Arlie Gardens Gnome Invasion project, Justads creative drive seems as far out as her paintings.
She also established her own artistic collective. Arthive Studio and Gallery became the buzzing, creative home to around 30 artists, musicians, poets, and sculptors who supported one another and collaborated in many exhibits, and multi-media events.
More recently, Justads focus shifted to large-scale murals and curating art shows. Her work can be seen in local venues such as the Sweet and Savory café, Bottega, Planet, BahrHaus International Museum of Art and The Cheesesteak Company. The vibrancy of her work is inspired by music, dance, nature, poetry and the age-old human connection to love. "My biggest motto to live by is LOVE. Love and kindness. When in doubt I always choose the loving route. Through my art I want to raise awareness and bring more light into dark places," smiles Justad.
Adding another layer to the surreal and imaginative quality of her watercolor and acrylic artwork, Justad has begun to address issues of a more earth bound nature. As with many women, becoming a mother in 2014 was a huge milestone in her life and directed her attention towards the future in a way that becoming a parent can do. Shocked by the revelation that GenX has polluted Wilmington's water and inspired by the communities response to this news, Justad painted 'Together We Stand.'
"I am presently focusing most of my creative energy on a very important new series, the Art To Raise Awareness series or ATRA," explains Justad. Highlighting issues such as the amount of plastic polluting the ocean, Justad is passionate about the ability of art to inspire social change. After contributing to an exhibit with UNCWPOP and expo 216, Justad was inspired to create art using plastic, bringing more attention to the amount of waste every individual is responsible for. "That project alone made me go out and buy a reusable glass water bottle, stop using plastic bags at the store and be aware of the volume of packaging I purchase," shares Justad who is going to auction off her plastic made artworks at her next exhibit which opens on September 2nd, from 1-7pm, at Gigi's Coffeehouse and Hookah lounge.
"I intend to make a big impact in this world and that impact will be a positive and loving one," affirms Justad, eyes blazing with creative fire. And listening to the spark in her voice, there is no doubt that this passionate young artist will manage to do just that. JahdeJustadArt.com