Hope and Healing
08 Sep 2018
The Zimmer Cancer Center provides top-notch treatment, care and support for breast cancer patients

By LAUREN KROUSE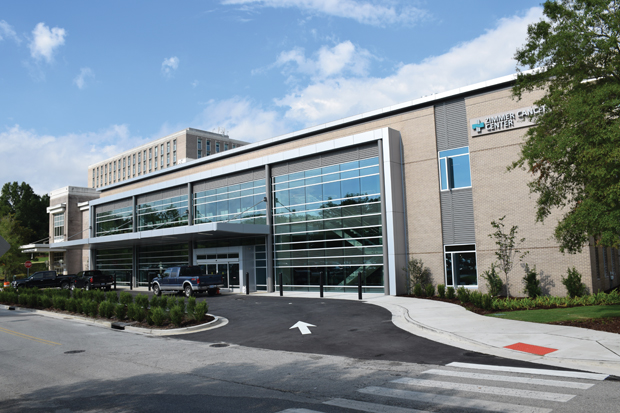 Every year, October brings pink ribbons galore. We see them pinned to lapels, emblazoned across Race for the Cure t-shirts, and printed on scarves, mugs, pens and more. While Breast Cancer Awareness Month promotes increased visibility and discussion of the disease, breast cancer remains the most common type of cancer in women worldwide. This year alone, the National Cancer Institute estimates there will be 268,670 new cases of breast cancer in the United States. While this can be sobering, pink ribbons offer a symbol of hope and solidarity. Death rates from breast cancer have been declining since the late 1980s, thanks to increased awareness, better screening, earlier detection, and ever-improving treatment options. For women in Wilmington, access to high-quality breast cancer treatment is just a short drive away, at NHRMC's nationally-acclaimed Zimmer Cancer Center. As Dr. Henry Hawthorne, Administrator of Oncology Services, says, "We are proud to have the only accredited, comprehensive, multidisciplinary cancer program in southeastern North Carolina." At the Center, breast cancer is one of the most commonly treated conditions.

While an initial breast cancer diagnosis can be scary and overwhelming, it helps to know you're in good hands. In July 2018, the Zimmer Cancer Center received its 3-year accreditation from the Commission on Cancer. As an accredited cancer center, it provides patients with a number of cancer-related programs on the full spectrum of care, from prevention and early diagnosis, to cancer staging, treatment, and rehabilitation, to lifelong follow-ups for recurrent disease. Dr. Hawthorne adds, "Our accreditation is not only an indicator of the excellent quality of care available at NHRMC, but it is recognition of the outstanding team of physicians and staff at Zimmer Cancer Center and their leadership in cancer care in our region."

A strong team-based approach is woven into the fabric of how the Center takes care of its breast cancer patients. Because breast cancer is a complex group of diseases, treatment requires consultation among specialists in medical oncology, radiation oncology, surgery, pathology, and plastics. During regular conferences called "tumor boards," medical specialists meet to discuss individualized treatment plans for each of their patients.

One of the most recent additions to the Center's Cape Fear Cancer Specialists practice is Dr. Lindsay Prochaska, a medical oncologist specializing in breast cancer. As Dr. Prochaska says, "For breast cancer patients, treatment options vary based on the type of breast cancer a patient has. Commonly, it includes a multidisciplinary approach with a combination of surgery, radiation, chemotherapy, and endocrine therapy for the hormone positive breast cancers." Patients may also be eligible for clinical trials, available at the Center. "We are participating in some breast cancer trials currently at Zimmer," Dr. Prochaska notes. "Hopefully, we have more on the way. Current open trials are geared toward surgery and radiation."

At the Zimmer Cancer Center, state-of-the-art treatment is supplemented with multiple patient-centered services. At Zimmer's Inspiration Center, patients have access to a library of resources on their diagnoses, caregiving, coping, health, and fitness. In a multipurpose room, patients can also de-stress in health and wellness classes like yoga, pilates, and aromatherapy. For support beyond the Center's walls, social workers connect breast cancer patients with community support groups like Lump to Laughter, Going Beyond the Pink, the Pretty in Pink Foundation, and Women of Hope.

In short, Zimmer's specialists provide patients with holistic care throughout the treatment process. From day one, women diagnosed with breast cancer are provided comfort bags by the NHRMC Foundation's Pink Ribbon Project. Their motto reads: "Until there is a cure, there is comfort." For many women in southeastern North Carolina, the Zimmer Cancer Center gives hope for both.

Breast Cancer Prevention and Screening

Finding breast cancer early, before it has grown and spread, is one of the most important strategies for preventing deaths from breast cancer. Generally, women in their 20s and 30s should have a clinical breast exam as part of their regular checkup at least every 3 years. At age 40, women should receive their baseline mammography, with yearly mammograms after that. As Dr. Prochaska notes, though, "If patients have a family history or are at high risk of breast cancer, it may be recommended that they start screenings sooner. If they have a strong family history, it may be worth seeking evaluation to see if there are ways to reduce risk―patients at high risk qualify for increased monitoring, and sometimes even medications to reduce their risk."

The NHRMC offers advanced 3D mammography at five health and diagnostics locations, including Medical Mall, Military Cutoff, North, Brunswick Forest, and Rocky Point. When it comes to 2D versus 3D imaging, Dr. Prochaska says, "A patient does not have to choose 3D, but they are more sensitive and have the capability of finding lesions that may have been missed on 2D imaging." In fact, research shows that 3D mammography provides a 41 percent increase in detection of invasive breast cancers compared to 2D imaging.

If you're preparing for a mammography appointment, here are a few suggestions:

Don't wear deodorant or antiperspirant―these substances can disrupt the x-ray with white spots.
Be prepared to describe your medical history, including previous surgeries, hormone use, and any family history of breast cancer.
Try to go to the same place each time you have your mammogram, so the images are available for comparison from previous years.
If you're going to a new facility, bring a list of dates and facilities where you received previous mammograms, or have previous mammogram films sent so they can be compared with new images.

For women who don't have health insurance or financial support, the Pink Ribbon Project provides a gateway for screening. On average, they fund over 1,000 mammography screenings a year, as well as any further diagnostics needed in case of a suspect result. Because breast cancer is typically detected before women experience any symptoms, regular screening is of the utmost importance for early detection and successful treatment. Don't just #wearpink―talk to your friends and family about breast cancer screening.