Bringing Bliss for Generations
08 Sep 2018
Albert F. Rhodes jewelry store celebrates serving Wilmington for 70 years
By EMILY GORMAN FANCY Photos by G. FRANK HART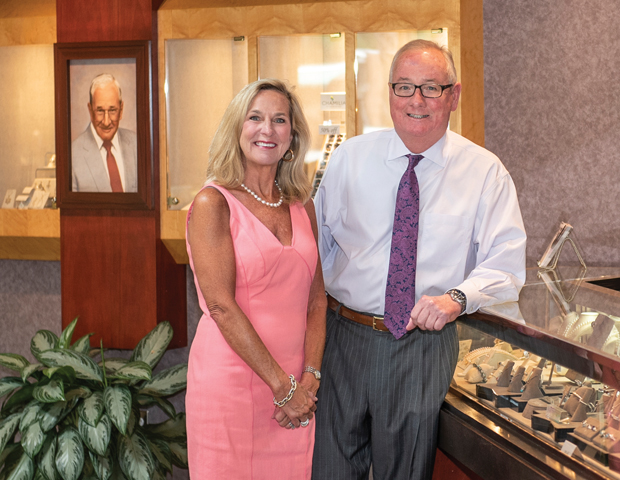 This year, local jeweler and family-run company Albert F. Rhodes celebrates 70 years of business in Wilmington. They marked the occasion with special sales and open house events throughout the year.
In 1948, Albert Rhodes opened a modest watch repair shop on North Second Street in downtown Wilmington. Rhodes made a name for himself in the postwar era, adding the sales of clocks and watches to his business. Over the years, the business outgrew the space, and Rhodes moved to a larger facility on Grace Street. After Rhodes died in 1989, his children Wayne Rhodes and Betsy Rhodes Herring took over the business as co-owners. In 1994, Albert F. Rhodes expanded into its current 3,600-square-feet facility on Floral Parkway in the heart of Wilmington's midtown area.
Today, Albert F. Rhodes has evolved by carrying a full scope of jewelry lines. They sell a wide range of fine jewelry, including rings, necklaces, bracelets, and earrings. Styles run the gamut from traditional to contemporary to suit all tastes. Wayne Rhodes says they also offer a large spectrum of price points, with most pieces falling between $100 and $2,000.
With a broad selection of engagement rings and wedding bands, Albert F. Rhodes is a popular choice for couples planning a wedding. They specialize in 14K and 18K rings and platinum to appeal to every style and budget.
Rhodes also carries an expansive selection of fine diamond jewelry of the non-wedding variety. Rhodes assembles emerald, ruby, sapphire, tanzanite, and other colored, semi-precious, and precious stones into unique creations.
Can't find the specific piece you have in mind in their showroom or want to turn a precious heirloom into something new? Albert F. Rhodes can custom design jewelry to your specifications. Based on customer feedback, the Rhodes staff will create unique renderings and design the piece.
In addition to their in-house jewelry inventory and custom design services, the Rhodes team can also repair your jewelry on site. Whether you need a stone reset in your ring or the clasp on your necklace replaced, their expert staff can assist you. Another popular service they offer is ring re-sizing.
Need to determine the value of your jewelry? Rhodes' expert team offers professional appraisal services for insurance, estate, and equitable distribution.
When asked about the business' approach to customer service, Rhodes' response is straightforward. "We take care of our customers and offer fair prices," he says.
Rhodes attributes the business' success to quality merchandise and honest service. The jewelers' staff of seven offers a combined 200 years of experience in the industry. With training from the American Gem Society, two members of Albert F. Rhodes' team are the only professionals in Wilmington to hold the titles of both Registered Jeweler and Certified Gemologist.
Looking ahead, the Wilmington community can count on Albert F. Rhodes to continue providing the same quality merchandise and service they've been providing since 1948. "We look forward too many more years of continuing to provide the same outstanding service," Rhodes says. 910-313-6935, albertfrhodes.com