Crazy Like a Fox
09 Nov 2015
Often questioned about his investment decisions with buying land, developer Bobby Harrelson has proven time and again that he has a talent to see and envision what others do not
By TERESA A. MCLAMB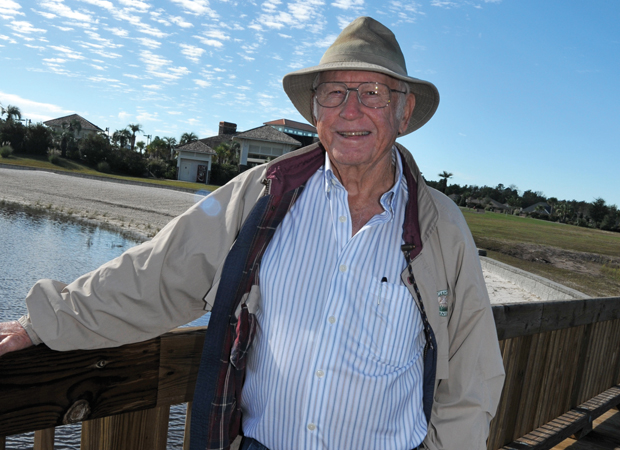 Drive along almost any road in Brunswick and New Hanover Counties, and you'll pass a subdivision which bears the mark of Bobby Harrelson. Since his honorary discharge from the US Army in the early 1960s, Harrelson has completed more than 100 communities in the area, beginning with his earliest incarnation as Suggs and Harrelson, a partnership with Army buddy Jimmy Suggs. "Looking back," he said, "Jimmy and I had no idea what we were doing, but we had the desire and the energy," so they leapt into business with two used pick-up trucks and a smattering of hand tools between them.
Fifty five years later, just shy of his 79th birthday, Harrelson is still building communities. In the past few months, he's repositioned his involvement at Compass Pointe from advisory to full-on development management. The 2,200-acre property was reserved in a handshake deal decades ago, the vision for today's development already in Harrelson's mind. He recently purchased the golf course at Magnolia Greens, a community he developed with partners twenty years ago. He expects to combine its management with that of the course under construction at Compass Pointe. "The two courses are five or six minutes apart. I can operate with one pro and one superintendent. It's also the most popular public course in Wilmington short of Muni, and Muni plays more rounds because the city subsidizes it. They don't have to make a profit." He expects the Compass Pointe course to open in the spring of 2016.
His increased involvement was due more to necessity than want, he said. "When the economic climate changed and the banks became much more difficult to deal with, I thought I could contribute to a better outcome," he said. "Having had experience over the years with recovering from difficult times in the real estate industry, we have recovered. My goal is to finish it as it was promised, and I've delivered on all the promises that were made." He also noted that 850 acres have been put in a conservation trust. That property includes walking trails and bridges through the wetlands. "Every single community is connected. They can walk or ride a golf cart."
At the south end of the county, in Shallotte, he has purchased an apartment complex and is expanding it to four times its present size. "Shallotte is a good market today. Shallotte's blooming. Whoever thought Shallotte would be where it is now? The town is really coming forth with some nice things - the waterfront development. It think it is a sleeping giant. They seem to have pretty good leadership at this time."
Harrelson believes "the opening of I-140 is going to have a much more tremendous effect on the area than people have envisioned. It's going to move traffic around Wilmington into Brunswick County." The ease with which people will be able to drive from Brunswick County to jobs in Wilmington will result in the northern end of the county experiencing even more rapid growth, he said. "The Shallotte area is coming in with better values than the southern end which has to compete with Myrtle Beach." Shallotte's position as a shopping hub for locals and tourists at nearby beaches helps its position, he said. "Shallotte has the shopping: Belks, Wal-Mart, car dealerships. It's not far to Novant Hospital. It has the complete community."
Within twenty years, he predicts, there will be very little undeveloped and unconnected area in Brunswick County. "Drive down Highway 17. There's a little bit [undeveloped] between Wilmington and Bolivia, but as soon as you get around the bypass at Bolivia and pick up the community college, from there it's connected developmentally. I can tell you, the forefathers of Brunswick County who had the vision for water and sewer are the ones who deserve the credit, not the Bobby Harrelsons of the world. Without water and sewer, development is very difficult. I remember driving down Highway 17 looking at all that cast iron pipe all the way to Calabash and thinking to myself: 'These people are crazy.'"
Harrelson admits to being a little crazy himself. Throughout his career as a builder and developer, he has purchased land in areas that were not yet popular. "I've told people over the years that one of the best strengths I've had, and its proven looking back, I've been able to pick good future development areas. That's not me; that's a God given talent. I don't know how to explain it. I've never done a market study to select a location, but it didn't take a rocket scientist to know when I looked around. When I first started developing, I did it on Carolina Beach Road because there was a lot of open opportunity that way. I didn't start in the high end. Old Wilmington would not accept going toward Carolina Beach. There was just open opportunity, and I could develop and sell property and create communities for people who couldn't afford the communities closer in with higher land cost."
Over time, he diversified and built at varying price ranges, and expanded to commercial and industrial spaces. "When I started down Carolina Beach Road, people thought I was crazy, and when I went over on Gordon Road, people said I was crazy. Drive down there now and see if I was. When I went to Brunswick County they said 'He's absolutely lost his mind.' When I bought all the land I got at Compass Pointe, I said 'I hope I can be crazy one more time.' Now, when the road opens, you will be able to go from Compass Pointe to Porters Neck in 15 or 20 minutes and to Myrtle Beach in 45 minutes. All of a sudden it's not so distant."
A native of Horry County, Harrelson has lived in Wilmington most of his adult life. "Wilmington has been good to me." He's excited about the revitalization of downtown including expansion of the Riverwalk and all the residential and commercial properties that are proposed along the waterfront. "Downtown Wilmington is on fire. Everywhere you look there's something going on down there." His property holdings include a multi-story Third Street office building so the health of downtown is of great interest. "There's no way to put a value on what the Riverwalk has done for Wilmington. Ask people where they're from and they're literally from all over the world." Wilmington has also benefited from the country's move toward urban renewal, he said, as well as the exposure we received from the film industry.
There's one other bit of downtown that is near and dear to Harrelson. The Jo Ann Carter Harrelson Center building - which houses Safe Haven, Communities in Schools, Phoenix Employment Ministries, Habitat for Humanity and several other human services non-profits - is named for his late wife. Fulfilling her last wish, Harrelson donated $1,000,000 for purchase of the former county law enforcement building. The Center, which is a non-profit corporation, recently celebrated its 10th anniversary. His daughter, Kimberly, is a board member, and he serves as an honorary member. They are in the midst of a $5 million fundraising campaign to meet continuing restoration and operational needs. "The Center doesn't make money. It's a safe wonderful environment for all those charities to be located in. Our vision was to create a place that we could put the charities together that were helping those who wanted to help themselves. We're not a hand-out place; we're a hand-up place." The return on investment, he said, has been tremendous – "not a financial return, but personally and for my family."
Harrelson hopes that he will leave this earth having given more than he took. "I still live by the same philosophy that every man should plant a tree in whose shade he will never sit."