Coastal Style
09 Nov 2015
From home accessories to jewelry and handbags to candles, Polka Dot Palm has something for everyone
By JOHANNA COLBURN » Photos by KELLY STARBUCK, Salt Studio Photography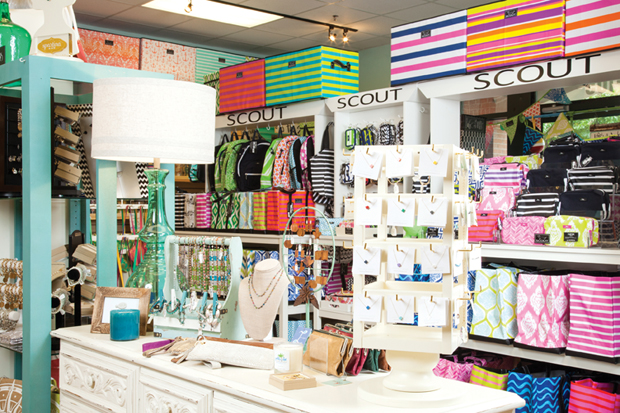 Celebrating their fifth anniversary last June, Polka Dot Palm continues its mission of offering a variety of unique gifts for every shopper. Owners Kathryn Nixon, Laura Sullivan and Ginger Isley have worked hard to build the store to where it is today. "We want our customers to come into our shop and be able to find the exact gift they need for any special occasion," says Nixon. Whether it's a gift for a birthday, wedding, baby shower, teacher, or hostess, or just something to lift the spirits of a friend, Polka Dot Palm boosts it all. "We want our customers to be able to run over before they head to the grocery store and find the gift they need quickly. Everyone has busy lives and we want to make it easier on our customers - and of course we want them to find a little something for themselves as well," says Nixon.
The origins of Polka Dot Palm began when sisters-in-law Nixon and Isley had the opportunity to purchase the store in Porters Neck five years ago. They brought in their friend Sullivan who had previous experience in interior design to complete the team. "Gift giving is my love language so I feel blessed to share that opportunity with our customers and to be able to help them find that perfect gift for their loved ones," says Nixon. "My background in interior design matched up well with the merchandizing and creative needs of the business," says Sullivan. As busy career women and mothers, Nixon and Sullivan balance life with work by trying to be at the shop as much as they can throughout the week. They know how important it is for them to be available for their employees and customers. When she is not at the shop, Nixon stays busy with her two young sons, who often help her out at the shop. With grown children, the shop provides Sullivan with an opportunity to be active and engaged with something that she enjoys very much. "It doesn't feel like work at all!" says Sullivan.
Customers are greeted with a friendly welcome as soon as they walk in the door, and are then invited into a coastal atmosphere with lots of color and style. Home to a bevy of items with both international and local appeal, the store offers jewelry from brands including Waxing Poetic, Lenny and Eva, and enewton. Handbags include Spartina and Hobo. They carry a variety of tabletop accessories from brands including Beatriz Ball, Mudpie and Dana Wittmann and candles from Archipelago, Rewined, and Linnea's Lights. The shop features Caldea products for the home as well as baby gifts, blankets and clothes including Aden and Anais and Kissy Kissy brands. You'll also find Lilly Pultizer and Kate Spade accessories, a huge assortment of coastal lamps and pillows, and the largest Scout tote bag collection in the area. They exclusively carry CeCe Caldwell chalk paint with workshops to show customers how to use the product.
Customers can expect excellent customer service that goes the extra mile. "We love to wrap and make your gift extra special," says Nixon, "We will get it wrapped and ready for them while they head next door to shop for their groceries." The staff listen to their customers' needs by always doing their best to find and order exactly what they are looking for. Nixon and Sullivan believe that local shop ownership means smarter products and services for their customers. "We love our customers and we want them to feel loved as well," says Nixon. Polka Dot Palm is also kid-friendly. "We love when you bring your little ones in!," says Nixon.
When asked the secret to Southern style, both Nixon and Sullivan agree it's a combination of sweet, classy and sassy with a mixture of sophistication and charm. They are inspired by where they live, and finding coastal and lowcountry treasures that represent their home and love for North Carolina and the South. Most importantly, Nixon and Sullivan are inspired by how they want to live. "We want our store to represent our faith," says Nixon. Polka Dot Palm has a large selection of one-of-a-kind devotionals, crosses, inspirational signs and gifts that they hope will offer comfort and encouragement to their customer and their friends and families.
With the holiday gift-giving season approaching, stop in for great gift ideas, like the comfortable Barefoot Dreams throws, scented candles, or Christmas ornaments and decorations to transform your home into a festive space for the holidays.
Polka Dot Palm invites customers to join them for their Holiday Open House on Saturday, November 14th. 910-319-7400, polkadotpalm.com.