Cue Up the 'Que
09 Sep 2018
A hungry journal of our area's juiciest smoked meats
By FANNY SLATER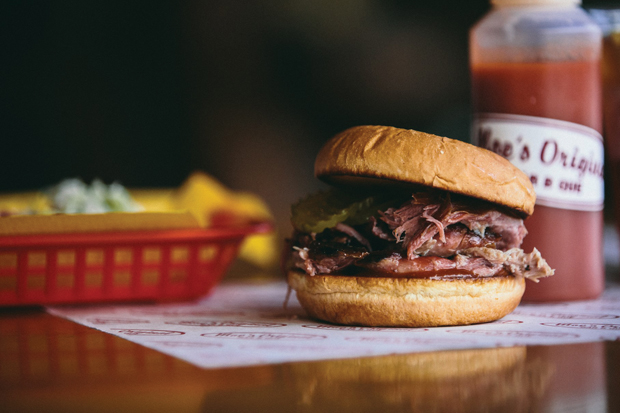 Don't be shy—licking your fingers in these parts is not only acceptable, it's encouraged.
North Carolina is famous for racking up the wins—and I'm not talking about basketball. When it comes to being barbeque champs, we know what's up. Pig experts around here dish it out any way you like (even if vinegar and hot pepper ain't your thing). The best part of living in a barbeque capital is that you can get your fix almost any way you please. Like your sauce sticky and slathered over ribs? Yeah, we've got Memphis-style. Can't pass up a chicken without velvety 'bama white sauce coated over top? We've got that too. Thick and tangy or light and peppery? Crispy burnt ends or succulent, pulled pork? No matter what you choose, there's plenty to go around and plenty of places to find it. Now that you've been schooled on some of the styles, it's up to you to decide which kind best fits your feast.
A & G Barbecue & Chicken
aandgbbq.com
A true veteran to the Carolina Beach southern BBQ scene, A & G has been doling out gloriously unpretentious meals in their dining room since back in the day when the New Kids on the Block were actually new. A whopping nearly-thirty years in service, this humble eatery (doubling as a downhome hole-in-the-wall) takes pride in offering phenomenal food at a sensible price. In addition to mouthwatering pulled pork, sumptuous fried chicken, and crunchy hushpuppies, A & G promises an extensive lineup of veggies—just under twenty, "like Grandma used to make 'em". At this locals' retreat, you'll also find rotating daily specials, combo plates, family dinners, and of course—an endless river of sweet tea and perfect banana pudding.
Bone & Bean BBQ
Earlier this year, one of Wilmington's most beloved brisket-slinging chefs stepped in to preserve Bone & Bean when its former owners were forced to give up their treasured establishment. When locals heard it was James Smith (of Fork n Cork and Smoke on the Water) taking the reins, they grabbed piles of napkins and dove in face-first. Smith's spin on 'cue means pork and wings brined for moisture that erupt with different varietals of smoky goodness (signature of his kitchen style). Sauces are your choosing: Texas Red, Alabama white, Carolina mustard, and beyond. From sweet-and-spicy jalapeno creamed corn to smoked gouda-spiked mac and cheese to bacon-wrapped cabbage (an OG B&B item), there's a refined, yet homestyle side to match every meat.
Carolina BBQ House
carolinabbqs.com
How many plates of fried chicken and fluffy mashed potatoes can you fit in your belly without your top button bursting? Come to Carolina BBQ House's famous buffet for the answer. Their never-ending rows of authentic country goodies are always prepared with care and ready for you to pile on high. From specialty buffet items like Sunday shrimp and grits to flaky chicken pastry, you'll be wondering why you've been eating at places where you only order one thing. Top off their heavenly Carolina-style pulled pork with a refreshing scoop of slaw and a hefty portion (or two—hey, we're not judging) of lush mac and cheese and you've got yourself a supper to smile about. Eat in, take out, or have them cater your next event.
Carolina Smokehouse
thecarolinasmokehouse.com
Four words: Alton Brown eats here. Yep, this inviting, family-style pork palace featured on Food Network and PBS (formerly a longtime legend of Cashiers, NC) now resides on our very own Carolina Beach Boardwalk. The highly acclaimed staples are all still on deck—like the slow roasted, topnotch smoked meats and zippy sauces. Cozy up in the bar with a sticky, rich bowl of baked beans and peruse the infinite license plates doubling as décor. For all the meat you can handle, go for The Pit—a bottomless mountain of ribs, smoked chicken, pulled pork, beef, sauces, sides, and a salad. If you feel like kicking it off with a seafood starter, the divinely spiced shrimp and crab dip is a must-have.
Casey's Buffet & BBQ
caseysbuffet.com
Soul food meets southern hospitality at this genuine BBQ café. Take a tip from the locals, and get your grub on at Casey's where Larry Casey and his family have been proudly serving high quality country cuisine paired with great prices since 2005. With the mindset that food should evoke memories by creating familiar flavors that stir up the senses and provide a story in every bite, Larry has channeled something special into this restaurant. Casey's all-you-can-eat lineup is chockfull of southern favorites like pulled pork, catfish blackeyed peas, coleslaw, pan fried okra and much, much more. True country boys and girls will appreciate pork-centric classics like fat back and pig feet. Save room for (or begin your journey at) the full dessert bar.
Charlie Graingers
charliegraingers.com
This unassuming 17th Street shop may be renowned for their world-famous overstuffed hot dogs, but they're also known around town for putting out some of the most melt-in-your-mouth BBQ you can find. The interior's throwback atmosphere matches the modest brick building (site of former drive-in diner: Peacock Alley). Inside this piece of the past—red-and-white checkered deli paper meets housemade sandwiches and signature spicy pickles. Get a load of The Wilmington: a mound of mouthwatering 14-hour brisket, gooey pimento cheese, pickled jalapenos, molasses BBQ sauce, Jamaican relish, and creamy slaw. For a lighter bite, Charlie's Turkey Salad is a savory blend of spices that's tangy in all the right places.
Dickey's Barbecue Pit
dickeys.com
Not only does Dickey's hold the title of the nation's largest barbecue chain, it now has roots in our Wilmington soil. Owner / operator Eric Evans celebrated his DBP opening just two years back, and has been receiving major kudos ever since. Despite the fact that traditional BBQ enthusiasts typically turn their noses up at corporate establishments, Evans has created a warm, respectful management team that's eager about the menu and treats every customer with superior service. Between the staff's consistent five-star reviews (including a chef whose proud to slow smoke on-site) and the mighty spread of quality items—Dickey's has been a no-brainer for fast casual, finger-licking BBQ. Favorites include the tender, dry-rubbed pork rib plate and the decadent baked potato casserole. PS. Kids eat free on Sundays.
Jackson's Big Oak Barbecue
jacksonsbigoak.com
Bird's the word at this old school Wilmington institution. From to-die-for fried chicken to an ambrosial banana pudding that practically nobody leaves without—Jackson's Big Oak has got it all (and then some). Everyone has a favorite style sauce, and if vinegar-based is your pick, the chopped east Carolina 'cue here will cure your BBQ blues. Relax in the comfy wood-paneled dining room, go for bulk takeout (family meal deal, anyone?) or have them come to you with their full-service catering team. If listening to the locals isn't enough for you, take a peek at the Wall of Fame parading celebrities and sports figures who swear by Jackson's country feast. Keep eye out for weekday specials that disappear quickly and popular regular dishes like the barbeque pork sandwich heaped with mustardy slaw.
K-Bueno Mexi-Q-Grill
liveeatsurf.com
You've had their wildly addictive salsa, but have you saddled up to the Corn Cakes with Prickly Pear Honey Butter? These dense, corn-speckled fritters are a sweet-and-savory mix straight from barbeque heaven. One might not expect fabulous southern-style 'cue from a Mexican restaurant group—but one would be wrong. K-Bueno is revered for smashing southern cooking and Baja cuisine into one (and topping it with Tobacco onions). For a fusion of all things melty and delicious, try the Low Country Grilled Cheese with hickory smoked pulled pork, sharp cheddar, caramelized red onions, and slaw. Can't decide between the meats? The Barn Dance Combo showcases a double duo of pork, juicy pulled chicken, or cowboy brisket with four BBQ sauces to choose from, a corn cake or cheese toast, and two sides.
Mac's Speed Shop
macsspeedshop.com
Despite being the newbie to town, Mac's Speed Shop has already hauled in their share of fanatic feedback. The claims-to-fame are: world championship barbeque since 2005 and more beer choices than days in a year. I'm all in. Toodle-oo TGI Fridays and welcome to Wilmington, Mac's. Thanks to an extremely open layout, the space itself is colossal—making for more room to stack your wing bones. The hickory-smoked pulled pork is a win in any form, and props to Mac's for serving it as a salad (see: The Chopper). For a true pants popping meal, the Porktacular Sammie—pulled pork, bacon, onion rings, and pimento cheese—is a good warm-up to the Fatboy Challenge. Not so hungry for a 5-pound sandwich? At least hit the epic beer list and partake in the complimentary hushpuppies with, wait for it, bacon fat butter.
Mission BBQ
mission-bbq.com
Started by two patriotic buddies equally as passionate about their country as they are about pork, Mission BBQ proudly serves those who serve. All are welcome to enjoy the righteous southern spread, and their positive pro-military message matches the high-quality of the superb cuisine. The fall-apart brisket is Texas-inspired, oak-smoked, and an ideal match for the sharp, drool-worthy Texas Twang sauce. More of a classic Carolina vinegar fan? Don't worry—they have that too. Regulars go nuts for the hand-pulled pork, Maggie's mac and cheese, and super sweet kettle brewed iced tea. Got a hungry group? Mission's Pick-Up Packs make dining with a crowd a cinch. Who wouldn't want to come home to four pounds of smoked meat? With a valid military ID, don't miss out on your complementary dessert.
Moe's Original Bar B Que
moesoriginalbbq.com
Tasting the rainbow of barbeque sauce can be a beautiful experience—but if you're a 'bama boy (or gal), it's mayo-based or bust. Take a load off at this easygoing in-house smokery where the catfish is fried golden brown and the tender pulled pork is always on point. If you're on the hunt for a mom-and-pop country café—this ain't your place, cowboy. Moe's is a modernized, exposed brick southern smokehouse with a spacious bar, killer craft beer list, and flat screens for days. This hip BBQ chain platters up some of the finest smoked turkey, wings, and marinated slaw around. The Bloody Mary's are outfitted with a pork rib and the light, airy Boudin Balls are a crisp marriage of rice, sausage, and happiness covered with that famous white sauce.
Parchies Barbecue
A true "don't judge a book by its cover" establishment—Parchies is a destination spot for BBQ, fried chicken, and noteworthy hot dogs. You might drive right by this discrete building on the hunt for a solid lunch, but you'd be missing out. Since its arrival to the Wilmington food scene in 1984—yes you read that right—this old-timey gem has been one of the city's most respected locations for homemade barbeque plates. Whether you're retired, rocking a three-piece suit, or sporting shorts and flip flops—all walks of life come together to grab a stool at Parchies' counter over plates of perfectly crisped hushpuppies. Pop in to grab a pork sandwich (and a famous cheesesteak) and keep an eye out for their catering service at local events.
Rebellion
rebellionnc.com
A fresh member of downtown's dining team—Rebellion stepped right up to the plate with exceptional bar food, whiskey, and BBQ (insert song: these are a few of my favorite things). When this DC-based eatery opened their Front Street doors after a top-to-bottom renovation, the crowds came pouring in. The pub grub game is strong with this one, and though they don't specialize in barbeque, you'd never know it. A generously sized smoker pumps hard in the kitchen, infusing jumbo dry-rubbed wings with ample amounts of deliciousness. Can't get enough of that BBQ seasoning? Make sure the airy, effervescent Pork Rinds get to your table. The Garbage Pail (a thoughtful tangle of memorable mac-and-cheese, smoked pork shoulder, and slaw) is a BBQ lover's dream come true, and the smoked brisket is a homerun.
Skytown Beer Company
Though Skytown has just recently been welcomed to Wilmington, owners Chef Stephen Durley and Hayley Jensen are no strangers to our food community. Still at the helm of downtown taco sanctuary Beer Barrio, the couple decided to venture into the land of BBQ and in-house brews. They're getting high marks along the way—because who wouldn't melt at the sound of "deep fried sausage gravy battered with biscuit breading?" Skytown's menu is a tasty tour of regional 'cue where the sauces live on the table where you can get Texas brisket, Carolina pulled pork, St. Louis spare ribs, and Alabama white sauce-smothered chicken all in one place. True to keeping up with the trends, Chef Stephen offers updated sides like Campfire Burnt-End Beans and vegan options like a house-smoked Jackfruit Sandwich with eggplant "bacon," slaw, and pickled okra. Nom.
SmokeRise BBQ at Piggly Wiggly
If you happen to be just over the bridge in Leland and need to get your grocery shop on—pop into the Piggly Wiggly for an unexpected (and smoke-infused) treat. As your zipping your cart through the produce section, don't be surprised when you catch a robust whiff of hickory and oak smoke trailing the aisles. It is called Piggly Wiggly, after all, so who's really surprised that they're slow-smoking Boston butts near the deli counter? Thanks to a collaboration with Georgia-based franchise SmokeRise—Leland's Piggly Wiggly is the only store in the area where you can watch butchers in white coats break down magnificent cuts of meat, purchase a just-off-the-smoker (14 hours later) beef brisket, and then turn around and pick out your cereal. Clean up—aisle 3.
Southport Smoke House
southportsmokehouse.com
If the words "fried twinkie" don't do it for you—then you've come to the wrong page. SSH is a smoked brisket haven of bliss where the caliber of the food matches the outstanding staff, and deciding on a sauce is like trying to choose your favorite child. The meats are dry-rubbed and heavily smoked—giving each decadent morsel a massive burst of BBQ flavor. Fan favorites include the luscious pulled pork, tender ribs, and hushpuppies so good you'll wonder if the secret ingredient is crack (it's not). As for other sides—the slaw and silky, expertly seasoned collards get rave reviews. Need your SSH fix in a hurry? Hit the drive-thru.
Terry's NC Bar-B-Que & Ribs
northcarolinabbque.com
Another Southport staple on our list is an obvious choice when it comes to righteous North Carolina style 'cue. Terry's is a no-frills (mainly takeout) spot with a charmingly simple menu centered around barbequed meats done just right. Don't believe me? Just take a listen to some of the accolades under this Pit Master's BBQ belt. He's a two-time winner of the award for Greatest Ribs in America and has participated in over a hundred barbeque contests around the country. The hand-sliced beef brisket is truly transcendent, the Memphis ribs pull right off the bone, and the pecan-scented chicken has crispy skin and a juicy finish. Your choice of classic mayo-based white slaw or red, and the mac and cheese's gooey fondue-like sauce goes above and beyond. Banana pudding is a must.
---
Food Trucks
Poor Piggy's
poorpiggys.com
Poor Piggy's has become an on-the-go Wilmington staple, and if you live here—you've surely witnessed the cute little red trailer scooting around town flaunting a pig in overalls. This quirky truck specializes in cooking their North Carolina pork barbecue, brisket, ribs, and chicken low and slow over thick pieces of hickory and pecan, sealing in a smoky flavor that's a favorite across the board. The service is always fast and friendly, and the shredded brisket sandwiches and crunchy, wonderfully misshapen hushpuppy nuggets make for a satisfying lunch. Don't like it when your foods touch? The BBQ Slop "Trawf"—a masterful mess of baked beans, slaw, pork BBQ—is delightful, but not for you. The Cowboy Fries with bacon, crispy fried onions, and brisket are also worth every sinful chomp.
Port City Que
portcityque.com
This Rocky Point-based food truck came into Wilmington hot and has been lining up the locals left and right. With eclectic dishes like a Waffle Bowl sundae brimming with pulled pork, mac-and-cheese, slaw, and owner Dale Smith's sweet signature sauce—you know you're in for a good time. Each meat is coated in a zesty dry rub and then permeated with hickory and oak for an ideal BBQ experience. While the cooking technique may be traditional, Port City Que puts out innovative offerings that have Dale's flair in every bite. It's not all plates and sandwiches here. Pulled pork tacos and nachos (fully equipped with pork, gooey mac-and-cheese, and jalapenos) are a main draw.
Simply Barbecue
simply-barbecue.com
Simply Barbeque is just a hop off the main road in Holden Beach and worth every second of the extra travel. It was the first food truck (now permanent trailer) in the area, and owner Dennis Sansone's exclusive harmony of spices are rubbed on with love before the meats are smoked in-house over hickory. This charming barbeque spot focuses on St. Louis-style pork ribs, moist pulled pork, and beef brisket. With a smoker boasting six rotating racks holding up to sixty butts at a time, trust me—there's no shortage of meat here. Speaking of, Simply Barbeque is proud home of The "Old Man"—a plentiful feast for two featuring three generous meat portions, 2 homemade sides, hearty cornbread, and Dennis' magical apple crisp. Go for the sweet sauce on the ribs and brisket, and if you like it tangy—the light and spicy vinegar blend on the pulled pork is where it's at.