Among all the outstanding pizza places around Wilmington, we're showcasing 18 spots that are doing outstanding things with their pies—for instance, adding baby clams and shrimp, nutty asiago and prosciutto, and creating an ode to the beloved eggplant parmesan.
By FANNY SLATER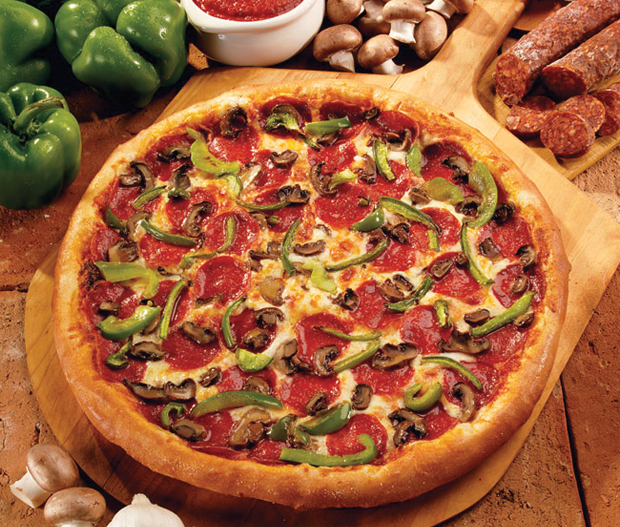 Antonio's Pizza & Pasta
With two locations dishing out superb Italian cuisine, Antonio's is spreading the love all over the Port City. And by love, I mean thin crust pizza. Those looking for classic, crispy northeastern style pies are consistently pleased with Antonio's versatile lineup of creations. In the mood for Mexican? The Taco Pizza with cheddar and black olives will curb your craving. For New York traditionalists—the White Pizza is where it's at. Although the restaurant's dimensions are modest, the food earns massive praise. Loyal Antonio's enthusiasts travel from near and far for a slice of the cracker-like dough. Other tasty Sicilian staples include the luxurious Eggplant Parmesan with zesty marinara and the savory Veal Marsala with mushrooms and prosciutto. antoniospizzaandpasta.com
Brixx Wood Fired Pizza
Just a short hop from Mayfaire Town Center's movie theatre, Brixx is the quintessential pre-film spot for a smoky slice of goodness. But you don't need to take in a blockbuster to enjoy this pub's extensive selection of beers, salads, pastas, and pies. With a widespread menu (and housed in a retail center that screams all-day-shopping), Brixx is a no-brainer for quick, delicious lunches with the kids or grabbing bruschetta and a bottle of wine on the patio with friends. Thanks to a courteous staff and food that stands a step above the rest—this laidback eatery even scores high for date night. Barbeque fans love the tangy sauce-doused pizza with wood-fired chicken, smoked gouda, and cilantro—while vegetarians dig the broccoli, mushroom, and pepper-packed pie. 910-256-9677, brixxpizza.co
Brooklyn Pizza Co.
Straight from the mouth of a gratified customer, this restaurant is known for "real New Yawk Pizza." Brooklyn Pizza Co. has been keeping it real (and as homemade as possible) for nearly sixty years by slinging righteous rolls, fresh Stromboli, pasta and more using their scratchmade dough and marinara they honed in—you guessed it—Brooklyn. NYC experts give BPC two eager thumbs up for paying attention to significant subtleties that often get overlooked by other pizza joints. Namely: superior cheese, paper-thin crust, and a salty, robust sauce. Brooklyn's delivery service is prompt, hot, and reliable, but many dine in for the authentic pizzeria experience. Either way—one bite and you'll be talking like a Godfather. Take the pizza, take the cannoli. 910-395-5558, brooklynpizzaconc.com
Elizabeth's Pizza
This quaint family-oriented Italian café is a beloved Wilmington fixture known for dangerously cheesy slices, cozy booths, and outrageous Stromboli bursting with any filling you can dream up. They've been serving abundant portions and hefty pints for almost three decades. Elizabeth's holds a soft spot in natives' hearts for exhibiting local art, creating reliably fabulous pizza, and doling out consistently cordial service. There is no shortage of graciousness—or garlic—in this longtime gem. Just taste the Spaghetti with Red Clam Sauce or the ricotta-loaded White pie. Avoiding wheat? Gluten free pizza is also available. Other house specialties include freshly breaded veal stuffed with eggplant and salty ham, and golden brown Chicken Parmesan. 910-251-1005, elizabethspizzawilmington.com
Fat Tony's Italian Pub
I'm here to brag on Fat Tony's pizza, but it would be a crime if I didn't mention the crafts. If you're on the lookout for one of the finest assortment of taps in town, Fat Tony's is quietly boasting a dramatic draft collection. For an inexpensive evening, this pizzeria is on point for grabbing a yummy slice and a side of hops. Swing by their newest site in Leland, or pop into the Front Street location to see where the magic began. Downtowners still haven't quite caught on to the phenomenon this modest restaurant has to offer, so jump on it before word spreads. Fat Tony's also puts out killer gourmet-style pies (like the Fig & Gorgonzola with nutty asiago, prosciutto, and a tart balsamic glaze). 910-343-8881, fatpub.com
Frank's Pizza
If you're on the hunt for foldable slices that live on the edge (of the paper plate), Frank's has got your back. What better delicacy to devour on the Carolina Beach boardwalk than a fiercely larger-than-life triangle teeming with mozzarella and spicy pepperoni? Feel like eating on the couch? Frank's will arrive straight to your doorstep. For those dining in, from the red checker tablecloths to the delightfully divey atmosphere—this CB staple is praised by every walk of life. Between the ample toppings and the out-of-sight-stringy cheese, you can always count on this boardwalk classic for all of your Italian-flavored wishes. Beach bod not in the mood for 'za? Go for a juicy grinder stacked with fresh veggies or a flaky sausage pinwheel. 910-458-7010
Green Line Pizza and Steak
Providing top notch customer service, uber snappy delivery, and a loyalty rewards program—Green Line pleases patrons left and right. This Ogden neighborhood treasure is known for piping hot masterpieces like pizza on rustic dough, tender Ribeye Cheesesteaks dripping with whiz, and all natural burgers and fries. Regulars swoon for the pizzas' gloriously chewy crust and freshly cut toppings. The Tuscan, brimming with garlicky pesto, chicken, and tart sun-dried tomatoes, hits high marks. Can't decide between a Philly or a pie? Take the Steak Stuffed Pizza (with decadently melty American Cheese and expertly chopped meat) for a spin. If you're watching your wheat, there's plenty of gluten free choices to go around. 910-821-8191, greenlinepizza.com
Hoobie's NY Pizza & Hoagies
Hoobies may have a quiet reputation and an offbeat address, but that doesn't stop them from tossing some of the best pies in Wilmington. This takeout and delivery joint has been around the block for years, and has kept its neighbors copiously sated. Hoobies heaps toppings on everything from oversized thin crust to classic Detroit-style red top (where the upper crust seals in all the goodies). If you're not used to diving in marinara first, the traditional chewy crust options—like the Spicy Buffalo Chicken or garlicky White—are serious crowd pleasers. But make no mistake—Hoobies doesn't depend on top-layer-extras to get the job done. Their basic ingredients are handled with such perfection, even the plain cheese pizza gets rave reviews. 910-350-0077, hoobiespizza.com
I Love NY Pizza
There aren't many places downtown where the line wraps around the block at 2 AM. But at I Love NY on any given weekend, you can count on this storefront to be popping with pepperoni and wide-eyed patrons well into the wee hours of the night. This modestly sized, cash-only, eat-in or takeout scene will whisk you straight to the streets of the Big Apple. I Love NY is practically an appendage of Front Street as it nourishes all demographics from mid-day lunching out-of-towners, to late-night hungry locals, to everyone in between. They may flaunt a prime location, but they're also flinging dope pies. Despite the flocks of people, service is wildly efficient. Point to claim your piece, and just minutes after it slides into the gargantuan oven—it's ready for red pepper flakes galore. 910-762-7628, ilovenypizzailm.com
Incredible Gourmet Pizza
The name pretty much says it all. Incredible Gourmet has been cooking up some of the freshest pizzas in the Port City since 1993. So what makes it so incredible? Could be the variety of forty toppings, nine cheeses, nine base sauces, and a wheat option for the dough. Can't decide how hungry you are? Incredible prides themselves on supplying four different sizes. All of these numbers add up to over two million combinations (including hundreds of vegetarian options), which means finding something you like is a snap. The Formaggio Benne—an olive oil and garlic glazed crust loaded with four cheeses and fragrant fresh basil—habitually hits the jackpot. If you're in the mood for a piping hot Incredible meal right out of your own oven, try one of their take-it and bake-it pies. incrediblegourmetpizza.com
Italian Bistro Pizza & Pasta
Formerly Antonio's, this charming Italian hideaway in Porter's Neck is a delightful marriage of family and extraordinary food. This operation is run by a close circle of loved ones who make sure that diners get a welcoming and personal eating experience. Italian Bistro's menu is chock full of fresh, local homemade dishes and daily specials. The bistro's warm vibe makes it ideal for a big social gathering or an intimate evening of spaghetti-twirling with your loved one. As for the pizza, its light-as-air crust tastes straight out of New York and each pie is unapologetically flowing with cheese. Try one of their Designer Pizzas like the Pescatore topped with mouthwatering baby clams and shrimp. More of a red sauce fan? Grab a jar to-go of their magical marinara. 910-686-7774
Krazy Pizza
If there's one word to describe a restaurant who's been successfully busy for thirty years, in a town where eateries are notorious for turnover—it's Krazy. Krazy Pizza's fun, easygoing atmosphere has kept faithful consumers spreading the word for three decades. This place is fitting for families, as kids can stay preoccupied with pinball machines and more in their own private game room. In addition to the considerate wait staff, reasonable prices, and clean environment, Krazy's is known for super fresh (and super generous) mozzarella piled onto thin crust slices. For a gooey delightful bite with a hint of sweetness, folks dig the Hawaiian Pie with salty Canadian bacon, sugary pineapple, and double cheese. 910-392-7040, krazypizza.com
Little Buffalo Pizza Shop
Inconspicuously operating on Castle Hayne Road, this newer pizza haven is already making a name for itself in a town filled with dough-tossers. What Little Buffalo lacks in booming quarters, it makes up for with out-of-this-world noshes that don't wear a hefty price-tag. Dubbed as having "the thinnest crust around town"—and slices that could double as double slices—this whimsical shop opened its doors and immediately left an impression on the locals. Could be the New York owners, but the made from scratch specialties (like the BBQ Chicken with housemade sauce, onion, cheddar, and crackly chicken) which give the pies a sophisticated feel don't hurt either. Even the pepperoni and mushroom at Little Buffalo is pure bliss. 910-762-0036, littlebuffalopizza.com
Marco's Pizza
This South College spot delivers outstanding pizzas built on fresh, never frozen dough with a side of authentic Italian flair. Marco's offers unbeatable deals, timely drop-off, and a lofty helping of toppings. Despite being a chain, this eatery could easily be mistaken for a mom-and-pop operation. The scratchmade sauce is celebrated for its sweetness and the hand-tossed crust yields that perfect pizza chew that we all know and love. For a satisfying tangle of tastes, the White Cheesy (cloaked in salty feta, bacon, tomatoes, and garlic-butter sauce) is hard to pass up. For something on the lighter side, the Garden is a hit with vegetarians; and for those who like it old school—the Pepperoni Magnifico with old world pepperoni and signature pizza sauce is transcendent. 910-399-1878, marcos.com
Mellow Mushroom
It doesn't get more chill than Mellow Mushroom. This humble pub has a soul that's spiced with imagination, and they proudly own up to their "free-wheelin' hippy" attitude. The restaurant holds strong to its relaxed philosophy and confidence that happiness can come from a solid slice of pie and a cold craft beer. You can look for funkier pizza combos elsewhere, but you'll be sorely disappointed. For a bite of Asian culture, order the Thai Dye with curry chicken, crunchy cucumbers, and a Thai Chili sauce swirl. For starch on starch—the Red Skin Potato Pie with smoked bacon, caramelized onions, and spicy ranch dressing is a treat. But no matter what goes on top, Mellow has mastered the art of light, fluffy crust. 910-452-3773, mellowmushroom.com
Michaelangelo's Pizza & Subs
With or without the prestigious name, this deli-style pizzeria is recognized for producing a true work of art. From top to bottom, Michaelangelo's giant, novelty thin crust pies are top notch. When it comes to affordably priced, generously portioned casual Italian fare—it doesn't get much better than this. Michaelangelo's boasts shops all over Wilmington, putting out dough that's prepared daily and guaranteed to leave you with leftovers. Cap off a cool winter day with food for a crowd by grabbing a Godfather with your choice of toppings on Carolina Beach. Situated right on the main drag, this location is ideal for a post-beach pizza you'll hardly be able to fit in your car. michaelangelospizza.com
Pizzetta's Pizzeria
One mouthful of Nonna's ethereal Sicilian pie, and you'll feel like your fluent in Italian. Pizzetta's owners harness their passion for cooking into each dish that leaves their kitchen. Their deeply rooted heritage shines bright through bountiful, made-to-order dishes like baked pasta and a famous meat sauce. When it comes to a hearty, indulgent savory pie—Pizzetta's is a Wilmington fan favorite that's scored serious accolades. Lucky for those on the outskirts of town, the Leland location is equally flourishing. The Buffalo Chicken pizza—stretched 18-inches long and dripping with zesty sauce—will feed you for days. For something more traditional, try the Sicilian pie floating on a thick, crisp crust with homemade marinara and mozzarella. pizzettaspizzanc.com
Slice of Life
Tequila typically goes with tacos, but at Slice—grab some limes and salt and it's bottoms up or bust. In addition to flavor-packed pizzas spread with fresh, all natural ingredients—this homey bar is notorious for having the most epic tequila selection in town. Might be the nachos, tacos, and quesadillas that steer the drink menu in this direction, but there's a full line up of drafts, bottles, liquor, and wine to quench every thirst. Thanks to three spots around Wilmington, customers can easily grab carryout or dine in at whichever Slice suits their needs. The inviting downtown setting is sublime for tourists, families, and Port City natives alike. If your day turns into a night out on Front Street, drop into this thriving hangout (as late as 3 AM) to soak up your weekend decisions before hitting the sheets. grabslice.com