Events Calendar Nov-Dec
09 Nov 2015

Looking to fill your social calendar? We've got the rundown on what to do this holiday season.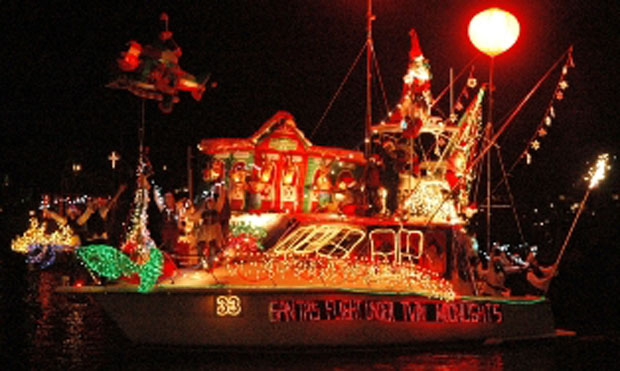 32nd Annual NC Holiday Flotilla
Nov 27 - 28
The celebration will kick off Friday night at 7pm with the Anchor's Away Launch Party at the Blockade Runner Beach Resort. Includes dinner, a cash bar, and live music by The Embers and a silent auction. The fun continues Saturday at Wrightsville Beach Park from 10am-4pm with the Festival in the Park, including a large play area for children including several inflatable slides and bounce houses, a climbing wall, a coloring contest, the always popular Arab Choo Choo, festival food, an antique car show, over 100 arts and craft vendors, and more. The lighted boat parade begins at 6pm and is followed by one of the best fireworks shows in the southeast. 910-256-2120. ncholidayflotilla.org.
Cape Fear Fair and Expo
Oct 30 - Nov 8
Since 1964 this country fair has been bringing friends and family together to celebrate the start of a new season. Enjoy the celebration in Wilmington with food, animal exhibits and competitions, horticultural contests, amusement rides, children's activities, family fun and live entertainment. Held at the Wilmington International Airport. 910-313-1234, capefearfair.com.
Riverfront Farmers' Market
Nov 1 - 21
A weekly market held on Saturdays along the riverfront in the historic downtown river district. Market features local farmers, producers, artists and crafters. Products include fresh fruits, vegetables, plants, flowers, cheeses, meats, seafood, baked goods, jams and jellies, wine, art, crafts and more. 8am-1pm. 910-538-6223. facebook.com/riverfrontfarmersmarket
NC Surf to Sound Challenge
Nov 6 - 8
Join the Blockade Runner Beach Resort for the 5th Annual NC Surf to Sound Challenge, a growing paddleboard tradition and WPA Sanctioned event in Wrightsville Beach, NC. Attracting over one hundred paddlers from across the globe including pro's like Elite race winner Larry Cain, this paddleboard event is quickly becoming one of the premier events on the East Coast. Elite Paddlers will brave the Atlantic, battle through Masonboro Inlet and navigate the channel behind Masonboro Island. Intermediate Paddlers can compete in a flat-water course around Harbor Island and there will also be a waterman's expo at the race site from Noon to 6pm. Cash prizes will be paid to the top 3 to complete the Surf to Sound Challenge in Men's 14 and Women's 12'6 and Kids Races. Surf SUP Competition on Sunday. Blockade Runner, 9am. 910-256-2251, wrightsvillebeachpaddleclub.com
Coastal Carolina Clay Guild Holiday Show & Sale
Nov 6 - 8
The annual Coastal Carolina Clay Guild's Holiday Show and Sale will open with a reception on Friday evening at 5pm. Music will be provided by members of the Tallis Chamber Orchestra of Wilmington and the Show and Sale will continue on Saturday and Sunday. Members from all over Southeastern North Carolina, including well-known potter Hiroshi Sueyoshi, will be exhibiting and selling their work at the show. The ever-popular raffle will be held again this year with each artist represented by donating a piece of their artwork. Don't miss this chance to get these truly unique pieces for your personal collection. Hannah Block USO/Community Arts Center. coastalcarolinaclayguild.org
Cape Fear Kite Festival
Nov 7 - 8
Come watch as we paint the sky! Flyers from all over will be joining together at the Fort Fisher State Recreation Area for the Annual Cape Fear Kite Festival. There will be more than just your average kites flying and filling the sky so enjoy all shapes, sizes, styles and of course colors. 10am-4pm. Fort Fisher State Recreation Area, 910-520-1818.
Cucalorus Film Festival
Nov 11 - 15
Join the fun with the 21st annual Cucalorus Film Festival! The Festival is a non-competitive festival which showcases more than 200 films and attracts an accumulated audience of 14,800 cultural travelers who come from all over the world to celebrate the art-form and connect with peers. The festival's spirited celebration has been recognized as a breeding ground for young artists and was named "One of the coolest film festivals in the world" by Movie Maker Magazine in 2013 and 2014. Festival programs focus on dance, music videos, emerging artists, social justice, works-in-progress, and international cinema. Cucalorus will also have the "Kidsalorus" program of family films suitable for children ages seven and up. Thalian Hall, 910-343-5995. cucalorus.org
Carolina Pine Music Festival
Nov 20 - 22
Enjoy three days of music in historical downtown Wilmington at the Carolina Pines Music Festival! Day one's events will be held at The Brooklyn Arts Center, Day two will feature 11 live bands at Satellite Bar & Lounge and on Sunday, enjoy nine bands at The Art Factory. Browse art works by this year's featured artist Nick Mijak among other local vendors for this unique celebration of arts and music. Various locations. carolinapineproductions.weebly.com
Riverfest
Nov 20 - 22
Join in celebrating Wilmington's 37th Annual Riverfest! This festival includes a street fair with special exhibits along with vendors selling art and handmade crafts and over 30 food vendors. Continuous live entertainment, a classic car show and dazzling riverside fireworks along a children's area and Rowing Regatta highlight the weekend. This year's theme is "Celebrate Art on the River" with a focus on the visual and performing arts and the first-ever Miss Riverfest will be crowned as the festival's ambassador. Water Street to Chandlers Wharf, 910-452-6862. wilmingtonriverfest.com
Beach Soccer Classic
Nov 21 - 22
Cape Fear Soccer Club is please to host the 7th Annual Beach Soccer Classic. The tournament is open to all U10-U18 Boys and Girls (Boys up to U14) Club teams that regularly participate in challenge, classic and premier league play. 910-392-0306, soccer.sincsports.com.
Cape Fear Festival of Trees
Nov 23 - Dec 6
The Cape Fear Festival of Trees returns as one of the most heart-warming holiday traditions in our area. During the two-week festival, you are invited to wander through a winter wonderland of holiday elegance. Glittering trees decorated by local businesses, various organizations and individual artists transform the museum space into an enchanted forest for all to enjoy. In addition to the dazzling array of trees, enjoy performances by local musical groups and artists. Treat your ears to the wonderful sounds of harps, handbell and ukulele choirs, A Capella singing and more. This is the perfect way to kick off your holiday celebrations. North Carolina Aquarium at Fort Fisher, 910-796-8099. lcfhfoundation.org
Gallop for the Gravy 5K
Nov 26
This scenic certified 5K course starts and finishes at the Wilmington Family YMCA. Put on your best costumes and get ready to race with the chance to win best costume of the year! Other awards will also be presented to the 1st overall male and female finisher, 1st overall male and female masters, and the top 3 male and female finishers in each age group. There are also door prizes and famous homemade baked goods from Wilmington West Rotary. It's a great way to start the Thanksgiving holiday. 8am. 910-343-9614.
Wrightsville Beach Turkey Trot
Nov 26
The11th annual Turkey Trot includes a 5K timed run or a 1 mile walk around the beautiful Wrightsville Beach Loop. There will be prizes, food and fun for everyone this Thanksgiving Day. Children 10 and under are Free, but in order to be timed they must be registered and pay as an adult. Wrightsville Beach Park. 8:20am. its-go-time.com
Fourth Friday Gallery Walk
Nov 27
Fourth Friday Gallery Nights are a free monthly event where downtown galleries and studios open their doors to the public in an after-hours celebration of art and culture. Taking place from 6-9 pm on the fourth Friday of each month, the art walk is a self-guided tour featuring exhibitions of various artistic genres including oils, acrylics, watercolors, pastels, metals, ceramics, mixed media and more. 6-9pm. Various locations. 910-343-8997, artscouncilofwilmington.org
Christmas by the Sea
Nov 27 - 28, Dec 5, 12, & 19
The Boardwalk area will be decorated and lit up each and every night during the holiday season. The area will host many activities including Santa at the Welcome Center, fire pit with storytelling, hot chocolate at the Welcome Center, live nativity scene, caroling, holiday themed movies at the Gazebo, puppet shows and an arts & crafts area with ornament making activities for kids. Carolina Beach Boardwalk. 6:30-8:30pm. 910-470-2024, facebook.com/xmasbythesea
Enchanted Airlie
Nov 27 - 28, Dec 4 - 6, 10 - 13, 16 - 22
A Wilmington tradition since 2005, guests from around the world have visited Airlie Gardens from Thanksgiving to Christmas to take in the sparkling sights and festive sounds of the season. Guests will experience a 1/2 mile stroll through the Gardens, on a self-guided walking tour while feasting their eyes on a spectacular array of lights and holiday displays. Also in attendance, Santa Claus himself, and a few local food and beverage vendors with coffee, hot chocolate, popcorn, cookies and more! Airlie Gardens. 5-7pm and 7-9pm. 910-798-7700, airliegardens.org
Island of Lights Festival
Nov 27 - Jan 1
Pleasure Island is home to an island-wide holiday festival featuring lighted displays around Carolina Beach Lake (nightly) along with businesses and residences decorated for the season. Enjoy the fantastic light displays and holiday cheer with signature events taking place through December 31, all right in Carolina and Kure Beach! 910-458-5507, pleasureislandoflights.com
Downtown Holiday Tree Lighting
Nov 27
Features music and caroling, a visit with Santa Claus and Mrs. Claus, and the lighting of the Christmas tree on the Riverfront. Enjoy music, a holiday marketplace, and warm refreshments. Get into the spirit and stroll among the shops and restaurants to kick off the holiday season. Riverfront Park. 5:30pm. 910-254-0907, dbawilmington.org.
Landfall Foundation Holiday Marketplace
Dec 1
The much anticipated Holiday Marketplace is back for the 5th year in a row! This shopping extravaganza is a must attend event and is the perfect opportunity to shop from a variety of vendors all in one place. Last year over 500 shoppers took advantage of this fabulous event which featured items such as home and holiday decor, jewelry, children's and men's gifts, clothing, food, candles, gift baskets and more! Enjoy complementary hord'oeuvres. 4-8pm, Country Club of Landfall. landfallfoundation.org
Ballet for Young Audiences: The Nutcracker
Dec 4 - 5
Enjoy the dynamic talents of New York's Ballet for Young Audiences with the classic holiday story of The Nutcracker. This Christmas tale tells the story of a young girl named Clara who with the help of her godfather, is transported to a magical realm where she journeys through the land of sweets, witnesses a daring battle, and meets the sugar plum fairy. Perfect for the whole family, this show will be a narrated sixty minute version that will help get you in the holiday spirit. Fri 4pm & 7pm; Sat 10am. Thalian Hall, 910-632-2285. thalianhall.org
Cape Fear Academy Holiday Market
Dec 4 - 6
The Cape Fear Academy Holiday Market is the premier shopping extravaganza held on the coast in beautiful Wilmington. Located at 3900 South College Road, CFA will play host to approximately 100 vendors carrying a broad selection of high-end items including clothing, accessories, jewelry, home decor, and gourmet foods. We look forward to welcoming you to this exciting event. 910-620-2222, cfaholidaymarket.org
The Holiday Flea at the BAC
Dec 4 - 6
Renowned as the "ultimate vintage flea" and attended by more than 1,500 shoppers and dozens of vintage vendors from around the region, it has a wide array of vintage, retro, and up-cycled treasures. Wilmington's finest food trucks feed the crowds, coffee shop in the courtyard. Brooklyn Arts Center. Times vary. 910-616-9882, brooklynartsnc.com
Fort Fisher Holiday Open House
Dec 8
Join us in celebrating the holiday season at Fort Fisher State Historic Site. Enjoy refreshments, decorations, and entertainment throughout the day, including musical performances guaranteed to delight. 10am-4pm. 910-458-5538, friendsoffortfisher.com
Kure Beach Fantasy Christmas Show
Dec 11 - 13
Come and see this Kure Beach tradition. Enjoy Frosty and his penguin friend, Harriet Hippo, The Grinch, Cookie Monster, the dancing bears, along with Santa Claus and crazy elves, as they entertain you with song, dance and their zany antics. Dress warm because it always snows at the show. Downtown Kure Beach. 7pm. 910-279-0459, townofkurebeach.org
Holiday Pops Concert
Dec 12
The North Carolina Symphony's Holiday Pops is a musical tradition that will fill your heart with cheer. This all new concert features selections from The Polar Express and Frozen, plus all your holiday favorites and our popular sing-a-long. "Yule" definitely be in a holly, jolly mood when you leave this concert! Tickets will sell out, so please make your plans early and ask about discounts for children. CFCC Humanities Fine Arts Center, 877-627-6724. ncsymphony.org
A Christmas Stroll Through the Past
Dec 12
Join the Burgwin-Wright House and Bellamy Mansion Museum as they host their annual festive holiday evening filled with music, dancing, costumes, refreshments and more! Go back in time for an old-fashioned Christmas on this magical night full of fun for the whole family, complete with period decorations, costumed interpreters and even a miniature animal petting zoo. Both historic houses, decorated beautifully for the holidays offer much and enjoy a trolley ride or a candlelit stroll through downtown Wilmington as you go from one to the other. 4-7pm. 910-251-3700, bellamymansion.org
Island of Lights New Year's Eve Countdown
Dec 31
The New Year's Celebration will be along the Boardwalk in Carolina Beach. Don't miss the giant lighted beach ball being dropped at midnight followed by a spectacular fireworks demonstration. This family-friendly event will feature a DJ and dancing with refreshments and party favors. There will be a raffle, with the winner taking home the original artwork for the Island of Lights 2015 official Christmas card and ornament. 9pm. pleasureislandoflights.com
New Year's Eve Gala
Dec 31
The best New Year's Eve Party in town! The evening includes dinner, drinks, dessert, and a sensational performance of the Broadway Musical, Memphis, produced by Cape Fear Theatre Arts, one of Wilmington's most respected community theatre ensembles. After the show, ring in 2016 with a live DJ, dancing, and champagne toast. $125. Thalian Hall. 7pm . 910-632-2285, thalianhall.org