Fabrics, Furniture and More
03 Jan 2015
Artéé Fabrics & Home makes decorating easy
By JOHANNA M. COLBURN Photos by KELLY STARBUCK for SALT Studio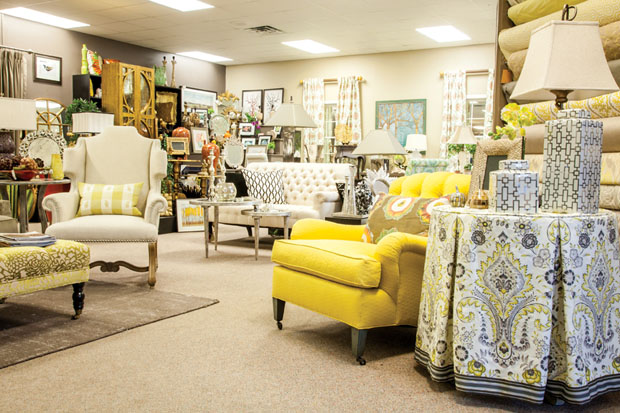 Dreaming of creating a new look for your home in 2015? Usher in the New Year with a visit to Artéé Fabrics & Home for a free in-store consultation to reimagine, recast and reinvent your home. Artéé features row upon row of fine fabrics for the home in a dreamy oasis full of color, texture and sparkle. Thousands of fabrics are available to choose from in numerous colors, silks, cottons, embroideries, blends, prints and linens. In addition to manufacturing their own line, Artéé features many other brands including fabrics by Pete Kaufmann, Duralee, Teepo and Scalamandre to energize your home.
At Artéé, design inspiration comes from the customer. Their friendly and experienced design staff will help guide you in bringing a room together and reflect your signature style. Customers can bring in their personal items and their professional staff can provide advice as to what might works for a specific application. Transform your favorite spots both indoors and out in brilliant colors or perk up old furniture with a stylish makeover.
"There is a lot of interest in simply changing a room with just curtains, which can change the entire look," explains Artéé's Nancy Miles. Customers can showcase a room's beauty with a simple adornment that makes a statement. A single change can influence the entire design and provide an instant room update or express style with a swoon-worthy palette. Give your furniture a fresh start by refreshing a table with a skirt to remedy dated or scratched furniture for subtle sophistication or embellish curtains with trim.
While they are known for their year-round large selection of fabrics, trims and tassels, Artéé is not just a fabric store. They offer custom upholstery, custom window treatments and custom bedding for any home. They also are on hand to help to reupholster furniture to look like new. "We add the dressmaker details with fabrics and trims," explains Miles. "These details give a custom finish to our products and our professional staff is here to guide you every step of the way."
Everything you need to decorate your home can be found at Artéé including colorful hand-picked home furnishings and accessories to complement your space like bold prints, lighting and decorative pillows. New items are constantly being added to their collection and they are anticipating a new line of readymade bedding.
Artéé sells window dressings from simple, designer or readymade rod pocket panels to patterned valances that can be customized to a customer's style, taste and color scheme. Custom furniture can also be built. Artéé works with local artisans and businesses to produce and complete their designs projects and most projects are produced locally. Their design professionals work with you every step of the way from fabric selection, measuring and design.
Pillow inserts come in a variety of shapes and sizes and custom bedding includes comforters, headboards, table skirts, and duvets. All of Artéé's products and services are offered in a variety of price ranges so there is something for everyone. Offering high-quality merchandise at low prices allows Artéé to be of the best service to consumers who are looking for convenience, quality and value.
Artéé has 13 stores nationwide, each with their own unique identity. The Wilmington store provides for true southern style ranging from classic, modern vintage to beachy chic in serene shades from the sea and go-to coral. Fill your coastal abode with bright hues that make big waves or find the inspiration to tackle your own do-it-yourself home projects.
910-686-2950; Artééfabricsandhome.com