Famous Toastery
05 Mar 2019
Treat your tastebuds to this local favortie serving up fresh breakfast, brunch, and lunch all day, every day
6722 Wrightsville Ave.
Wilmington, NC
910-256-7030
famoustoastery.com
By BRIDGET CALLAHAN Photos by FRANK G. HART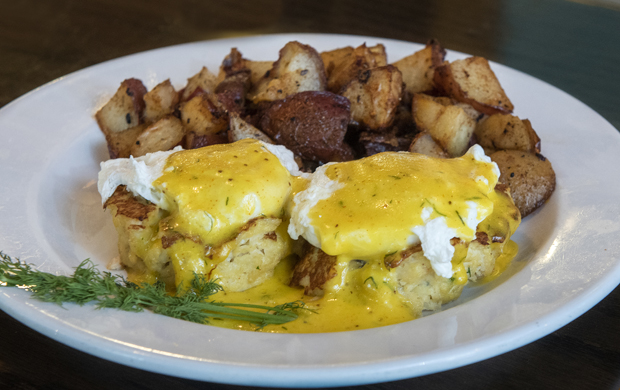 The first question is usually "What exactly are you?" Upon hearing the Famous Toastery's name, most people assume...well...toast.

"I had a lot of people calling, asking what we did. I had a bunch of people wondering what the heck a Famous Toastery is? They didn't know if we were a bakery or what," says Joe Kloiber. He and his wife Jamie are the owners of the Wilmington location of this fast growing North Carolina franchise, which opened in 2016. Both are quick to mention that the menu contains lots and lots of gluten-free options, suggesting they've had to say it a lot.

The story of the Kloibers moving to Wilmington to open up a restaurant is an achingly familiar narrative: once you live in Wilmington, even if you move away, at some point you end up right back here. And then the rest of your family moves down too. In Joe's case, his Wilmington love was solidified in the 80s, when he was young and working at restaurants and bars up and down the beaches. But, like many young people, career opportunities were scarce in town. So, he moved back to Charlotte kicking and screaming, where he met his wife Jamie, and began what became a twenty year career building custom homes. The couple had three children and both had careers they loved. But, in Joe's heart, he never gave up on the dream of a restaurant in Wilmington.

"My parents went to a Famous Toastery in the Charlotte area, because that's where it started, and they were just really impressed by the food, the ambience, the service, just everything about it. My dad's one of those guys, he's had a successful business of his own, and he's always looking at different opportunities. And he knew I was getting burned out on the construction, and he said "hey, maybe you should look at this,"" Kloiber says. So he took his dad's advice and went to meet with the two owners. From there, things moved fast. "I remember looking back at Jamie and my dogs and my kids when I walked out because it was a whole new adventure for me. I remember looking back and thinking "I don't even know when I'm going to be able to come back home." My son played high school basketball, and it was six, seven months before I even made it back to Charlotte to visit and see one game. It was a blur," says Kloiber.

The first step was to find the space, of course.

"We were looking for a spot in different areas, and this place, which used to be Havanas and Raphaels, was listed privately. I went in for the first time one morning on a beautiful day and absolutely just fell in love with the building. When we went in it was very dark and gloomy, with a lot of dark colors. But, I had a vision that we could make this place really come to life," he says.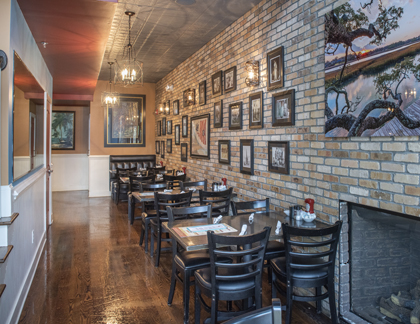 It's hard to even recognize the place now, full of bright light and brighter colors. The Kloibers believe that even though Famous Toastery may be a franchise, their location is uniquely and truly theirs. In addition to bucking the franchise look with their building, Kloiber has also fought to make the menu individual and tailored to the area as well. On his menu, you will find local specials that you won't find at any other location, thanks in large part to his chef, Ivan Rangel. Kloiber manages the front, and Rangel handles the kitchen, with Jamie managing the books.

Jamie attributes a lot of their success over the last three years to their staff.

"[Joe] has his own way of hiring and it's not necessarily who other people would hire. But, if he thinks they're a good person and they're trainable, he'll give them a shot. And it has worked out. We have a phenomenal staff," she says, adding that she's constantly impressed by how their hostesses know the name of every regular.

"I focus on the individual more than I do any of their experience," Kloiber says. "That was a learning experience for me, that sometimes the most qualified people aren't the best fit for what we do, because we work as a team. They share tips. It's a total team effort here."

And to answer your first question, no, they do not just serve toast. The menu, which serves both breakfast and lunch all day every day, is an extensive mix and match of benedicts, omelettes, and flapjacks. Their most popular benedicts are the avocado, a split avocado with the eggs baked on top, served with pico de gallo and pepperjack, and the crab cake benedict, a regular special that Kloiber has made his own thanks to a family recipe for true, meaty Baltimore crab cakes. And another regular special, the Reuben Omelette, features corned beef made right in their kitchen. No cans or bags allowed.

"We make everything from scratch fresh daily. Our guys are here at 5:30am to prep for the day. And we cook everything to order all day long," Kloiber says.

In addition to a bustling daytime business and catering orders, the restaurant is also available for evening rental bookings, so the Kloibers have been keeping busy. And with a beautiful dog-friendly patio in addition to their screened-in porch seating, once the nice weather sticks it's best to come early to get a good seat. Wilmington may be a place where dreams come true, but it's also a good place to call ahead for brunch.