Going for the Gold
05 Mar 2019
Actively Aging in The Port City

By CAROLINE GOBBLE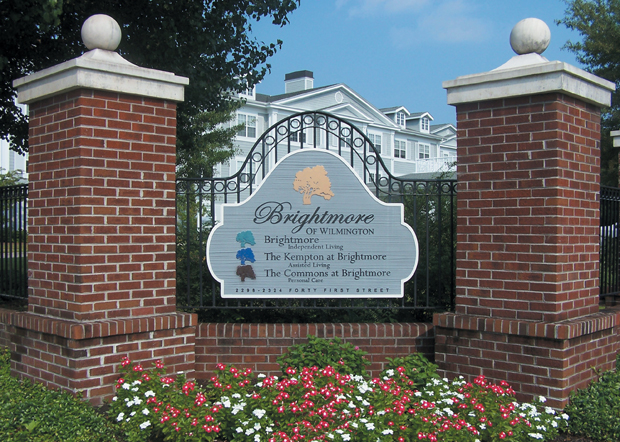 According to a 2018 study by Bankrate, North Carolina ranked among the best states to retire. The study compared states in seven different categories: weather, cultural vitality, cost of living, crime, taxes, health care quality, and well-being. NC and Montana tied for No. 6 and boasted higher scores in the weather, cost of living, and taxes categories.

Carolina Demography sites, "by 2035, more than one in five residents in both North Carolina and the nation will be 65 or older. North Carolina is projected to have 2.5 million residents age 65 and older in 2035. Nationally, the U.S. Census Bureau projects that the population 65 and older will reach 79.2 million by 2035."

As North Carolina's 65 and older population continues to grow, so does the need and demand for retirement living. Wilmington, the Port City, is an ideal community for retirement living from the beaches and golf courses to the Downtown Riverwalk and arts scene. In fact, Wilmington has been named one of the 100 Best Small Art Towns in America. It is the perfect place for seniors looking for independent or assisted living facilities, and Liberty Senior Living's Brightmore of Wilmington and Carolina Bay are two communities ideal for retired living in the Port City.


Brightmore of Wilmington

Brightmore of Wilmington offers a continuum of retirement choices including Brightmore Independent Living, The Kempton at Brightmore Assisted Living, and The Commons at Brightmore Personal & Memory Care, which is just completing a half-million-dollar renovation. All three communities are located in midtown Wilmington on a 13-acre campus situated near shopping, medical, and cultural opportunities. As Marianna Stacy, Community Outreach Educator of Brightmore and Carolina Bay, explains, "Once someone becomes a Brightmore of Wilmington resident, they are our priority for receiving higher levels of care if or when they may be needed within our Assisted Living and Memory Care communities on the campus."

Brightmore Independent Living offers 136 private Independent living apartments, 66 private apartments at The Kempton at Brightmore Assisted Living, and for special health care needs, The Commons at Brightmore Personal & Memory Care offers spacious private and companion studios and suites, as well as deluxe suites.

Brightmore provides a continuum of care and a wide array of services and amenities designed for active senior living. Some of the many amenities offered at Brightmore Independent Living include weekly housekeeping, one meal per day (with an optional 2nd meal) in the restaurant-style dining room, scheduled transportation, and utilities all included in the monthly rent. A wellness program offers activities such as Arthritis Aquatics, Water Aerobics, Aquatic Tai Chi, Land-based Tai Chi, Balance, Yoga, Strength Training, and Ageless Grace, a new program that utilizes the brain and body for optimal benefit. The Wellness Director, Madeline Woodard, is the only certified Ageless Grace trainer in the area. Walking groups, line dancing classes, a heated indoor saltwater pool with an adjoining Fitness Room for the group classes, and a total of 3 cardio work-out rooms with top-of-the line equipment are more of the plethora of amenities for residents.

"When you move into our Liberty Senior Living communities, our wellness directors meet with you for a personal assessment and recommends a fitness program that you would enjoy and one that you would benefit from," explains Stacy. "We also offer a full social calendar full of optional activities and Life-long Learning programming. All of our apartments come with full kitchens, laundry capabilities, and state of the art emergency call systems. Storage units are also available, if needed."

Monthly active social calendars include scheduled entertainment and outings, church services, educational classes/support groups for community and families, and The Brightmore University Series Lifelong Learning Classes & Events. Other amenities provided onsite are a beauty salon, billiards room, private dining room, sunrooms, living room, a parlor/pub, card and media rooms. Among the many parties and events that are held on the campus for residents, there are 2 major annual fundraising events and the community is welcomed. Salute to the Troops is the outdoor Patriotic Dinner & Dance held in late June featuring a Big Band playing patriotic, jazz and Big Band favorites under the outside front portico with a buffet inside. It honors veterans and raises money for local Wilmington Parkinson & Lewy Body Support Group. BBQ & Bluegrass is a Fall fundraiser that has taken place for 12 years and has raised well over $75,000 for Alzheimer's NC, now Dementia Alliance of North Carolina. These monies are used to support local families who are dealing with the devastating effects of Alzheimer's or dementia.

"The Brightmore University Series, our in-house Life-Long Learning Series, takes place in 3 semesters: spring, summer and fall and includes lectures, presentations, classes and special events," says Stacy. "The residents at Brightmore are encouraged to attend and invite, family and friends. The 50+ public in the Wilmington area are also wanted and welcomed to join us for any of our events and can consult our website for specific information or give us a call at (910) 350-1980."

Not only does Brightmore of Wilmington invite the local community to participate in its own fundraisers and events, but it is also known as a huge supporter of community arts and organizations including New Hanover Regional Medical Center and the University of North Carolina at Wilmington. "Part of the many benefits of living at a continuing care retirement community is the socialization and feeling of purpose that the activities offered allows one to experience," explains Stacy.

Brightmore is managed by Liberty Healthcare, "an experienced family-owned company that has been in the healthcare business for more than 125 years." Brightmore has won numerous awards including: 2015 "National Association of Home Builders" 50+ Housing's "Best Fitness & Wellness Program" Gold Winner; 2015 Winner of Star News Shorepics Best Retirement Community Award; 2016 Winner of Star News Shorepics Best Retirement Community Award; and 2017 Finalist in Best Continuing Care Retirement Community category by Wilmington Magazine.

According to Stacy, "residents tell us all the time that they wish they had made the choice to move to Brightmore much earlier than they did and for anyone who is considering it, 'Do it Now!'" To learn more, visit brightmoreofwilmington.com.


Carolina Bay at Autumn Hall

Carolina Bay at Autumn Hall is a rental continuing care retirement community (CCRC) which happens to be the only rental CCRC in the Tar Heel state. Located on 24 acres within Wilmington's charming Autumn Hall mixed-use community, the Main Campus of Carolina Bay is comprised of 122 independent living apartments, 12 Garden Flats in 2 existing Garden Flat buildings, with construction beginning soon on 2 additional Garden Flat buildings with 6 Garden Flats in each. Carolina Bay offers multiple dining venues, social areas and a full wellness and aquatics center to fit the needs of seniors engaged in an active aging lifestyle. It is also managed by Liberty Healthcare.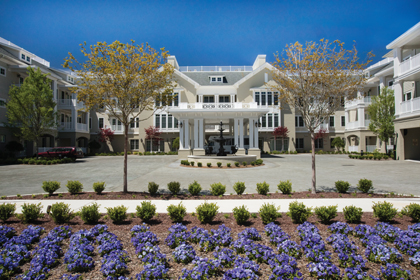 Residents have access to a continuum of healthcare readily available. Bradley Creek Health Center at Carolina Bay offers residents a full range of healthcare services "from inpatient and outpatient rehabilitation to assisted living, memory support and long-term skilled nursing care. Seniors have the appropriate level of care they need without the worry of leaving the community they call home."

Carolina Bay, a planned CCRC, offers seniors a full continuum of lifestyle choices, including independent living, assisted living, and skilled care. Carolina Bay features a range of services and amenities, including dining venues (including a pub), a market, beauty salon, spa, fitness center and indoor saltwater pool. The community is located just minutes from Wrightsville Beach and the port of Wilmington, so residents have access to numerous shopping, dining, and entertainment options.

"We include in the monthly rent all utilities, cable television, Wi-Fi, weekly housekeeping, $375.00 each month to use at our 3 restaurants here in the building. We also include our wellness program with over 30 group exercise classes a week, beginner and advanced classes, such as tai-chi, balance, functional fitness, yoga, circuit training, biking and walking groups and line dancing. We have a heated indoor saltwater pool and hot tub, fitness room with cardio and strength training equipment," says Stacy. "Again, when you move into our communities, our wellness director will do a personal assessment and help design a fitness program that you would enjoy and benefit from. Carolina Bay also offers transportation, a full activity calendar, full size washer and dryer and a storage unit. All apartments come with full kitchens including a dishwasher, garbage disposal, microwave oven, stove, and a side by side refrigerator with ice and water."

Carolina Bay residents enjoy volunteering in the community. "Some deliver Meals on Wheels, volunteer at local museums, and lead church services at Bradley Creek Healthcare. A group of our residents even helped organize a local elementary school's library. Part of the many benefits of living at a CCRC is the socialization," says Stacy. "You aren't sitting at home by yourself eating dinner off of a TV tray. Our residents will tell you that you never have to eat alone and that there is always something to do. The residents at Carolina Bay want to continue to learn, so we host guest speakers which have included the mayor, authors, military personnel, college professors, physicians and more."

Carolina Bay has won several awards including the 2016 Winner of Senior Housing News Architecture and Design Award and the 2018 National Association of Home Builders Best of 55+ Life Plan Community Award. "The residents will tell you that these awards don't make Carolina Bay what it is," explains Stacy. "It's the residents that make Carolina Bay so special. Everyone is a part of your extended family and it's the friendliest place to live!" Very few people regret making decisions to move to a CCRC too soon, however they regret they acted too late to enjoy all the amenities and services that Carolina Bay has to offer. To learn more, visit carolinabayatautumnhall.com.

Three important things to consider when choosing your retirement community are: whether continuing care health services are onsite and "fully licensed;" if they will show you what their history of annual increases have been; and where the company's corporate headquarters are located. It is comforting to know that the community you choose is accountable for the healthcare they provide; that reasonable rental fee increases can be expected; and that there is someone local to assist you with a serious issue. Stacy says, "At Brightmore of Wilmington or Carolina Bay at Autumn Hall, you can be comfortable in knowing there is licensed healthcare; normal annual increases are under 5%; and owners/management are from Southeastern North Carolina and Corporate Headquarters is located right here in the Port City."