Feast for a King
30 Sep 2013
Tender, succulent roasts, as easy as they are superb, deserve their place at the center of the table
By JASON FRYE » Photos by BROWNIE HARRIS » Recipes by JULIA CHUN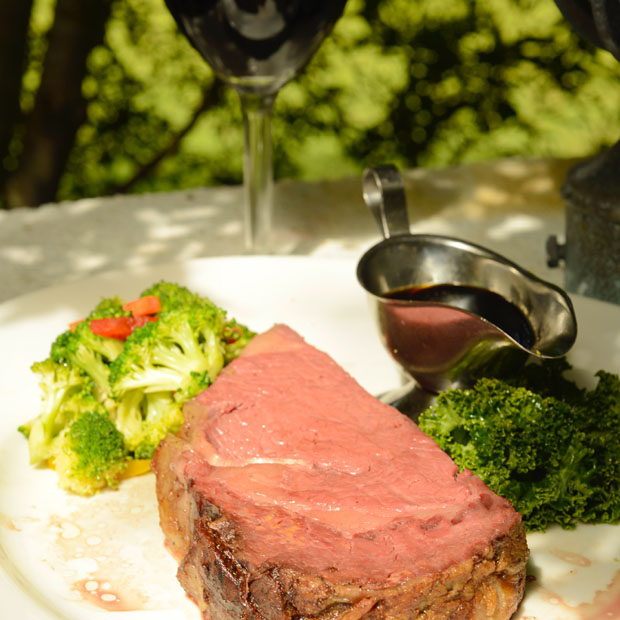 As we leave summer behind, many of us begin to move away from the hamburgers and hotdogs that define warm-weather barbecues and shift our food focus indoors. We sat down with Matt Kahrs, Executive Chef at Port City Chop House, to talk about proper roasting and carving techniques that will serve you well through many a holiday meal, and may even become a regular part of your kitchen routine.
Kahrs walked us through prepping and roasting vegetables, whole chickens, prime rib and even whole fish. But roasting your dinner is just half the battle, the other half is carving it properly, and he had plenty to say about that as well.
For vegetables, begin by peeling thick-skinned vegetables (Kahrs leaves thin-skinned vegetables like carrots, turnips and baby anythings alone, he just gives them a good scrub). Cut the vegetables into uniform pieces anywhere from 1" to 1/8" cubes and add them to a bowl. Once in the bowl, toss with salt and pepper and olive oil.
Set your oven to 475˚ and put your heavy-bottomed roasting pan in, allowing it to preheat as well. Once preheated, add your seasoned, oil-coated vegetables to the pan and put it in the oven for 10-15 minutes (for a 1" cube, less for a smaller dice). Check periodically and stir to ensure nothing is sticking to the pan.
Three to four minutes before they're done, pull the pan from the oven and toss the vegetables with butter and honey (or maple syrup), and place back in the oven to finish. This gives them a deeper caramelized flavor and a beautiful shine when served.
Many are intimidated by the prospect of breaking down a whole bird, be it a chicken or a turkey, too many Thanksgiving horror stories, Kahrs figures. But the reality is that breaking down a chicken, especially a cooked one, is quite easy if you have the right tools. Kahrs recommends a flexible boning knife, but says that a sharp, quality chef's knife will do the job nicely.
Start with a 3-4 pound chicken (often sold as a "young chicken") rather than one of the "roasters" you'll find at most grocery stores (though the roasters are fine). Chop up sage, rosemary, garlic, carrot, celery and onion, combine with salt and pepper and pack the chicken carcass with as much as you can fit in. You can use butcher's twine to truss up your chicken, but Kahrs has another method. Make two "buttonholes" in the flap of skin that covers the hole in the carcass, one on either side, then thread the drumsticks through these holes. Oil the skin with vegetable, soy or canola oil, season the outside with salt and pepper, tuck the wings under the body and you're ready to cook.
Preheat your pan, roasting rack and oven to 375˚. Once you reach the temperature, place the chicken on the rack and put it in the oven. Cook for 1 hour and 15 minutes. Check the temperature by inserting a meat thermometer into the thickest part of the thigh, being careful not to touch the bone. Pull the chicken from the oven at 145-150˚, remove the chicken from the pan and wrap in foil on a carving board. Drape with a dishtowel and allow to rest for at least 20 minutes. The meat will continue to cook another 10˚. Carve and serve.
For prime rib Kahrs recommends a boneless rib roast of around 6 lbs. "That's big enough to serve eight to 10 people, unless they're hungry or you make a mean prime rib," he said.
Begin by scoring diamonds into the fat side around 1/4 inch deep. Rub with prime rib seasoning (kosher salt, black and white pepper, garlic and onion powder, and Italian seasoning), being sure to get it deep into the scoring marks you just made. Cover and allow to rest in the refrigerator for 24-48 hours.
Preheat your oven to 200˚ and heat a large sauté pan on the stovetop. While the oven heats, sear the roast, starting fat-side down, until it begins to develop a crust. Once you've seared the roast and developed a crust, place the roast in a cold pan and put it in the oven. You'll cook for 15-20 minutes a pound, so for a 6 lb. roast, 2 hours. Check the temperature periodically and pull the meat at 115-120˚ for medium rare. When it achieves the desired temperature, pull it, wrap it in foil, place it on a carving board and cover it with a dishtowel and allow it to rest for 45 minutes before carving.
To carve a prime rib, and carve it right, Kahrs recommends using a long carving knife, preferably one with a scalloped edge.
"A long blade lets you get through a sizable prime rib, tenderloin, or any larger piece of roast beef or pork in one or two motions. That means a cleaner cut, one without the lines you've seen before that come from using one of two things: a knife that's not sharp enough for the job, or one that's too small," said Kahrs.
For a whole fish, "fresh fish is the most important ingredient and the biggest key to success with a roasted fish," said Kahrs. "To get a fresh fish, first go to one of the fishmongers we have here and ask them what's fresh. Look at the gills, they should be bright; the eyes should be clear and moist; the flesh should be firm, not spongy."
Begin by cutting out the gills (or have the fishmonger do it), and make slits down the body every 2 inches. These cuts should be deep, almost to the bone. Brush a mixture of oil, salt and pepper to the outside and inside the cavity. Into the cavity, add thin slices of lemon, onion, garlic and thyme.
Preheat your oven to 475˚. Line a cold roasting pan with parchment paper and place the fish on the paper-lined pan. When the oven's ready, cook for 15-20 minutes for a 2-3 pound fish. Once cooked, let it rest for 5 minutes or so before serving.
RECIPES
Prime Rib
Serves 8
These days, most meat markets sell standing beef rib roasts whose smaller connective bones―called the chine bone and the feather bone―have already been removed, which makes the meat easier to carve and produces a more handsome roast. Some markets will even slice the meat off the rib bones and then tie them back on; we found that the roast (facing page) came out juicier when the bones were left attached. Either way, be sure the roast is tied at intervals between the rib bones; otherwise the flavorful crust may peel away from the meat during roasting.
1 5-bone beef standing rib roast (10-12 lbs.), chine bone removed and tied back on
2 tablespoons kosher salt
1 1/2 tablespoons dry mustard
1 1/2 tablespoons chopped fresh rosemary leaves
Coarsely ground black pepper, to taste
Season beef with salt, including the rack of bones. Rub mustard all over beef; sprinkle with rosemary and pepper. Set the beef in a 12" x 14" roasting pan. Cover loosely with plastic wrap and refrigerate for 2-3 days.
Remove beef from refrigerator 3 hours before you are ready to roast it, to allow it to come to room temperature. Arrange rack in lower third of oven and heat to 450°F. Roast the beef, rib side up, until it begins to brown and sizzle, 20-25 minutes. Reduce temperature to 325°F; continue roasting until the meat is 120°F (for medium rare), about 2 hours more.
Transfer roast to a carving board and reserve any pan juices. Cover loosely with foil and let rest for 25-30 minutes. Remove and discard chine bone. Carve roast (following steps shown at left) and serve with reserved pan juices.
Carving Prime Rib
Using a carving knife, cut a thin slice off one side of the rib roast to create an even base. Place roast on a cutting platter, cut side down.
Steady the roast by pressing the carving fork firmly against the topmost bone. Using smooth, even strokes, and utilizing the length of the blade, make a horizontal cut toward the bone to make a thick slice.
While continuing to hold the roast steady with the fork, make a smooth, downward cut as close to the bone as possible to separate the slice from the rest of the roast.
Once you have your slice, trim the fat cap from the top and trim the bottom where the meat rests near the bones and tends to be a little tougher.
Roasted Herbed Chicken and Vegetables
Serves 4
This one-dish chicken and vegetables meal is flavored with lemon peel, garlic, fresh thyme, and butter that's been infused with herbes de provence, a mix of lavender, rosemary, fennel seed, and savory.
4 tablespoons butter
1 1/2 tablespoons dried herbes de provence
1 tablespoon honey
2 cups white wine
1/2 cup extra-virgin olive oil
1 tablespoon fennel seeds
12 cloves garlic, unpeeled (8 whole, 4 crushed)
3 medium turnips, cut into 2" pieces
1 small butternut squash (about 11/2 lbs.), peeled, seeded, and cut into thick half moons
Kosher salt and coarsely ground pepper, to taste
1 4-lb chicken, wings tucked under body
1 lemon
1 bunch thyme
1 large yellow onion, cut into thick wedges
3/4 lb. brussels sprouts, trimmed and halved
3/4 lb. cremini mushrooms, left whole
12 large sage leaves
Heat oven to 375°F. Melt butter and herbes de provence in a pot over medium heat. Remove from heat; whisk in honey. Cover; let herb butter steep for 20 minutes. Combine wine, half the oil, fennel, whole garlic, turnips, squash, and salt and pepper in a bowl; set turnip mixture aside.
Season chicken with salt and pepper. Peel rind from lemon in strips. Halve lemon; set aside. Put rind into cavity with remaining garlic and thyme. Tie legs with twine; set chicken on a small roasting rack in a roasting pan. Arrange turnip mixture around chicken; scatter with onions. Brush chicken with some herb butter. Roast, basting chicken with herb butter and vegetables with pan juices, until turnips are just tender, about 1 hour.
Toss brussels sprouts, mushrooms, and sage together in a bowl with remaining oil and salt and pepper; transfer to pan. Continue roasting to 165°F, 25-30 minutes. Transfer chicken to a platter; cover loosely with foil. Return vegetables to oven; roast until very tender, 18-20 minutes. Carve chicken (following steps shown at left), squeeze reserved lemon over top and serve with vegetables.
Carving Chicken
Set chicken on its side with the breast away from you. Place a fork against the thigh to steady chicken and, using a carving knife, cut between the body and the leg to begin to separate the two.
Pierce the breast with the fork to steady the chicken, and complete the separation of leg from body by working the knife through the connecting joint. Set the leg aside on the carving board.
Hold the breast down with the fork. Using the knife, make an incision alongside the wishbone. Make a deep cut along the breastbone to remove breast meat. Halve and set aside on carving board.
Separate the drumstick from the thigh by cutting through connecting joint while holding the leg steady with the fork. Turn the chicken over and repeat steps on the other side.
Roasted Carrots and Zucchini
Serves 4
If you haven't ever had roasted veggies, you are missing out! Roasting is my favorite way to prepare vegetables. These roasted carrots and zucchini are so good. The roasting really brings out and intensifies the flavor.
1 pound carrots, peeled and cut into wedges or baby carrots 1 pound zucchini, cut into wedges 2 tablespoons oil 1/2 teaspoon salt, or to taste 1/4 teaspoon pepper, or to taste 1. Place cut vegetables on a large cookie sheet and drizzle with oil.
Mix the vegetables and oil to coat the vegetables. Spread them out on the cookies sheet so they aren't touching and sprinkle with salt and pepper.
Bake at 425° for 20 minutes, stirring half way though.
Carving Vegetables
There isn't much to carving vegetables once they're cooked, all the knife work goes in up front.
Peel the carrots using a Y-peeler and making a single stroke all the way from the head to the tip to remove the peel in as few pieces as possible. This will help keep the shape of the carrot more uniform.
Be sure to cut everything into an evenly-sized dice to ensure it cooks at the same rate.
Whether you're using a 1" cube or something smaller, by cutting your vegetables as uniformly as possible, you're giving them the chance to cook evenly giving you an end product that has the same flavor and the same toothsomeness throughout.
Roasted Whole Red Snapper
Serves 4
Cooking a fish whole keeps the flesh especially moist and flavorful—not to mention the excitement an entire fish provides at serving time. And it couldn't be easier.
1 3 1/2-pound whole red snapper, cleaned and scaled
8 tablespoons olive oil
2 cloves garlic, minced
1 teaspoon salt
1 tablespoon plus 2 teaspoons lemon juice
2 large sprigs rosemary
2 tablespoons wine vinegar
1/2 teaspoon Dijon mustard
1/4 teaspoon fresh-ground black pepper
1/3 cup chopped flat-leaf parsley
Heat the oven to 450°F. Rinse the fish and dry the surface and cavity thoroughly with paper towels. Put the fish on a baking sheet and cut shallow incisions about 1 inch apart in each side. Rub the fish all over with 1 tablespoon of the oil. Sprinkle both sides with the garlic, 1/2 teaspoon of the salt, and 2 teaspoons lemon juice. Put the rosemary in the fish cavity. Roast the fish until just done, about 25 minutes.
In a small glass or stainless-steel bowl, whisk together 1 tablespoon lemon juice, wine vinegar, mustard, remaining 1/2 teaspoon salt, and the pepper. Add remaining 7 tablespoons oil slowly, whisking. Whisk in the parsley.
Serve the fish on a platter. Run a knife between the flesh and the bones and lift off the fillet with the skin attached. Turn the fish over and repeat. Pass the parsley vinaigrette.
Carving Whole Fish
To carve a whole fish, you'll need a different tool: a spoon, two of them, actually. Place the fish on a cutting platter with the belly toward you. Slide your spoon along the backbone from head to tail, "cutting" through the delicate meat and separating it from the spine and ribs.
Then work your spoon under the filet, allowing the rib bones to guide your spoon and begin to ease the meat off the bone. Use your second spoon to help separate and lift the filet from the carcass.
Once you have the top filet away, run your spoon along the ribs "like a xylophone," this helps separate the meat and ribs on the bottom filet.
4.Once you've done that , gripping the fish's tail, gently lift the backbone up and away from the bottom half of the fish. The bottom filet should remain on your parchment paper needing only to be served.