Fitness for Fun at Any Age
25 May 2023
Students rave about the fun they have in exercise classes from a local mobile fitness business

By Jen Reed » Photos by Whitehurst Photo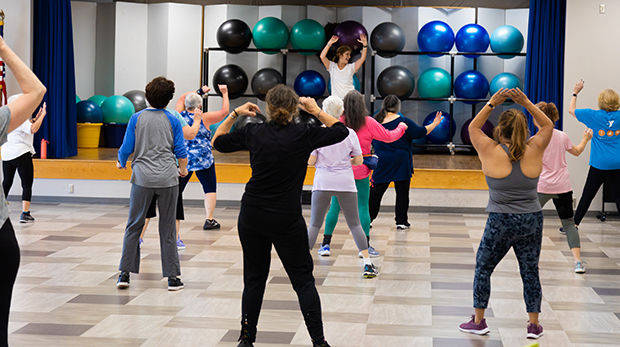 For the better part of the past year, Tammy Agnelli has broken a sweat about five times a week at a fitness class. Her preferred instructor is Heather Wilson, a fitness enthusiast, teacher, and visionary and founder of Going Fit, a mobile fitness program in Wilmington that brings classes to its students. Wilson, with her infectious enthusiasm, and her team of instructors are fixtures at such places as the New Hanover County Senior Resource Center, where Agnelli attends her classes.

"There are only good days or great days when we come to class," says Agnelli. "I really consider this my happy place. I just love it."

Wilson founded Going Fit in January of 2012 while still living in Philadelphia. She had been a long-time advocate for fitness, taking her first classes as a teenager and becoming an instructor herself by the age of 30. Her goal was not to spend her time in a gym or studio teaching classes, but to meet the needs of the participants by coming to them.

"I really saw a need for mobile group fitness classes," explains Wilson. "Fitness isn't all about being a certain fitness level or size. It's about quality of life."

Classes are tailored to the needs of the participants and their communities. She said the level of intensity is determined by the physical abilities of those in attendance. The classes include Zumba, yoga, stretching, Tai Chi and so much more. And best of all, no classes are ever cancelled.

"It's important that students know that if they are going to show up, we are going to be there," says Wilson, who stresses that consistency is the key to living a healthy lifestyle. "If you want to improve, we try to eliminate any obstacles that may be there. That is so important."

When she made the decision to relocate to Wilmington, Wilson did not leave Going Fit behind. With the help of her operations manager in Philadelphia, she expanded her footprint to North Carolina, maintaining both simultaneously. She started gaining new clients, mainly in New Hanover and Brunswick Counties from senior living communities like Del Webb, Carolina Bay and New Hanover County Senior Resource Center to name a few. And although she said she does not limit her services to senior citizens, she does refer to them as the "heartbeat of the company" and is committed to making life better for all who attend the classes.

Going Fit is hardly showing any signs of slowing down as they continue to bring on new instructors, add classes to the schedule and bring on new clients of all fitness levels. In fact, it has become somewhat of a family affair as Wilson's daughter Haley Flores joined as an instructor and operations manager in 2018. The office staff works behind the scenes to give their contracts an entire fitness center experience, including marketing, human resources, scheduling and client communication.

"So many people attend classes to get in shape but, more importantly, it's about socializing and being with people who share their interests," says Flores.

And that is exactly what Agnelli and others attending a Zumba class at the New Hanover County Senior Resource Center love about Going Fit classes – spending time with friends and feeling good about the workout in the end.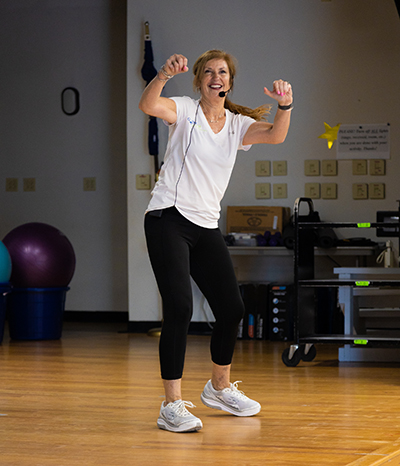 For Sue Whitmore, coming to class nearly every day is a priority. She said she loves the camaraderie among her fellow classmates. And even though they all have varying levels of fitness and ability, the mutual support and the laughs are worth the effort.

"In all these classes, you do you," says Whitmore.

According to Wilson, all students are encouraged to listen to their bodies during a class and to not push themselves more than necessary. They are also encouraged to sit during class at any point they might need to rest.

"It really is all in good fun," says student Jerry Reddy. "We're able to do it and keep doing it. But it's really the positivity in each class that keeps us coming back again and again."

Classes aren't limited to the senior communities. Wilson works extensively with the city of Wilmington. Going Fit is now 70 instructors strong and, as long as there are folks who want to exercise, Wilson and her team will be there to get the job done.

"We have this amazing opportunity to help people feel better – what's better than that?" she says.