For the Love of Learning
26 May 2023
The highly anticipated, diverse lifelong learning programs at UNCW excite and inspire

By Vera Wilson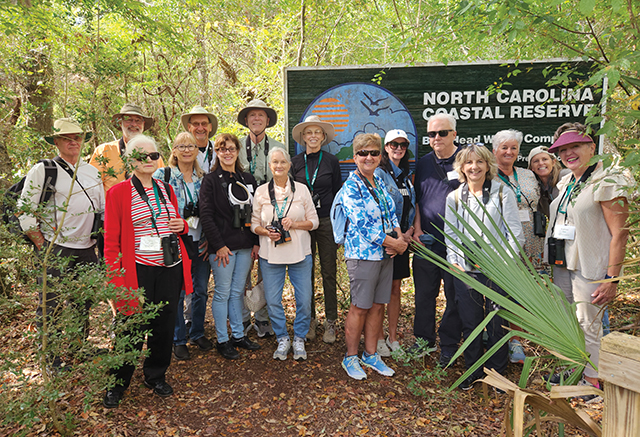 The act of learning is ongoing throughout our lives. There's formal education, followed, perhaps, by some on-the-job training. Everyday tasks such as preparing a recipe or watching a video on how to perfect your backhand are both illustrations of learning. Some are essential; some are simply a means to an end. Then there's learning for its own sake, solely for the joy it brings as you expand your universe and explore what was previously a mystery.

This love of learning is what the Osher Lifelong Learning Institute (OLLI) at UNCW is all about. The tiny nondescript building across from campus opens new worlds via a dizzying array of class offerings, special events, presentations and discussions.

Taking a peek inside their most recent catalog, you'll find classes and presentations as varied as Tai Chi, Basic Drawing, Artificial Intelligence: A Transformative Technology, and the thought-provoking Can the Common Good Be Bad? For more practical applications, there's the Free Tools from Google class or the presentation Online Security: Protecting Your Assets from Scammers. Always popular are the wine-tasting programs such as next month's Everything's Coming up Rosés.

"I think when I see our catalogs, it looks like it doesn't have a theme, and that's intentional," says Amy Keith, OLLI's Director since August 2022. "We want people to feel that the catalog is always fresh."

Geared toward the over-50 crowd, classes are carefully chosen by a group of volunteers and OLLI staff. They brainstorm topics, or oftentimes, there's someone out there—a professor, OLLI member or self-described expert—willing, even eager, to teach a class.

Recently, a retired biochemist volunteered to give a talk on Eleanor Roosevelt.

"A person may have an interest and is willing to do the research and put together a presentation," says Keith. "They just need the passion and a desire to teach. It's really the deepest learning that you do—preparing to teach someone."

Although the classes will change, some things will stay the same.

"Our membership is very diverse," explains Keith, "but there's always going to be programs that focus on the academics for those people that have that intellectual spark. Maybe it's something that they didn't have time to study in their life, like philosophy or art history."

Current offerings that fit the academics bill are an international affairs class on Brexit or Contemporary Art from 1980 to Today, as well as a discussion on Politics and the Supreme Court.

History is always very popular, according to Keith, especially a four-session class on the history of Wilmington.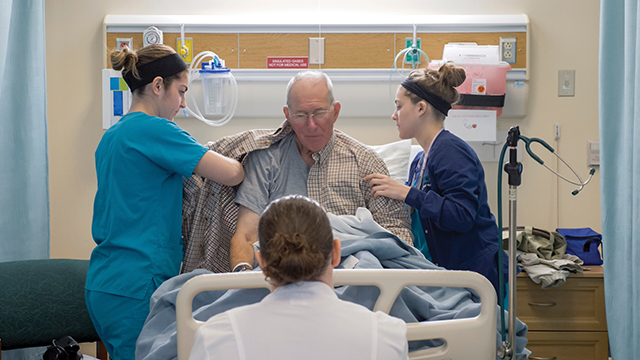 "A lot of our members are new to the area and really want to learn about Wilmington," she says.

OLLI members, especially newcomers, also benefit from presentations made by local organizations such as Cape Fear Literacy Council or Cape Fear River Watch, who want to spread the word about what they do.

"We also want to accommodate people who are looking for the kind of learning that happens outside—something physical," says Keith.

In fact, a full seven pages of the current catalog is devoted to active and outdoor opportunities such as kayaking, yoga, walking tours and pickleball.

One of the pandemic's lasting impacts is the option to take some classes online.

"We offer some online classes to increase the accessibility for people who might be traveling or caregiving or just aren't able to come into the classroom," says Keith.

She's quick to point out that isn't their main focus, though.

"We think that people are also looking to make friends and expand their social network," she says.

She believes that OLLI can give members a sense of connection, whether it's participating in a one-time discussion or taking a class over several weeks.

"People have shared with me the impact that this has had in their life," she explains. "When someone is newly retired or newly widowed and needs things to do every day, they come here and get the enrichment and social connection."

The health benefits of lifelong learning are indisputable. As people age, keeping those brain cells active improves memory and delays symptoms of Alzheimer's. Social interaction reduces loneliness, a too-often predicament for the elderly, and stress.

OLLI periodically offers its members the opportunity to travel internationally. Keith describes these fully guided tours as "a very intense learning experience." Their most recent trip was to South Africa, Botswana and Zimbabwe.

"They had an incredible, incredible experience," says Keith. "They saw all the animals they had goals to see."

One thing Keith would like to see is an OLLI membership list that more reflects the population of Wilmington.

"I want everyone to feel comfortable coming here and taking classes here, so that it's sort of an expanded version of who we are," she says. "But I believe if we continue to focus strongly on the quality of the programming, that's our best path to get there."

OLLI's much-anticipated catalogs come out every January and August. Please visit uncw.edu/olli to view the catalogs, register for a class (scholarships are available), learn about volunteer opportunities or to donate.