Not Your Typical Kids Clothing Store
25 May 2023
Take a break from online shopping to peruse a carefully curated shop of trendy clothing for littles

By Carin Hall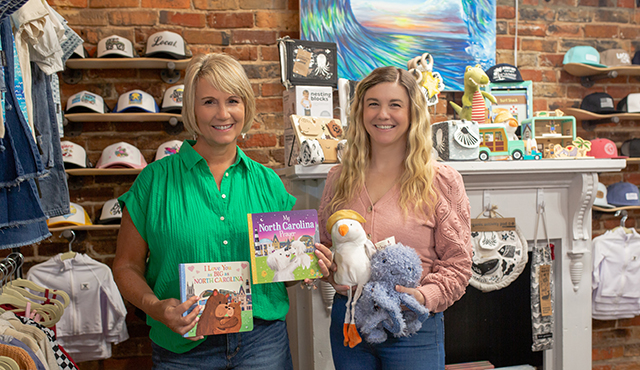 Remember Meg Ryan's character, Kathleen Kelly, in the late 90's movie "You've Got Mail"? Kelly owned a quaint bookshop that represented her late mother's legacy, her close connection with the community and the importance of maintaining the brick-and-mortar small businesses that account for the charm of a city. After I interviewed Jamie Shepard, owner of Little Locals Clothing Co in the Cotton Exchange, I couldn't stop thinking about how her store is its own version of The Shop Around the Corner—only, this story has a better ending.

In the movie, Kelly and her mother are both beloved characters, trusted by the community to curate and recommend the best books while providing a personalized and memorable customer experience. It's not like the "big bad chain stores." It's homey; it's welcoming.

Similarly, Shepard's mother, Debbie Hammond, played a big role in her desire to own a shop of her own. And just like The Shop Around the Corner, her intentional curation of products and dedication to her customers' experience is what sets Little Locals Clothing Co apart.

Growing up, she remembers the joy it brought her mother to run her own gift shop. "I loved getting to be a part of that with her," Shepard says. "I went to the market and helped her create displays in the store, and now she helps me here. I love having something we can do together again."

BACKGROUND

After years of retail experience, earning a degree in Fashion and Textile Management from NC State University, teaching in an elementary school, and then having two sons of her own, Shepard knew she was ready for something different. During the pandemic, she spent a lot of time shopping online for her kids from unique small businesses. Like most of us, the isolation from the pandemic left her burnt out and missing in-person shopping and longing to interact with her local community.

"That's when I found this great location and decided to go for it," she says. "I thought it was a great opportunity to bring all those brands into a store."

Little Locals Clothing Co is essentially a small business that supports other small businesses, where you'll find coastal-casual, trendy children's clothing and accessories (newborn to 5/6 toddler, as well as a few sweatshirts/t-shirts and accessories for mom). The store offers a chance to experience unique brands in-person that may have otherwise been harder to find, prioritizing high-quality, budget-friendly finds and products made in the US whenever possible (a personal goal of Shepard's to source more of). The palette is generally neutral and has an indie feel compared to the typical dinosaur print and bright colors found in most children's clothing stores.

"Many of the brands also come from small, women-owned businesses who started their lines for the same reasons I wanted to open the store: to find trendy clothes for my kids that I'd want to wear myself," says Shepard. "And I love learning about the background of each brand I carry, what their products are made of, what their missions/goals are, what kind of reputation they have, whether or not they're ethically sourced and safe, etc."

If you plan on stopping by with your littles in tow, they might just get a little surprise/distraction like a rubber a ducky to take home. "I know firsthand the struggle of bringing toddlers anywhere," she explains. "And it's my priority to make sure customers love the experience they have in our store as much as the items we have to sell." That's so Kathleen Kelly.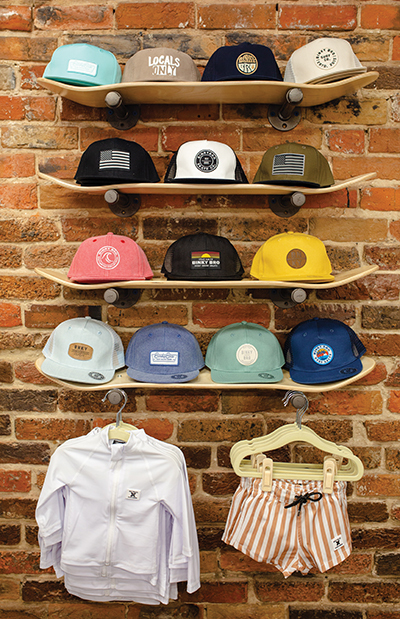 BUILDING ON COMMUNITY

Shepard is also the secretary on the Board of the Cotton Exchange, which she describes as a great community of other small businesses supporting each other. They're working together to not only attract more tourism but also remind locals about all the Cotton Exchange has to offer.

There's also something about the coastal hominess of Wilmington that makes it an idyllic place for small businesses to set up shop—a place where larger chain retailers and restaurants don't make up most of its downtown. And it's up to us to keep that community spirit alive and well. So, stop by to get to know some of the shops that make up this corner (and so much of the personality) of our unique town.

Little Locals Clothing Co
910-228-5351
littlelocalsclothingco.com
Instagram: @littlelocals_clothingco

Cotton Exchange
321 N Front St
shopcottonexchange.com
(3 hours free validated parking available)