The Road Less Traveled
25 May 2023
Design NC Keynoter Corey Damen Jenkins shares his keys to success

By Joe Jancsurak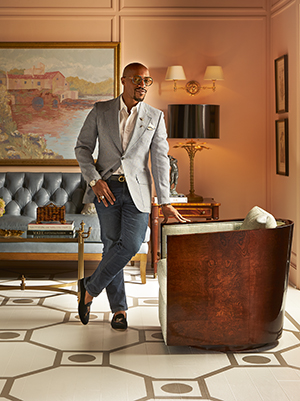 When acclaimed interior designer Corey Damen Jenkins addresses aspiring designers as part of the Cameron Art Museum's Design NC event on May 4-5, his message will likely surprise, inspire and challenge his audience of Glow Academy and Cape Fear Community College students.

As founder and principal of the New York City firm bearing his name, Jenkins' work includes luxury residences, historic homes and deluxe office spaces nationwide. His accomplishments have been featured in myriad publications, including House Beautiful, Better Homes & Gardens, Elle Décor, USA Today and the Detroit News and Free Press. Winner of HGTV's reality TV series "Showhouse Showdown," Jenkins' work can be found on HGTV.com's Designer Portfolio and at coreydamenjenkins.com.

The Detroit native recently took time at the end of a busy workday to share with Wilmington Magazine his thoughts on Design NC, today's design field and his professional journey.

Wilmington Magazine: Why are events such as Design NC important?

Corey Damen Jenkins: Events such as Design NC help create a point of inspiration for designers. As we emerge from the pandemic and look forward to advancing our lives, all of us are looking for fresh inspiration. Events like this provide that.

WM: What topics will you address in your keynote?

CDJ: I'll discuss my approach to interior design, which calls for the mixing of patterns, colors and textures in ways that are both timeless and modern. There are benefits to mixing modernity with antiquity. A lot of young people are recipients of generational wealth in the form of special items that once belonged to their grandparents and parents, and they don't know what to do with them. I'll address that, along with discussing my life story as a designer and my unusual career path.

WM: What drew you to interior design as a career?

CDJ: I began sketching and designing floor plans when I was six years old, having been inspired by my grandfather, an engineer for Detroit Edison who had a deep affinity for architecture. Growing up, my family was always renovating and redecorating, and my mother often asked my opinion on colors and materials. That did a lot for my self-esteem. As a teenager, though, my parents encouraged me to pursue a more traditional business career. So, I did, working as a purchasing agent at Chrysler for 10 years. After I was downsized in late 2007 during the onset of The Great Recession, and after applying for several jobs for which I was rejected, I decided to launch my own design firm.

WM: Was it a smooth transition?

CDJ: Not really. It was difficult at first. I launched my design firm in 2008 with a website campaign that emphasized a fresh approach to interior design with the tagline, "Coming soon to a home near you."

I thought the phone would start ringing, but it didn't. So I started knocking on doors—779 residences and small business to be exact—before I found my first clients in Michigan, a doctor and his wife. It was a complete renovation, which was professionally photographed and posted on my website. Those first couple of years of being in business for myself were rough. Then in 2011, HGTV contacted me for its "Showhouse Showdown" reality series, which I won. Our business grew from there, and in 2018 we opened our New York City office. During COVID 19, we closed the Michigan office and moved everything to the city, where we've since expanded our operations.

WM: Your website describes your projects as "classic, livable and without expiration date." What does that mean?

CDJ: A big part of what I do begins with understanding client preferences concerning the style and functionality of their space. Then we shop unique venues, including estate sales and auctions, taking great care to match the client's taste and budget. There's something special about mixing classic pieces with a livable modern décor to achieve a timeless aesthetic.

WM: Please discuss the importance of your community-based work with the Kips Bay Boys & Girls Club in The Bronx and the New York School of Interior Design's mentorship program?

CDJ: Our endeavors and the millions of dollars we've raised for these organizations are about advancing and opening doors for young people. I believe that it's important to encourage young people everywhere to reach high.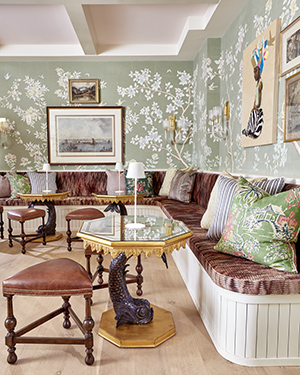 WM: What do you want aspiring designers to know about the field?

CDJ: Aspiring designers need to know that this is a tough career that requires of them exemplary people skills, the ability to serve as an effective fiduciary and drive. Many young people today figure they'll go to school, get a design degree, graduate with distinction and that their career will just happen. That's not the case. If you want to make a splash in this field, you must hustle to make it happen. Design schools need to prepare students for this reality.

WM: Is there anything else you care to add?

CDJ: Yes. Long live print journalism!