Generations of Trust
09 Nov 2014
After 68 years in the business, REEDS Jewelers knows a thing or two about sentimental value
By BRIDGET CALLAHAN
Photos by KELLY STARBUCK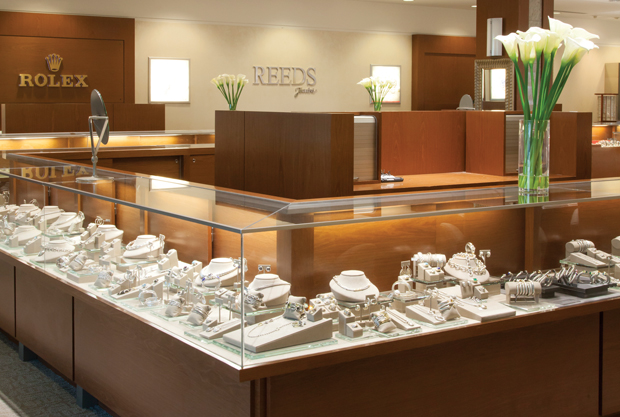 Jewelry has always been a family affair. An engagement ring symbolizes the start of a family, an anniversary present shows commitment to the one you've already built. From a girl's bat mitzvah earrings to a boy's first adult watch, jewelry is tangible proof of the bonds we have with people we love. A woman showing you her jewelry box suddenly becomes full of stories; each piece means something special and important. A beloved grandmother is conjured with a bracelet. A first love is remembered with a ring. The power of these pieces of metal and stone, the sense of permanence and security they give us, is one of the loveliest traditions society has.
In addition to being beautiful pieces of art and memory, a piece of fine jewelry is an investment, and not something to be taken lightly. Like one might search for a realtor, one should also look for a jeweler that is trustworthy, knowledgeable, and talented. And like searching for a doctor, you should look for a jeweler that is also going to be around for a while, who is established and reliable. Someone that can guide you as well as teach you, someone honest, who will be there to highlight the important occasions of your life with a piece that is tasteful, classic, and gorgeous.
Because, sentiment and practicality aside, you also want to wow her.
REEDS Jewelers was started in 1946, when Bill Zimmer and his wife Roberta bought an already existing jewelry store in downtown Wilmington and renamed it. Zimmer had grown up working in the jewelry industry and was known for remembering all his customers' names. Roberta had retail experience herself from years spent working in her family's department store. Between the two of them, they soon garnered a reputation for customer service that went beyond the standard customer interaction. They considered their customers family, and it showed. Soon they were opening new locations all over the state, and in 1985, when the Zimmer's son Alan took over the business, they had expanded to over a dozen retail outlets.
While REEDS may have long since graduated from the small business category, (they now have retail stores in 13 different states), they have worked hard to maintain the same classic, intimate, and reputable atmosphere that REEDS' first location on downtown Front St. became known for. When Bill and Roberta Zimmer opened that first shop nestled along the waterfront in a newly booming downtown, they were probably not imagining a future of website shopping and beachside malls. But the values that they tried to build into the business—honesty, quality, and superior customer service—have survived through the decades as REEDS has grown with Wilmington. After all, a jeweler should be a lifelong relationship.
There are two REEDS locations in town, the flagship store at Mayfaire, and another location at Independence Mall. Each location stresses quality and taste in their collections. The first-time buyer has no need to be scared. After all, we all need to start somewhere, and there is truly something for everyone. Are you looking for a birthday gift for your girlfriend but living on a college budget? REEDS has an extensive collection of reasonably priced Swarovski crystal pieces. Husband just got promoted and you want to tell him how proud you are? A friendly associate can walk you through their collections of classic and cool men's watches. Or if you're about to plunk down two months' salary to propose, ask them to teach you about diamond cut, clarity, and quality. They don't mind. They know that if they do a good job, you'll leave happy, and you'll be back when that one-year anniversary hits.