Princess Perfection
09 Nov 2014
Downtown Darlings is a delight for the imagination in every little girl
By TERESA A. MCLAMB
Photos by KELLY STARBUCK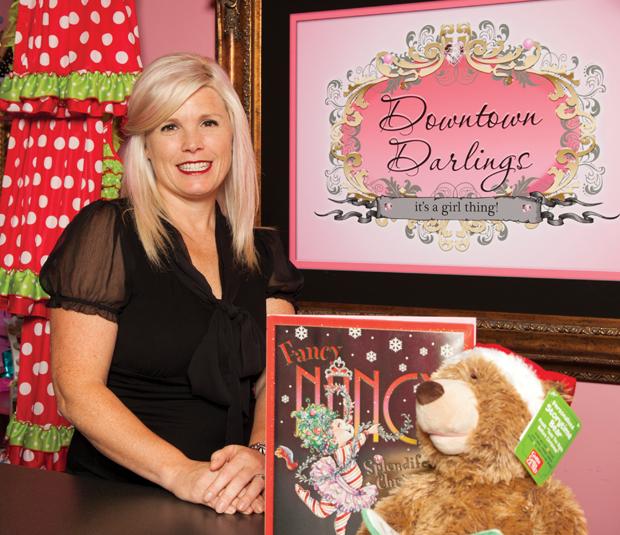 Sequins, feathers, tulle… With everything from tiaras to baby hats to doll furniture to beauty products, the store in historic downtown Wilmington is a one-stop shop for fanciful items. Geared primarily for two to 12-year-olds, Downtown Darlings also caters to babies and to tweens. Owner Marcia Frelke has a dedicated product selection team, including daughters Olivia, 10, and Pennington, 8–with an extra eye from 6-year-old son Ledger. While they're not a clothing store, they do have fun apparel including princess costumes and the occasional matching outfits for children and their dolls, and a plethora of clothing and accessories for 18-inch dolls from several manufacturers.
"I wanted the shop to be fun for moms too, so we carry a little bit of everything," Frelke said, "and we offer princess-themed birthday parties and special events." The daughter of entrepreneurs who owned a business for more than 50 years, Frelke has dreamed of having her own business since she was a student at NC State double majoring in chemistry and zoology.
"I had aspirations of medical school, but I felt that commitment might conflict with my dream of having a family." She took a job that gave her retail and customer service experience and the desire to own her own shop. After visiting a doll shop in Charleston, her idea for Downtown Darlings began to gel. "Just a doll shop wouldn't work. I wanted so much more. My focus became all things girlie." She did her homework at the gift markets and began searching for a location. Downtown's charm won out. The shop opened in May 2011 near the riverfront, where tourists can stroll in and locals have easy access with the parking garage directly across the street.
Downtown Darlings' themed birthday parties include almost everything, except the birthday cake. The parties take advantage of the shop's specially designed mezzanine party room with its zebra-striped rug and large pink sofas, as well as the downstairs dining room with its glass top table and leopard print tenting.
"I think we've created a place worth coming to. I love the old building, the tin ceilings," she said." Admitting to a secret passion for interior design, Frelke said the store's pink, gold and black motif and its floor to ceiling glitz add to its enchantment and fairy tale-like feeling.
Frelke said she recognized that she was taking a risk that people who live outside of downtown may not travel to the shop, but she saw downtown growing and transforming and felt confident in her concept. Customers have found her, and they continue to return. She's grateful for the response and for the ownership that people in the area take for downtown, helping to make it a viable part of the regional economy.
Downtown Darlings also continues to grow and evolve. Frelke's buying philosophy is to buy a few of a lot of things so the product is always fresh and fun. "It's fun to come back into the shop because each time there will be something new."
Downtown Darlings' next big event is Christmas with Santa on Saturday, November 29 (and again on November 30 if Saturday sells out). There will be 10 princess and prince characters, face painting, a special gift from Santa and the chance for children to give Santa their wish list. Tickets are $50 per child and include one free adult admission. 910-251-2233, downtowndarlings.net