The Tastemakers
09 Nov 2014
Deepening Wilmington's reputation as host of one of America's best historic districts, the Port City offers numerous restaurants fit for any occasion
By LIZ BIRO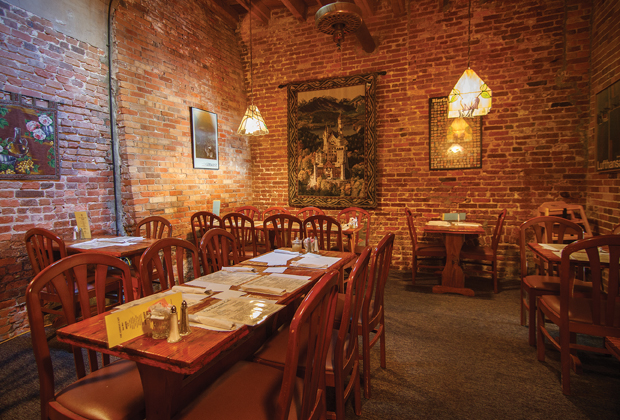 Pender's Café
Pender's has been in business since 1977, but a soda shop first opened at this address in the early 1900s. Some locals still call the spot by its old name, Pender's Luncheonette. The family-run story serves basic short-order fare in dining room dressed all Coca-Cola red. Sandwiches, burgers and fries come from an open kitchen behind an old-fashioned diner counter lined with spinning chrome stools. And talk about throwback: Menu prices are mostly around $5 or less.
Did you know: Pender's is not open for dinner. Grab breakfast or lunch Monday-Saturday.
Don't miss: The Pender Burger. Two ground beef balls are dropped on a hot griddle, cooked a bit and then flattened with a spatula, providing a crisp exterior against the burger's tender center.
While you wait: Sip a Coke and yak with the friendly staff.
205 N. Front St., 910-762-4065
King Neptune
Owners have come and gone at New Hanover County's oldest restaurant, opened in 1949. Brothers Danny and Earl McPherson bought the place in 2012. No matter who's at the helm, the gathering-place feel endures. Easy American breakfast, lunch and dinner are served in the comfy, contemporary dining room, where local clubs like to meet. The way-back machine is full throttle inside the Pirate Bar. Maritime bric-a-brac decorates pine paneling that could have come from a ship captain's cabin.
Did you know: In 1996, Hurricane Fran made landfall at Wrightsville Beach. Storm damage closed King Neptune for four months.
Don't miss: The house-made crab cakes. They're made according to an old family recipe.
While you wait: Check out photos in the Pirate Bar. You'll see pictures of past owners as well as local history.
11 N. Lumina Ave., Wrightsville Beach; 910-333-6688; kingneptunewb.com
Aubriana's
The restaurant is just five years old, but what a story it tells. The building dates to the 1800s, starting as a private, three-story residence, then serving as a mercantile store and, later, a hair salon and nightclub. View the exposed brick wall to see where second-story floor joists used to fit. The restaurant has a few tales, too. Nine months after opening in 2009, the executive chef, Hakim Clemmons, who inspired the fine-dining menu, passed away. His memory endures in the blue crab/lobster cakes that he created and that remain on the menu. Aubriana's was named for his daughter.
Did you know: Aubriana's opened at the height of the Great Recession and endured to become one of downtown's best restaurants.
Don't miss: The signature lamb lollipops. New Zealand baby lamb chops seasoned with Maldon salt and grilled orange are lightly blackened and served with honey-jalapeño gastrique.
While you wait: Check out the covered patio. The arched, red brick doorway is where horse-drawn carts pulled in when the building served as a mercantile store.
115 S. Front St., 910-763-7773; aubrianas.com
Pilot House
In 1868, a businessman named August Deumeland announced a new bar and oyster saloon at The Pilot House on North Water Street. He promised "the best liquors of all descriptions" and "the best New River oysters." Was his Pilot House at this exact location? Who knows. The Pilot House Restaurant here now was founded in 1978. The building, a residence dating to the 1800s, was moved from Wooster Street to this spot in 1977. Oysters remain popular, as does all manner of seafood and New South dishes that earned accolades from Southern Living Magazine, The Washington Post and The New York Times.
Did you know: Originally, The Pilot House Restaurant served salads and sandwiches, which customers ordered at a window and carried to an outdoor dining area that became the main dining room. Some locals still call it "the porch."
Don't miss: Sweet Potato Grouper featuring a sweet potato crust around fresh, local grouper. The dish is served with mushroom ravioli and mixed greens in balsamic vinaigrette.
While you wait: Sip the house special Carolina Tea. The cocktail blends vodka, peach schnapps, spiced rum, Southern Comfort, sour mix, and sweet iced tea.
2 Ann St; 910-343-0200; pilothouserest.com
Szechuan 132
When owner Joseph Hou and his wife, Sally, commemorated Szechuan 132's silver anniversary in 2013, they didn't just set a celebratory dinner special. They served a full Chinese meal at Wilmington's Good Shepherd Center soup kitchen. Each month for the next year, Szechuan 132 partnered with a charity to feed the less fortunate. The Hous are known for their generosity as much as their Chinese specialties, including Peking duck. Film crews love this spot, as do movie stars. Alan Alda and Kiefer Sutherland both dined here.
Did you know: The number 132 in the restaurant's name denotes the highway, N.C. 132, better known as College Road, on which the business is located.
Don't miss: The "non-traditional" menu listing dishes such as rabbit in wild cherry brandy sauce.
While you wait: Ask Joseph Hou, who usually greets customers at the door, about his interesting life. He is Chinese, but he was born and raised in India.
419 S. College Rd.; 910-799-1426; szechuan132.com
Jimbo's
The same bacon and eggs, liver and onions, patty melts and pound cakes are just as tasty on the same tables that have scratched against the floor for 37 years. Owners Jimbo and Anna Patsalos fell in love with Wilmington while visiting friends here in 1976. Today they operate the shop with their adult son, Nick, who has been involved his whole life. "I brought him to the restaurant," Anna said, "when he was three weeks old."
Did you know: Breakfast is served all day.
Don't miss: The Greek omelet. It's a tribute to the Patsalos' Greek heritage.
While you wait: Say hello to the Patsalos family and everyone else. This is one of the friendliest places in the city, especially during weekday breakfast and lunch hours.
1529 S. College Rd.; 910-799-2211
Katy's Grill & Bar
Wilmington restaurant industry veteran Katy Monaghan ran four restaurants over the course of 40 years. For 30 of those years, she helmed Katy's, a go-to for burgers, wings and drinks. She sold the place in 2014 to another longtime area restaurateur, Jerry Allen, who was a Katy's dishwasher while he was in college. Allen gave the joint a facelift, but wings, munchies and burgers, a dozen of them, keep the friendly crowd happy.
Did you know: In 2009, a car drove right into Katy's, lending the place a new slogan: "We're not just your everyday hole in the wall."
Don't miss: Katy's Famous Wings, which come battered or "naked" with a choice of various sauces and seasonings, including Old Bay.
While you wait: Tune up your vocal chords. Friday Karaoke Night is one of the best karaoke nights in Wilmington. Open mic night is on Tuesday.
1054 S. College Rd.; 910-395-5289; katysgrillandbar.com
Blockade Runner
Built in 1964, the resort stands about where Seashore hotel was in 1897. Seashore housed one of Wrightsville Beach's first restaurants. For many years, Blockade Runner had a dining room named Ocean Terrace—a tribute to the old Seashore—which was named Ocean Terrace after Seashore survived a 1934 fire. Sadly, fire destroyed Ocean Terrace in 1955. But Blockade Runner continued the grand style of its predecessors, hosting dinner and dancing. A 1965 Thanksgiving Day menu included a whole turkey "carved at your table, leftovers to take home," and cost only $2.95 per person. Today, East Oceanfront Dining serves seasonal menus, small plates and wine dinners.
Did you know: Blockade Runner celebrated its 50th birthday this year.
Don't miss: Steamed, local clams from the nearby fishing village of Sneads Ferry. They're served with locally made Italian sausage, roasted red bell pepper, arugula, rustic bread and sweet corn cream.
While you wait: Stroll the resort's lovely oceanfront gardens.
275 Waynick Blvd., Wrightsville Beach; 910-256-2251; blockade-runner.com
Delphina Dos: A New World Mexican Cantina
The building houses this restaurant has long had something to do with food. In the early 1800s, it was a peanut warehouse; look behind the bar near the front door to find the remains of the old pulley-operated peanut elevator. Original beams and woodwork survive, too. Former longtime Wilmington mayor Harper Peterson owns the place. The menu is New World, serving festive dishes from Mexico, Cuba and Latin America.
Did you know: Delphina has two locations; the other is on Bald Head Island, south of Wilmington.
Don't miss: Elotero Corn. Roasted ears are smeared with garlic aioli, cotija cheese and ground, dried chilies.
While you wait: Sip the house margarita on the patio, which overlooks Cape Fear River.
5 S. Water St.; 910-762-0700; delphinacantina.com
J. Michael's Philly Deli
J. Michael Hudson planned to be a hairstylist. In the early 1970s, he "literally lived off cheesesteaks" while attending barber school and working at a steel mill in Pennsylvania, but the delicious sandwiches changed his plans. In 1979, he opened J. Michael's Philly Deli. Some employees have stuck around since nearly the beginning; others see their kids working where they served years before. Juicy, gooey cheesesteaks, made with chicken, too, are still hot tickets. You'll also find hoagies, grinders, chili cheese fries, burgers, salads and cheesecake.
Did you know: For the restaurant's 30th anniversary, J. Michael's served a 79-foot-long cheesesteak.
Don't miss: Frips. They're housemade potato chips.
While you wait: Consider the Healthy Choice menu. Selections include a build-your-own salad and a baked veggie grinder.
Three locations in Wilmington; phillydeli.com
Riverboat Landing
This prominent waterfront restaurant has been famous for its private balconies-for-two since the place helped revitalize downtown Wilmington in the 1980s. It is perhaps the most photographed building in the city and affords the best Cape Fear River view. The structure dates to 1857, serving first as a dry-goods warehouse before becoming a chandler's store, weather station, JC Penney and various restaurants. The menu, however, is contemporary American, leaning Italian and, of course, Southern.
Did you know: Balconies are great places to propose marriage, whether for first timers or couples renewing vows.
Don't miss: The shrimp and grits. Pan-roasted shrimp join Andouille sausage, cremini mushrooms, bell peppers and smoked bacon in parmesan cream sauce over a crispy grit cake.
While you wait: Make plans for Sunday brunch, served 11 a.m. to 4 p.m. The full lunch menu is available.
2 Market St.; 910-763-7227; riverboatlanding.com
Hieronymus Seafood
Oyster lovers relish the opportunity to eat steamed oysters by the bar's stone fireplace at this seafood house institution, open since 1980. Its history tracks back to 1972, when Glenn Hieronymus bought a commercial fishing boat. He and his brothers harvested a bounty of clams, scallops, oysters and ocean fish. Local seafood remains the mantra here. Vegetables even come from Grandma's garden.
Did you know: Lots of celebrities have dined here, including television newsman Bryant Gumble.
Don't miss: The Oysteronymus. A half-dozen oysters on the half shell are baked with crabmeat and spinach.
While you wait: Enjoy the many seashells inside the tables, donated by customers.
5035 Market St.; 910-392-6313; hieronymusseafood.com
Freddies
Fred Shambora and Barbara Gargan opened Freddies in 1995, not that long ago, but the place feels as if it's been around forever. Still family-run, it serves classic Italian-American food on old-school red and white checkered tablecloths. Arrive hungry, as portions are huge. Even bigger is the sense of family here. Everyone seems to know everyone, just like back in the old country.
Did you know: The tasty vinaigrette on Freddie's house salad is Barb's Salad Dressing, made by Freddie's owner Barbara Gargan. You may purchase it by the jar.
Don't miss: The huge, grilled center-cut pork chop glazed in balsamic reduction. Cherry peppers, apple sauce and extra balsamic sauce come on the side. The kitchen has turned out as many as 100 chops a night!
While you wait: Listen to the Italian music. That's probably Al Martino you hear in the background.
111 K Ave., Kure Beach; 910-458-5979; freddiesrestaurant.com
Sahara Pitas & Subs
From-scratch falafel, homemade hummus and made-to-order gyros have been served from the dual order windows of this drive-up spot since 1982. Early on, the place was a landmark indicating motorists were nearing Wilmington central (it was one of the few businesses lining U.S. 17). Sahara has many neighbors now, but folks still flock in as if it's the only restaurant on the road. Lots of people take their meals to go, but the Pita Pad screened-in porch dining room is a fun place to eat in your flip flops on the way back from the beach.
Did you know: Sahara has additional parking at the restaurant's rear. Catering is available, too.
Don't miss: The creamy tzatziki, a blend of garlic, mint and olive oil. Owner Edwin Bahouth has been using his mother's recipe for 30 years.
While you wait: Marvel at the Sahara sign. It's a neon masterpiece.
6706 Market St.; 910-392-4070; saharapitas.com
The German Café (photo credit: James Stefiuk)
Plan on dessert. You walk by the most delectable pastries on the way into the dining room. Which will it be? Chocolate-covered cream puffs? Black Forest Cake? All desserts are made from scratch, just like everything else on the menu. The Hudson family launched the restaurant in 1985, and Alice Hudson brought many recipes from her native Germany. Wursts, schnitzels and sauerbraten are offered. Oktoberfest is celebrated every year, of course.
Did you know: The German Café does not take reservations, and anything on the menu may be ordered to-go.
Don't miss: Homemade stollen at Christmastime. The dried fruit-studded sweet bread dusted in confectioners' sugar is a German holiday tradition.
While you wait: Look around the Cotton Exchange near the restaurant for the bricked-up entrance to what used to be a beer garden in the 1800s. It was located about where The German Café is now.
316 Nutt St.; 910-763-5523; thegermancafe.com