Girl's Night-In
12 Jan 2016
The deviled egg of the day is a beet and feta cheese concoction. You've just entered a world where the boundaries are stretched, for Atlanta native and chef Jessica Shillato's southern style cooking. Earthy, salty, complex goodness. Not to be outdone, yesterday's selection is brought forward, another perfect yellow and white oval, covered in crispy country ham strips. Even better.
"I was thinking that these choices would be perfect for a girl's get together, or perhaps a special Valentine's party – served with champagne, of course."
By KATHERINE PETTIT » Photos by CARTER WADE » Recipes by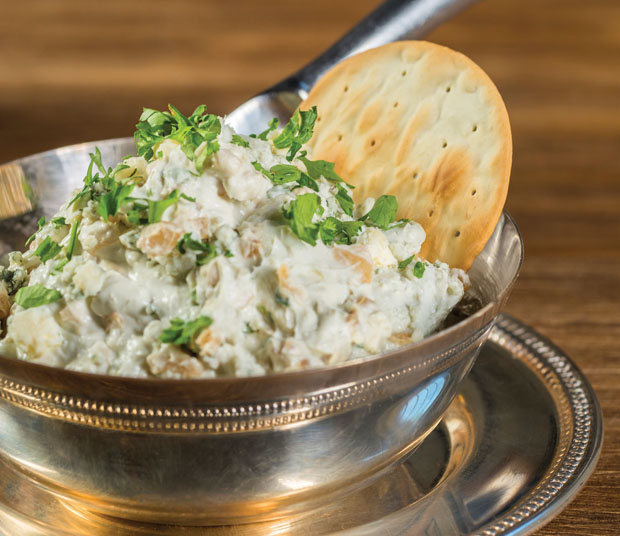 A savory cheesecake elevates appetizers in appearance and taste. Add crab and tarragon to the mix and you have a sure crowd pleaser.
Crab Cheesecake
1 package captain's wafers
4 tablespoons soft butter
7 oz. crab (claw meat)
24 oz. soft cream cheese
2 large eggs
¼ cup white wine
1 teaspoon old bay seasoning
1 teaspoon fresh tarragon
Topping
1 cup sour cream
3 dashes tabasco
1 teaspoon old bay
In food processor, blend butter and captain's wafers. Line bottom of 9-inch spring pan with wafer mixture. Cook in 350-degree oven 10 minutes. Let cool 10 minutes.
Make the filling. In mixer or large bowl mix crab, eggs, cream cheese, wine, old bay, tarragon.
Add to spring pan. Cover with foil. Cook 25-35 min in 350 degree oven until firm. Let cool for 1 hr.
Make the topping. Combine all ingredients. Spread on top of cheesecake. Refrigerate 1 hour.
Serve with crackers.
---
It's Southern. It's back-of-the-throat spicy. This Carolina favorite has been upgraded. Forget the crackers, and hand me a spoon.
Spiced Pecan Dip
1 1/2 cups pecan halves
3 tablespoons unsalted butter, melted
3 tablespoons packed light-brown sugar
1 1/2 teaspoons coarse salt
1/4 teaspoon cayenne pepper
2 pinches cayenne pepper
2 (8 ounce) packages cream cheese, room temperature
8 ounces extra-sharp white cheddar cheese, grated
1 cup sour cream
1 clove garlic chopped
Preheat oven to 350 degrees.
Put pecans, butter, brown sugar, 1 teaspoon salt, and 1/4 teaspoon cayenne pepper into a medium bowl; toss to combine. Spread in a single layer on a rimmed baking sheet. Bake until fragrant and sugar has melted, about 5 minutes.
Process cream cheese, Parmesan, and cream cheese in food processor until well combined. Transfer to medium bowl. Add remaining 1/2 teaspoon salt, garlic, and remaining pinch cayenne pepper. Place pecans on top bake for 10 minutes. Spoon cheese mixture into 2 round baking dishes (6-7" in diameter and about 1" deep). Arrange glazed pecans on top. Bake until dip is just heated through, about 10 minutes.
---
This one's for blue cheese lovers – you know who you are. Tangy, sweet and very flavorful.
Blue Cheese and Caramelized Onion Spread
4 ounces blue cheese, cut into 1-inch cubes
4 ounces cream cheese, cut into 1-inch cubes
1 teaspoon freshly ground pepper
1 tablespoon olive oil
1 onion – diced
1 teaspoon balsamic vinegar
Place olive oil in frying pan. Add onion and cook on medium heat until slightly brown and soft. Add balsamic vinegar to pan. Stir, then let cool for 20 minutes. When cool, mix in blue cheese, cream cheese and pepper.
Serve with crackers or sliced baguettes
---
A meal in itself, this salad combines the sweetness of cornbread with the bite of collards for a delicious finish.
Collards Panzanella
1 bunch collards, chopped
1 teaspoon salt
1 teaspoon sugar
2/3 cup butter, softened
1 cup sugar
3 eggs
1 2/3 cups 2% milk
2 1/3 cups all-purpose flour
1 cup good quality cornmeal
4 1/2 teaspoons baking powder
teaspoon salt
4 oz tomato paste
¼ cup balsamic vinegar
1 teaspoon Dijon mustard
1 teaspoon sugar
1 cup olive oil
1 Roma tomato, diced
Salt and ground black pepper (to taste)
In stockpot add collards, salt, sugar and enough water to cover. Bring water to a boil. Cook for 10 minutes. Drain and let cool.
Preheat oven to 400°. In a large bowl, cream butter and sugar until light and fluffy. Combine eggs and milk. Combine flour, cornmeal, baking powder and salt; add to creamed mixture alternately with egg mixture.
Pour into a greased 13x9 inch baking pan. Bake 22-27 minutes or until a toothpick inserted in center comes out clean. Cut into 1 inch squares.
Whisk tomato paste, balsamic vinegar, sugar, and Dijon mustard together in a bowl until smooth. Slowly drizzle olive oil into tomato paste mixture while whisking rapidly until dressing is thick and creamy. Season with salt and black pepper.
Mix dressing, collards, and cornbread together. Top with diced tomato. Serve immediately.
---
Shrimp and Country Ham with Angel Hair
2 tablespoon extra-virgin olive oil
3 thin slices of country ham cut into thin strips
8 tablespoons salted butter
1/2 cup sliced shallots
3 small garlic cloves, minced
3/4 cup dry white wine
1 pound large shrimp, cooked, peeled and deveined
1 1/2 teaspoons chopped thyme
1 pound dried angel-hair pasta
Salt and freshly ground pepper
2 tablespoons chopped parsley
2 teaspoons Parmesan
In a deep skillet, heat the oil. Add the ham and cook over moderate heat, tossing, until hot; using tongs, transfer to a plate.
Melt 2 tablespoons of butter in the skillet. Add the shallots and cook over moderate heat until softened, about 4 minutes. Add the garlic and cook 1 minute. Add the wine and boil until reduced by half – about 2 minutes. Add the Shrimp and thyme and toss until hot.
Meanwhile, cook the pasta in a large pot of boiling salted water. Drain, reserving 1/3 cup of the cooking water.
Add the ham, pasta, reserved cooking water and remaining 2 tablespoons of butter to the skillet; toss. Season with salt and pepper. Garnish the pasta with the shrimp, parsley and Parmesan. Serve in bowls.
---
Think Reese's Cup on steroids. What a way to end a lovely mid-day gathering, or evening dinner party. Taste-tested to perfection.
Chocolate Peanut Butter Pie
5 tablespoons salted butter, cut into tablespoons
9 ounces Nabisco Chocolate Wafers (about 32 cookies from a 9-ounce package), finely ground in a food processor to make 2 cups of crumbs
8 ounces cream cheese
1 cup smooth peanut butter
1 cup sugar
1 cup cold heavy cream
¾ cup semisweet chocolate chips
1/2 cup heavy cream
Make the chocolate crust: Preheat the oven to 375 degrees. In a medium glass bowl melt the butter in microwave at high power for 30 seconds. Stir in the cookie crumbs. Press the cookie crumbs evenly over the bottom and up the rim of a 10-inch tart pan with a removable bottom. Bake the crust for 10 minutes, then cool for 20 minutes.
Make the peanut butter filling: In a large bowl, using a hand-held electric mixer, beat the cream cheese with the peanut butter, and sugar until blended. In another large bowl, using an electric mixer, whip the chilled cream until firm. Fold one-third of the whipped cream into the peanut butter mixture to loosen it, and then fold in the remaining whipped cream. Spoon the filling into the crust, smoothing the surface. Refrigerate uncovered for about 1 hour.
Make the chocolate topping: In a medium glass bowl, combine the chocolate with the heavy cream and microwave at high power in 20-second intervals until the chocolate is just melted and the cream is hot. Stir the chocolate topping until blended, then let cool to barely warm, stirring occasionally. Spread the chocolate topping over the chilled peanut butter filling. Chill uncovered in refrigerator for 3 more hours.
Serve chilled.