A Natural Extension
12 Jan 2016
A couple's decision to remodel by adding on additional outdoor space creates a perfect flow from the home to the outside
By CHRISTINE HENNESSEY » Photos by G. FRANK HART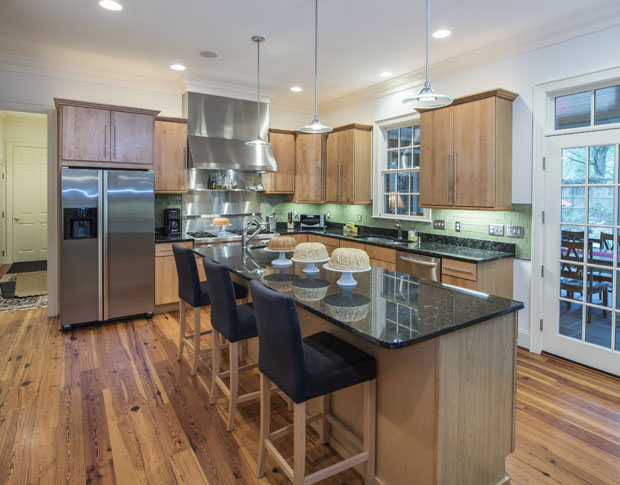 Bill and Suzanne Coleman's connection to Wilmington runs deep. Suzanne is originally from Wilmington, and while Bill grew up in Greensboro, he's always had family from the Port City. The couple lived in Raleigh for many years but returned to Wilmington in late 1998, moving into the house that Bill's grandparents once lived in while they searched for their own forever home.
The decision to come back to Wilmington was an easy one. "Our families both live here," Suzanne explains. "My family is from Wilmington and Bill's family retired to the beach. We lived in Raleigh, but this was always home." When they couldn't find the perfect home of their own, they decided to put down roots right where they were, building a brand new house on Bill's grandparents' land.
They loved the house they built, but they knew there would come a day when they'd want to add more to it; the initial construction was just phase one. A few years ago, they were ready to embark on phase two.
Even though their home was still fairly new, their lives had changed enough in the last twelve years that it made sense to remodel by building an addition to their home. Suzanne had retired from her job as a banker and now runs a bakery, called "Simply the Best Cakes," out of her kitchen, and needed a bigger space to accommodate her growing business. Bill, on the other hand, is an investment advisor with a deep love for the great outdoors. He wanted to add a covered porch and patio to the back of the house, and create a beautiful space where they could entertain friends and family.
Suzanne's brother, Chris Boney, just so happens to be an architect at LS3P Associates. When the Colemans decided to start their renovation, they asked Boney for a recommendation. He'd worked with Bryan Humphrey Design and Construction in the past, a company he trusted and admired. Boney told them to get in touch with Humphrey, so they did. Phase two had officially begun.
From Dream to Design
Bryan Humphrey grew up in southern Virginia and studied architecture at Virginia Tech. He's worked in DC, Denver, and Switzerland, and built everything from chairs to beach houses. He moved to Wilmington in 1987 and owned a custom furniture business for ten years before he started designing and building houses full time.
Because of his background and unique experience, Humphrey builds houses with the same level of precision and attention to detail that he would give to a chair, a table, or a fireplace mantle. This craftsmanship results in houses that are unique works of art, rather than cookie cutter designs. Since his company handles both design and construction, he has the freedom to do things other companies cannot. "Sometimes, during the building process, you see an opportunity you hadn't considered while drafting the design," he explains. "Because I do both sides, I can change the design as we go, as we see it. My clients don't have to pay someone to come in and change the plans, or hire a subcontractor. It saves time and money."
The Colemans were excited about the opportunity to work with Humphrey. Bill in particular had a lot of ideas, and was eager to share them with Humphrey and get involved with every aspect of the project. "We always work closely with the clients, particularly in this case," Humphrey says. "Bill was intimately involved in every detail."
Bill agrees. "Bryan was instrumental in helping us figure out the actual layout and how we were going to design the fireplace. We had a good idea of what we wanted—we're outdoor people, we like to entertain, and we knew we wanted a space that was a combination of a porch where we could relax, but would also allow us to enjoy outdoor dining. We also wanted a patio that came off the porch for additional seating and outdoor grilling."
Humphrey took the Colemans' needs and ideas into account when drafting the initial designs. Whenever he embarks on a new project with a client, the process begins the same way. "I listen to their needs and evaluate the starting point, whether it's an empty lot or an existing home," he says. "I like to present the client with a schematic design so they have something to react to, an image or idea that we can work from." Because this was an addition and not new construction, it was important to make sure the design fit the existing look and feel of the home.
"During a renovation, you have to build off what's already there. You can't just come in and do some jarringly different thing," Humphrey says. "We adapt our design to the clients' tastes and what we're starting with. It's also important to be really careful about which decision you make first, because all other decisions will build on that."
The Great Outdoors
Eleven months passed between the first design and the last day of construction, but the final product was worth the wait. Today, the Colemans are thrilled with their new outdoor space, which is where most of Humphrey's company's time and energy was spent. The back deck includes the outdoor fireplace, the outdoor grill, and the outdoor dining area the couple had been dreaming of. Because the Colemans now spend so much of their free time outside, they also took the opportunity to landscape their yard, giving them something beautiful to look at while they relax and enjoy their new space.
Not that they have to look far to see something beautiful. They can also gaze at their striking back deck, which includes a Pennsylvania blue stone slate floor and a Cypress ceiling built from local wood. The final design was a true Wilmington effort, with help from two other local companies—designer Susan Covington helped arrange the tile backsplash, while Intracoastal Iron Works made a beautiful custom entry gate.
To make the outdoor space accessible, the kitchen required a bit of remodeling, too. Humphrey's design included the transformation of a kitchen window into a set of double doors, so that the kitchen now leads directly to the add-on space. Because this addition removed a workspace that had been under the window, Humphrey added more cabinetry and larger countertops to the kitchen to create more space. Another feature that was added to the design was a skylight in the kitchen. Since the roof over the outdoor area shades the kitchen, the skylight keeps it from becoming dark or dim. Suzanne, who spends countless hours in the kitchen, especially appreciates this perk (and generously treated the crew to free samples during construction).
As a designer, Humphrey is most proud of the livability of the additional space. "We planned for it to be integrated with what was already there, but it exceeded our expectations," he says. "There's a great flow from the house into the yard." As an artist with Asian influences, this flow is important to Humphrey, and means that the addition feels like a natural extension of the home.
The Colemans are just as pleased with their new space. "It turned out better than we would have thought," Bill says. "We wanted to be able to enjoy the outdoors because we're outdoor people, and that's exactly what we do. The whole reason we wanted to build a porch, patio, and grill was because we're outdoor people and we like to entertain. And even though Wilmington's pretty mild, the fireplace means we can be outside even in the winter. It's been so nice to have an outdoor fireplace that we can sit in front of and relax."
"And share with friends," Suzanne adds. "It's just a wonderful space to enjoy together."
Resources
Bryan Humphrey Design and Construction, 910.619.2497, bhdesignandconstruction.com
Susan Covington Interior Design, 910.262.5111
Intracoastal Iron Works, 910.233.8264, intracoastaliron.com