Home remodeling is something we all consider at some point, and for these kitchen and bath masterpieces, the end result is truly astonishing
By ANDREA BARILLA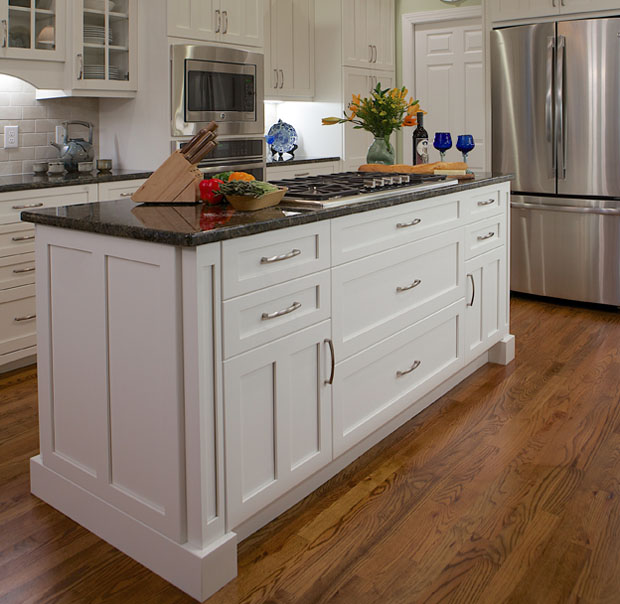 Markraft Cabinets
Photos by MILLIE HOLLOMAN
2015 was a big year for Markraft Cabinets. The company celebrated its 30th anniversary and the grand opening of its beautiful showroom on Castle Creek Lane, just a few minutes past the airport.
The showroom features beautiful real-life displays, including the main display geared toward custom kitchen remodels, designed by Markraft designer Lauren Hill. Hill is one of a team of Markraft designers who will help you turn your kitchen and bath remodel dreams into reality.
The kitchen display, while beautifully cohesive, is also a brilliant display of many individual features, both classic and current, that helps homeowners to dream and plan their kitchen remodel.
The display features white cabinets in a transitional, modified Shaker style, manufactured by the North Carolina company UltraCraft. The upper and lower cabinets are painted two different shades of white. The countertops are quartz by LG Viatera; quartz has now edged out granite in the latest trends. For contrast, the kitchen island is two-toned—the base cabinets are done in a dark cherry stain; the surface is the same quartz as the countertops. The real focal point of the kitchen, however, is the black stove and hood with the quartz backsplash going all the way to the ceiling.
"The trend now is more clean, monochromatic shades of whites and grays. Neutral colors with pops [of color]. We're also doing a lot of one-level islands as opposed to a raised bar. People want big workspaces," said Hill.
Other popular features are paneled appliances in which the appliance front is actually cabinet door panels, "which give a built-in, clean look," Hill explained. Here the refrigerator and dishwasher are paneled in the same design as the other cabinetry. Also on-trend are stacked cabinets with little glass doors at the top; these are often used as display cabinets and add interest. Mullions (dividers—think windowpanes) are also a popular design feature; here, you'll see a gorgeous X-mullion glass display cabinet. This kitchen also features some open shelving: "A lot of people don't want the whole kitchen in open shelving, just one or two here or there for some display," said Hill. Too, there's the appliance garage with its lift-up door that hides the clutter of small appliances. The traditional farmhouse sink displayed proves that some classics never go out of style.
Quiet kitchens are also desired these days, so the hinges on cabinet doors and drawers are soft closing. Drawer boxes are dovetailed solid wood so as to hold a lot of weight. Hill also had fun picking hardware (oversized pulls for easy gripping) and lighting for the space to add interest and drama. The light fixture over the island is finished in gold-brass, which has come back in style.
Markraft will not only help you design and choose products, they'll also do the installation. "We're trying to be a more full-service company, to make things as easy as possible for our customers," said Hill.
Markraft Cabinets
2705 Castle Creek Lane, Wilmington
910-793-0202
markraft.com
Dynamic Kitchens and Interiors
Photos by LESLIE KOEHN
When the Graffs bought their home, they weren't thrilled with the kitchen but tried to make do. But when they saw one of Alice Evans' kitchen designs featured in the January/February 2015 issue of Wilmington magazine, they phoned her company, Dynamic Kitchens and Interiors.
Evans, owner of Dynamic Kitchens and Interiors and a designer with over 30 years experience, sat down with the couple and clarified the kitchen's two main problems: 1) It did not match their home. The couple wanted a Mission-style kitchen, more in line with the home's architectural design and their furnishings. 2) The kitchen wasn't functional. The couple wanted more storage and counter space.
Evans' solution was a beautiful Mission-style kitchen with abundant storage and lighting. For the cabinetry, Evans chose painted maple cabinets from Elmwood Kitchens, a simple design with recessed-panel doors, all painted in a soft white. She added cove molding to the cabinetry, its nice curve complementing the Mission-style doors. She made sure the couple had ample cabinets, drawers, and counter space. For the counters, Evans chose a dark granite from Southeastern Marble and Granite, which added a nice contrast to the white cabinets. She also added a LeMans swing-out shelving system—a unique product whose shelves swing completely outside of the cabinet, allowing one to access all the products on the shelf in one fell swoop, even those in the very back. Additional lighting, especially the under-cabinet LED lights, or task lighting, will make food prepping easier. The previous kitchen had an island with a cooktop; the new island design kept the cooktop but included additional drawers and Mission-style columns on each end, and the base is the same soft white as the rest of the kitchen cabinets.
The couple had also requested a glass hutch for their kitchen. Evans' creative play on this dressier furniture piece, typically kept in a dining room, was a built-in with four Mission-style glass doors with three mullions (vertical pieces of wood) at the top of each door. For an extra-special touch, Evans added a curved valance at the bottom of the hutch area.
The kitchen's challenge was to maintain the original floor plan as much as possible to minimize costly repair work to the floor. "The floor is always a big problem," said Evans. But she was able to meet that challenge, keeping most of the original floor.
The Graffs are happy with the look and function of their new kitchen. Says Evans, "The kitchen looks like it's always been there. If you can do a remodel, and it looks like it was always meant to be there, you know you've succeeded. But the main thing is the homeowners can really work well and cook well in this kitchen. If I have clients who are really happy at the end of the job and love working in and living with their kitchen, I mean, what could be better?"
Dynamic Kitchens and Interiors
1815 Carolina Beach Rd., Wilmington
910-763-9870
dynamickitchens.com
Kitchen Blueprints
Photos by G. FRANK HART
For more than 25 years, designer Melinda Rider with Kitchen Blueprints and interior designer Carole Amick of Ambiance have worked together on projects—notably, The Islander, Duneridge, and Wrightsville Dunes after Hurricane Fran. Amick also had Rider help design her original kitchen. So when, sadly, smoke from a fire damaged most of Amick and husband Robert Haughton's home, Amick once again called her friend, this time to rebuild (the Amick-Haughton Project).
The smoke from the fire had damaged most of the cabinetry in the house, so there was a lot to replace, including the kitchen, bookshelves, and master bath. "We had been in the house for probably 16 years," said Amick. "So the positive was the chance to update and change some things."
The original kitchen cabinets had darkened over the years and had soffits (the boxy structures above a cabinet that fill in the space between it and the ceiling). So Rider helped Amick choose cabinets in a warm maple with a wild honey stain for the kitchen, great room bookshelves, and laundry. The cabinets were from Touchstone Fine Cabinetry of Rutherfordton, North Carolina. They also eliminated the soffits, replacing them with 15-inch-tall cabinets with glass flip-up doors. Frosted glass was chosen for the doors: "I'm not the tidiest person behind doors," Amick admitted, "and I didn't want people to see all the stuff I had hidden on the top level." Refreshing to know that even interior designers aren't perfect! Quartz was chosen for the countertops (instead of the original Avonite) for its durability and ease of care.
"Melinda is really good at listening to what the client wants and translating that into something that works really well. She was good at directing me toward products that would do what I wanted them to do. She's very knowledgeable about her products," said Amick.
Rider and Amick also redesigned the bookshelves/entertainment center in the great room to make them more contemporary in design and function (that is, to accommodate more current technology); for these, they chose the same color cabinetry as the kitchen.
Touchstone Fine Cabinetry, the cabinetmaker, went above and beyond, personally sending out a representative to handle repairs and to help engineer the more complex aspects of the bookcase design.
Laminate was chosen for the master-bath cabinets instead of the original white thermofoil, and the door style is a simple slab door similar to the kitchen cabinetry.
Kitchen Blueprints does both the design and the installation. This and the original kitchen were installed by Greg Rider.
Said Amick, "Right after the fire, Melinda was there. I told her what needed to be done, and she did what was needed and delivered on time. After 30 years, I wouldn't still be working with her if I didn't think she was wonderful."
Kitchen Blueprints
3115 Wrightsville Ave., Wilmington
910-763-2536
kitchenblueprints.net
Atlantic Appliance and Hardware
Photos by TRUSST BUILDER GROUP
Local, family-owned Atlantic Appliance and Hardware has been around for over 67 years. They offer major appliances from over 35 different manufacturers, many on display in their showroom, so there's a tremendous amount to choose from. The company works with everyone from homeowners to contractors, designers, remodelers, cabinet companies, and architects.
"What separates us is our product knowledge," said Mark Edwards, co-owner. "We try to know as much as we can about the products so we can assist homeowners or remodelers, designers, architects… We try to help them make informed, intelligent decisions."
Edwards uses the analogy of car buying to explain the importance of choosing the right appliance for your home: "I think of people who buy cars and spend 40, 50, 60 thousand dollars on the car, keep it for 3 or 4 years, and then trade it in. Well, our appliances are in our homes typically for 10, 15, even 20 years. You don't want to make a bad decision. You don't want to choose the wrong product and have to live with it that long and not be happy with it. So it's important that the person selling you the product knows the products and can provide you with its features and benefits."
"In big-box stores, you may have someone come over from the lawn mower department to help you with a refrigerator. That's not the way we work here. Our salespeople are not on commission. We're not selling what we want to sell; we're selling what fits the customer best."
When asked about appliance trends, Edwards cited energy efficiency and quieter appliances, especially in items like dishwashers. In kitchens, there's the French door refrigerator, which is the two doors at the top and freezer at the bottom. "Now they're changing them to where some have four or five doors," said Edwards. He's also selling more gas ranges as people move here from other parts of the country where gas cooking equipment is more prevalent.
"We're also seeing quite a bit of innovation from manufacturers, especially Korean manufacturers like Samsung and LG," said Edwards. For kitchens, he cited the Samsung Flex Duo ranges: "The flex duo shelf allows you to make a single freestanding range into a double oven. You can ultimately have a small oven at the top and a large oven at the bottom. This gives you the capability of cooking two different products at two different temperatures. The smaller oven can also save you time and electricity as the preheat time is much less and the smaller oven uses less electricity."
Samsung and LG are also leaders in washing machine innovation. "LG has a front load washer pedestal in which you essentially have two washers in one machine, or two washing machines that can wash completely different types or colors of material at the same time," said Edwards. "Samsung has a washer with a sink built into it so you can soak/pretreat your clothes before starting the cycle."
With over three generations of experience and a solid name in the community, Atlantic Appliance and Hardware is worth a visit when you're shopping for a new appliance or hardware to spruce up your kitchen or bath.
Atlantic Appliance and Hardware
914 S. Kerr Ave., Wilmington
910-791-2222
atlanticappliance.net
Bluewater Surfaces
Photos by CHRIS FRICK
What if you could say your kitchen counters were made with the same stone Michelangelo used to sculpt David?
One local homeowner can!
Dustin Broadway, owner of Bluewater Surfaces, approaches his work with the heart of an explorer. A third-generation stone fabricator and setter (his father and late grandfather both own[ed] stone businesses), Broadway travels the world in search of unique materials: "Every continent has different materials and stones, a lot of stones that haven't been brought into the United States. So I'm always looking for something unique, something that nobody else is dealing with yet," he explained.
In this project's case, a complete home renovation in Forest Hills, the homeowner along with the interior designer, Susan Covington with SAC Art Designs, came to Broadway to supply, fabricate, and install all the natural stone countertops in the home (Drew Sally of Creative Custom Woodworks would do the cabinetry). The homeowner was specific in her desire for the island to be all one piece, not two pieces joined together with a seam. She also wanted white Carrara marble from Carrara, Italy.
And there was the challenge.
"The island design was about 130 inches long, and it's pretty unheard of for marble to be cut that big," said Broadway. "The processors in those countries, in Italy, that pull the blocks of marble out of the mountain and cut them into slabs generally don't cut it that big. Usually, the marble is cut smaller for transportation purposes."
So finding such a large slab of marble was one issue; the other issue was not being able to find Carrara marble in the lightness and color that worked for Covington and the homeowner's design idea. But, after three months of intense searching, Broadway "stumbled" upon a large piece of white Calacatta marble from a Florida supplier.
"There's only one mountain in the world containing this marble—Mt. Altissimo in Italy," Broadway explained. "What makes it even more special is that this is the stone Michelangelo used to sculpt his David."
The marble that suited Michelangelo also suited the homeowner, so Broadway got to work on fabricating (cutting to shape and size, profiling and polishing) and installing the stone.
As one who travels the world searching for unique stone and materials to work with, this project was definitely in Broadway's wheelhouse. He has traveled to Italy and Brazil numerous times, and is working on trips to India and China. "I don't do tons of granite [projects]; instead, I do a lot more with marble, glass, limestone, quartz, concrete—more unique materials to work with," said Broadway. "And people are tending to now go toward something that their neighbors don't have. A lot of granite has become a commodity as builders are putting it in lower-end tract homes. So people are trending back toward marble and a stone called quartzite (a natural stone). They're also going toward different materials like concrete, glass, and quartz (a manmade product)."
Broadway's passion for his craft is evidenced not only through his gorgeous work, such as this Forest Hills renovation, but also through his travels and role as national educational director of the Stone Fabricator's Alliance.
Bluewater Surfaces
4022 Market St., Wilmington
910-233-9629
bluewatersurfaces.com