Costa Rica has no standing army, yet protects 5% of the world's species through its cloud, rain and dry forests, plus 800 miles of shoreline. It also happens to be one of the most fascinating countries in the Americas. Our title is a phrase that's been used in Costa Rica for over 50 years―translation, Pure Life!
By ROBERT SWEENEY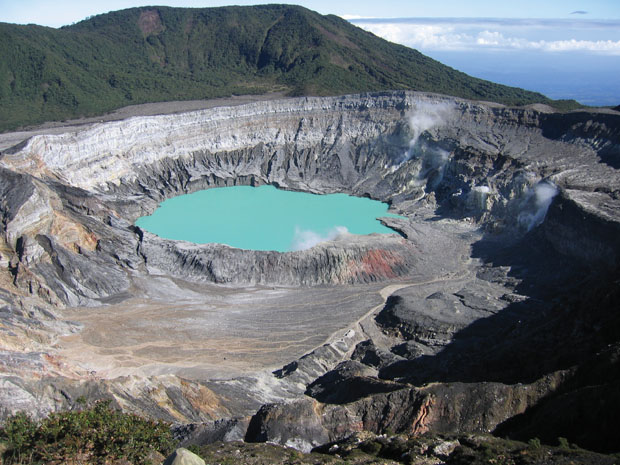 Everyone we know who's been to Costa Rica loves it. Great for families, romance, expats and retirees. Plus, for someone who loves watersports, it simply can't be beat. And so my wife and I, with our two teens, flew into San Jose, rented a car and spent the next five hours driving across the country to the Pacific Ocean coast.
Nosara
Our first destination was Nosara, a lush, laid-back town, with hotels and resorts hidden from the beach. This area is all dirt roads, but hard compacted so the driving is still easy. We checked into the Harbor Reef Surf Resort. Identified by National Geographic Adventurer as having some of the best surfing in the world for experts, it's also a great area to learn how to surf. The Resort was pure relaxation, set back in the serenity and unspoiled beauty of the surrounding jungle. It is merely footsteps to the sand and one of the world's most beautiful and uncrowded beaches.
Nosara is part of the larger area known as Playa Guiones, called the Jewel of Costa Rica. It is just over 300 yards from three miles of white sandy beaches that are protected by the National Park System. Most surfing happens in the early morning or late afternoon for the best swells. In between, there are dozens of attractions – all centered on the natural beauty of the area.
We surfed every day, and our teens took lessons from Safari Surf, known as one of the best schools in the country. We rented our surfboards from Coconut Harry's, and even if you own a surfboard, this is the place to leave your board at home and rent one from these guys. They're experts and you can trade out your board during your stay.
For lunch, we tried the Beach Dog Café, where my kids loved the smoothies and I tried their famous BBQ chicken tacos. My wife enjoyed a great pineapple chicken salad with a bit of a spicy bite. This became one of our go-to spots for lunch, as it was close to the resort and the service and food was excellent.
Another day, we chose Robin's Café & Ice Cream, where the kids opted for quesadillas, my wife had a fresh, organic salad, and we all enjoyed their Mayan chocolate ice cream.
The area is famous as a nesting beach for hundreds of sea turtles, but during our stay we never saw any. We did hear and see the famous Mantled Howler Monkeys – everyone hears them in the mornings and evenings. Until you know what it is, the noise can be quite startling.
Our time spent surfing greatly improved our skills, and every night, we tried different restaurants, including El Chivo, for their pan seared organic Tilapia and chili-buttered shrimp fajitas. Delicious.
Another evening we chose Pacifico Azul at the Guilded Iguana Hotel and Resort, where the seafood soup was amazing. Even the hamburgers ordered by the family were excellent. Proprietors Carlos and Melissa Mora use really fresh ingredients and prepare their dishes in a European style.
Tibidabo Mediterranean offered tapas and was my wife's favorite. They serve a wonderful paella, and the sea bass in fried garlic, with green sauce was exotic and flavorful.
One evening we wanted to keep things simple, so we tried Burgers & Beers, where the eight-inch high burgers were more than a yummy mouthful. With a Certificate of Excellence from Trip Advisor, we knew we couldn't go wrong. (Most places we went were lauded by Trip Advisor. Not a bad choice in the bunch.) Two hints: The hot sauce is positively addictive and remember to take cash – no credit cards.
Before leaving the area, we all took an SUP River Tour with Nosara Pura Vida. We've done stand up Paddleboarding before, but never along a completely calm river that heads into such a beautiful forest. It's a great place for beginners and instantly comfortable for those with experience. During the 90 minutes, we stopped at a beach and enjoyed a variety of views.
Tamarindo
About two hours driving north from Nosara brought us to Tamarindo, a different type of resort in a fishing village which has morphed into an international resort area. Americans and Europeans will feel completely at ease, here. Our hotel was Capitan Suizo (named for El Capitan, a small island in front of the hotel, and the fact that the owners are originally from Switzerland).
The hotel is an elegant boutique property – very beautiful, with superb service. While we were there, my wife and I enjoyed beachfront spa treatments by Aromas Del Mar, all part of the hotel grounds. We agreed these were the best treatments either one had ever enjoyed.
We went surfing every day and rented our boards from Iguana Surf Rental. Playa Grande is ideal for surfing, no matter what your skill level. In fact, the town holds a number of international surfing competitions. And there's more to do around Tamarindo. An advantage is its proximity to the Tamarindo National Wildlife Refuge, which covers 1,000 acres of amazing protected forest. Also close: the Refugio Nacional de Vida Silvestre Ostional and the Parque Nacional Barra Honda. Just north of town is the Parque Nacional Marino Las Baulas, where visitors may see leatherback turtles lay their eggs on the shore. Lots to do and enjoy.
Our family did a combo trip with Pura Aventura, which included a zip line adventure and horseback riding. The staff was great and the zip line long, high and thrilling for all of us. An added bonus? The unobstructed views of the rainforest from above the trees. The horses were very well trained and mild-mannered, so everyone at different levels of riding experience can feel comfortable and safe.
We ate lunches at our hotel, which was situated pool side with the ocean and beach as our backdrop. The food was excellent and offered choices for everyone.
At night, it was a different atmosphere and we tried a number of cosmopolitan restaurants.
At Dragon Fly Bar and Grill they advertise squid ink spaghetti as a specialty, however our family chose apple citrus brined pork, an incredibly tender filet mignon, and a tasty cumin-crusted mahi-mahi. Their cocktails were amazing.
Seasons by Shlomy offered more treats, including a nice wild sea bass, a different, but equally delicious pan-fried mahi-mahi, and grilled skirt steak.
At the Langosta Beach Club, the view and surroundings put you in a tropical paradise. Their wine selection is extensive and their cocktails the equivalent of any Manhattan icon. The food was fresh and everyone loved it.
Patagonia Argentinian Grill gave us a taste of Germany, with Argentinian Schnitzel and beef tenderloins, as well as a glimpse of Italy, with their fantastic seafood linguini with homemade pasta.
San Jose
Finally, we left the Pacific Coast and drove back across the country to San Jose, where we spent the last three days of our vacation at the Marriott San Jose.
The capital city is very crowded, and for those not experienced driving in congested areas, a taxi will be more suitable. The Marriott San Jose is a beautiful property with two large pools, a great gift store and antiques sprinkled throughout. It's a very well appointed hotel, with a luxurious Spanish look and feel , and the wait staff are knowledgeable about the area and what sites are most interesting to see. We were content to dine at our hotel and the food never disappointed, with three different restaurants to accommodate any requests.
Before we left, we took a trip out to La Paz Waterfall Gardens, the number one most visited privately owned ecological attraction in Costa Rica. The hiking is great and the rescued wildlife preserve houses more than 100 species of animals. It's a lovely way to spend an afternoon―but do bring your rain poncho or buy one at the gift shop―the waterfalls are strong and you will get very wet from all the spray.
We tried to visit Poa Volcano, but the day was too foggy. When you go, add it to your agenda and hopefully, you'll arrive on a clear day.
And then it was time to return home. The flight takes about nine hours from San Jose to Charleston, SC. When booking your flight though, just make sure you are ticketing for San Jose Costa Rica (because there is a San Jose in California). The country appealed to all of us and the outdoor activities were great everywhere we went. Costa Rica prides itself on its tourism and with good reason. And for surfing, you just won't find a better destination.
Resources:
Harborreef.com
Hotelcapitansuizo.com
Marriott.com
Safarisurfschool.com
Coconutharrys.com
Nosarapuravida.com
Iguanasurfrental.net
Pura-aventura.com/latin-america/costa-rica