Glass on Glass
03 Mar 2020
The playful dance between light and glass seems to mirror artist Brooks Koff's joyful relationship with the ebb and flow of life

By KIM HENRY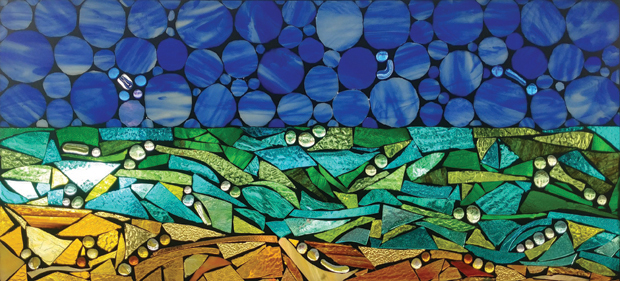 For local artist Brooks Koff, it really was never too late to be who you might have been. A mother of five and originally trained as a nurse, Koff didn't discover her love of stained glass mosaic until she was in her thirties. Although she never went to art school, once she found her creative outlet, she never looked back.

Born in Germany as one of eleven children in a military family, Koff lived in many different places growing up. "I'm the well adjusted seventh child," she laughs, blue eyes sparkling as vibrantly as her stained glass creations. Her large family was more crafty than arty, with a mother who hand stitched some of their clothes and often had crafts lying around for her children to explore. "My take is that everyone's an artist, we just have to find our own personal expression," smiles Koff.

Settling into Wilmington life with her husband back in the 80's, Koff took a random stained glass art class that introduced her to this intricate technique and to acrylic paint. However, once she started having her children, glass was put aside as she realized that cut glass and newborn babies weren't an ideal mix. Instead Koff began painting her own designs on fabric, particularly t-shirts and sweatshirts. Wanting to be involved in her children's education, Koff then volunteered in the art department of their school, New Horizons Elementary, for around 19 years, and this is how she returned to her love of glass.

Veering away from the confines of traditional stained glass, Koff discovered the glass on glass technique, which allowed her much more freedom. The traditional stained glass process involves precision cutting, pattern following and intricate soldering. "I am not meticulous about much of anything!" declares Koff, "and with glass on glass mosaic I don't have to follow a set pattern. I just start with the glass and think, 'ok, what do I want it to look like.'"

Inspired by the play of light with glass, Koff allows the rich, dynamic colors to lead her designs. Hand cutting the glass herself, Koff pieces contrasting shades and shapes together that will be brought to life by the ever changing movement of sunlight. Flowers and trees feature heavily in her creations, demonstrating her keen appreciation of nature. Koff also works with textured glass and sometimes adds glass gems, which enhance the 3D aspect of her collection. Grouting in between the glass adds the finishing touch.

Glass mosaic clearly suits Koffs' naturally upbeat demeanor and allows her the artistic freedom she desires. Every piece of work is unique, and the artist uses repurposed frames that she collects from thrift stores and yard sales. Her beautiful creations can be found at Art in Bloom on Princess Street, where Koff has been a featured artist for around three years. Established in October 2015, Art in Bloom Gallery is in a renovated 19th century horse stable and hosts an eclectic mixture of paintings, sculpture, jewelry and Koff's stunning glasswork.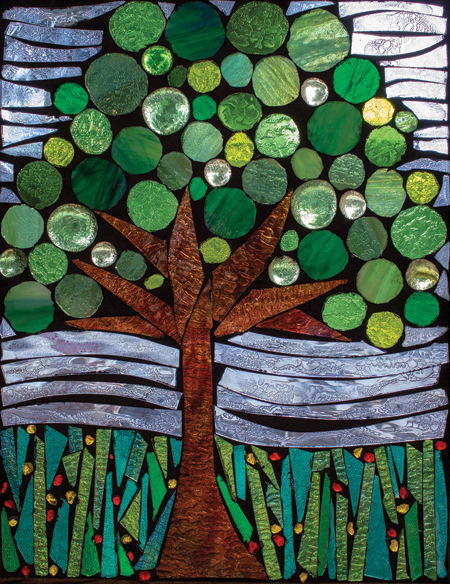 Koff also accepts commissions, has taught at the Cameron Art Museum and was invited to be one of the contributing artists to the Minnie Evans Sculpture Garden and Bottle Chapel in Airlie Gardens in 2004. Koff helped over 100 local students to create mosaic stepping stones that now adorn the walkway into the chapel. One of the children was her own daughter who way back then, gleefully declared that she would get married right by her stepping stone one day. In a delightful, full-circle tale of life, that day arrived less than two years ago when her daughter was married in that exact spot.

So how has Koff managed to live joyfully, have five children, a home studio, be a successful working artist, volunteer as an art teacher at a school and be a nurse all in one lifetime? Her response holds a pearl of wisdom for us all. "I'm not a worrier," laughs Koff, "I often say, I am my blood type, which is B positive!"