A look at what the Port of Wilmington means to the Port City
By JENNIFER GLATT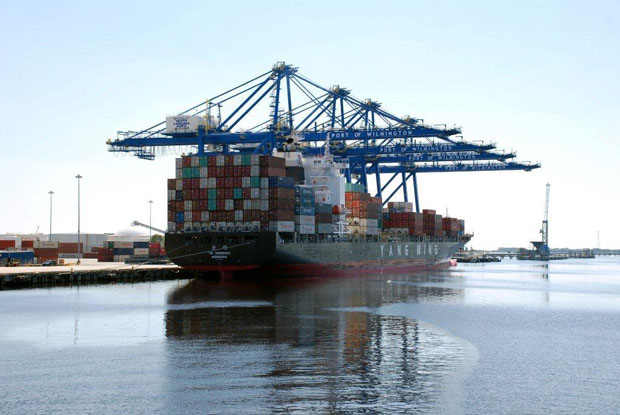 If Stede Bonnet hadn't been a notorious pirate who stole for a living, he may have shopped in Wilmington. But while Bonnet's buccaneering ways may have eliminated the need for coming into port, you can't fault his affinity for the Atlantic coast and the spoils of the area. The Cape Fear River—where Bonnet was ultimately captured—has long been an artery of discovery and settlement, war and retreat, commerce and prosperity. Snaking its way directly into the ocean, this aquatic backbone is the trading center on which our city was built. And nestled snugly into a bend in this infamous river, the Port of Wilmington has proven itself to be a major advantage during numerous moments in history, including the American Revolution and the Civil War.
Wilmington's fortuitous location has yielded immeasurable opportunity for our fair city for hundreds of years. Thanks to its robust export business of items such as rice, tobacco, cotton, lumber, and naval stores such as turpentine, rosin and tar, those early commerce days helped make Wilmington the largest city in North Carolina in the early 1900s. Today, Wilmington continues to enjoy the benefits of its prime position on the water, just 26 miles from the open sea and within 700 miles of more than 70 percent of the United States' industrial base. Commerce is thriving here, and the genesis of it is happening at the end of Shipyard Boulevard.
Port Particulars
"It's not unusual to overlook what's in your own backyard," says Jimmy Yokeley, Director of Community and Economic Development for the Port of Wilmington. Owned and operated by the North Carolina State Ports Authority, the Port of Wilmington offers terminal facilities serving container, bulk and breakbulk operations. In fact, the port of the Port City is actually a thriving network of wharf frontage that includes nine berths, both open-storage and covered dry bulk facilities with conveyor systems, terminal switching railroad lines and full rail service, rail car storage, nine container cranes, one multi-purpose bridge crane, 65 lift trucks, three truck scales, approximately one million square feet of warehouse storage space and more. Much more. In all, a full 280 acres of business that depends on the maritime trade offerings that Wilmington offers, and in excess of 100 acres not yet developed.
"We're a part of people's lives that they don't even realize," states Laura Blair, Senior Director of External Affairs for the Port of Wilmington. Yokeley concurs, offering a staggering statistic: approximately 90% of consumer goods move through ports. "Without ports, those goods would be more expensive," due to the alternative transportation costs, he explains. And yet, for as integral a part of our daily lives the port actually is, the leadership team is modest about the port's low profile in the city, concentrating instead on the port's significant economic impact.
"It starts with our mission," says Jeff Miles, Acting Executive Director. "We are focused on how the port enhances the economy of the state." Fulfilling the duties of the port serves global industries in Wilmington and the state of North Carolina. "We also serve global industries in neighboring states due to efficiencies that we can provide," Yokeley notes. North Carolina's integrated port system (which also includes the Port of Morehead City, plus inland terminals in Charlotte and in the Piedmont Triad at Greensboro) provides a healthy dose of competition for ports in neighboring states, namely Georgia, South Carolina and Virginia.
Due to their competitive Southern port counterparts, the Port of Wilmington has sometimes been referred to as a "niche port," which Miles says is relative to the question of scale rather than span of operations.
"We are not niche in terms of service offerings," says Blair emphatically. "But it's a term we've come to embrace because it reflects our service, which is second-to-none." Peter Klaus, Vice-President of Liner Sales for the Port of Wilmington, says that the term is reflective of the hospitality for which Southerners are known. "The port provides personalized service," he says. "We can go out of our way to accommodate people," he remarks, referring to both consumers and producers.
Productive, Profitable and Self-Sustaining
Locally, the port provides jobs and significant taxable investments in the city, says Yokeley. The port employs approximately 250 people, with several employees remaining for 40-plus years, Blair proudly notes. Add in truck drivers, international longshoremen, delivery and support companies and the like, and Yokeley estimates that more than 1,000 additional jobs are created thanks to the port's activities. Blair noted in a June 2013 press release that port activities contribute to 65,000 jobs statewide and $500 million each year in state and local tax revenues. In addition, the port is designated as a "strategic seaport" for the Department of Defense, assisting with military initiatives when necessary. "We're proud of being a good corporate neighbor," she says.
The Port of Wilmington's identity as a sound partner extends to the global level, as well. Miles notes that they have 20- and 30-plus year partnerships with worldwide companies, such as International Paper (in fact, the port operates as an extension of the paper facility, he notes), Hanjin, Yang Ming, and Lowe's Home Improvement, among others.
You also might be surprised to know that the port is a financially self-sufficient business entity, receiving no government-allocated funds. It operates as an "enterprise agency" in North Carolina and is run like a business. "We fund our own operations," confirms Miles, though he acknowledges that the port does receive some money from the state for various initiatives.
Global Reach
"We're seeing more companies dependent on the global economy," says Yokeley. "This city is becoming more global with each passing year." In fact, his prediction for the next five years is that the port will have the opportunity to help bring more jobs and taxable investments to the area due to the interest they are seeing from companies wanting to locate close to the Port of Wilmington—particularly companies focusing on the fuel wood pellet industry. With its ample amount of renewable, sustainable wood fiber sources, North Carolina is an attractive location for wood biomass plants. One company is considering building an at-port facility, which could create approximately 70 new jobs and support at least 80 indirect jobs in the logging and transportation industries.
What will bring companies here? More than likely, it will come down to the par excellence service Klaus referenced and the burgeoning advancements of the port infrastructure.
The port's relationship with Lowe's Home Improvement, a Fortune-500 company, is a true success story, and the company has been nothing but complimentary. "Their [NC Ports] method has been simple," said Dean Tracey, Director of International Transportation for Lowe's. "They're easy to do business with, they accommodate custom requirements, and they're unwaveringly customer-centric. They're also committed to safe and environmentally sound commerce and are in a great location for East Coast distribution."
The port's relationship with Caterpillar, a global manufacturer of heavy machinery, is another success story. Dwight Hendrickson, a supply-chain planning and performance manager at Caterpillar's Building Construction Products Division in Cary, N.C., says, "Access to these ports is one of the reasons we're here in North Carolina. Our presence, growth and economic results depend substantially on our products' global attractiveness. I think it's safe to say that North Carolina's highly skilled workforce, its solid business environment and its emerging trade infrastructure are deeply integrated into that success formula."
With a strong global reach, the possibilities are endless for the Port of Wilmington. Success surely begins at home, but according to Blair, "the port is the state's gateway to the world."
Types of Cargo
Bulk cargo is cargo that flows, or fits the shape of its container, such as dry cement or fertilizer. It can be dry bulk or liquid bulk.
Breakbulk cargo is cargo that is bundled, palletized, in bales or crates, or otherwise unitized, such as coil steel, paper products or lumber. It is handled using forklifts and other specialized lift equipment.
Containers are boxes that cargo is loaded into at the point of origin. The containers are moved from there by truck or rail to a port, onto a ship, across the ocean, off the ship at a port, then on to the shipper's facilities again by truck or rail, all without ever being unloaded.
Source: ncports.com/for-our-community/ports-101
Top Trading Partners for the Port of Wilmington
China
India
Great Britain
Brazil
Belgium
South Korea
Turkey
Taiwan
Canada
Russia
Honduras
Venezuela
Indonesia
Primary Exports
Phosphate, forest products, woodchips, wood pulp, general merchandise, food products, and scrap metal.
Primary Imports
Chemicals, grains, ore, sulfur products, rubber, machinery parts, scrap metal, metal products, and tools.
Source: ncports.com/news/news-releases/council-state-approves-new-economic-opportunity-port-wilmington