So you've got the guy, the dress, the flowers and chosen a hairstyle. What about your make-up?
By Jamie Tran Photographs By Joshua Aaron Photography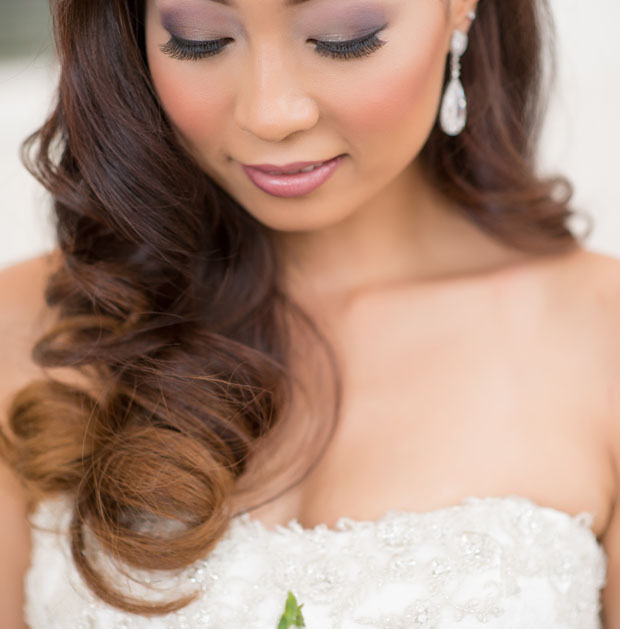 Whether you decide to do your own makeup on your wedding day or utilize the services from a professional, there are a couple of things you should keep in mind prior to the big day.
1. If you plan on doing your own makeup, test out all products you plan on using at least a month before your wedding date. Skin can sometimes react unexpectedly to new products, and your wedding day is not the best day to have an allergic reaction or a breakout.
2. If you plan on hiring a professional makeup artist, set up a trial run before your big day. Nothing is more important than meeting the person who will be in charge of your face on your wedding day. Not only is it important that you like their work, but also that you feel comfortable with them. After all, you want someone who'll be able to make you feel calm and relaxed on such an important day. A trial run is also a great way to play around with different makeup looks so that you can feel confident in your appearance as you walk down the aisle. Don't be shy when talking to your makeup artist. Express your vision. He/she should be able to provide you with an assessment and a recommendation that meets your needs.
3. Skip the facials about ten days before your wedding day. Many facial treatments used in salons can have a harsh reaction on the skin. Rest is the key for a radiant complexion. Remember to stay hydrated by drinking plenty of water and lose the caffeine. Try not to stress too much. Stress may cause impurities on your skin. If you have some impurities, leave them alone. Don't make things worse. Your body and skin reflect what you eat, so get plenty of veggies and fruits. Makeup will only wear on your skin as well as you take care of it.
4. If you are planning on doing your own makeup, to ensure that your makeup lasts all day, utilize a primer. A silicone-based primer will provide the best canvas to work with. Primer will hide any imperfections and seal any noticeable pores. It will ensure that your makeup stays put throughout your big event. Remember, you will be exposed to a full and active day, which may increase the chances of your makeup running.
5. For a natural makeup look, choose colors that compliment your complexion and show off your best features. Many brides are scared to venture outside of their normal makeup look for fear that they won't look like themselves. That's why when hiring a professional, it's important to communicate about the look you want. Any professional makeup artist will know how to accentuate your features and still keep you looking natural but in a way that will show up nicely in photographs. It's important to remember that while your makeup might look like more than what you are used to, it will translate differently in your photos.
Wear more blush than you think you should because that is normally the first thing to wear off, aside from lips. A little bit of extra blush can go a long way to adding color to the face and giving that warm glow without looking too bronze. Wear something on your lips a little darker than normal, because it's going to make the pictures so fantastic. If you wanting a nude look, choose a shade darker than your lip tone in the beige family, or you can line the lip and fill it in with a liner, then wear the gloss you always wear. Remember not to be shy because you don't want to look washed out in your wedding photos.
6. For the brides who want that bold and glamorous look, focus on the eyes and lips. Go old-Hollywood glam with a slightly winged eyeliner and matte red lipstick. Or opt for a runway-inspired look by pairing a dramatic smoky eye with a nude lipstick. Perfectly done smoky eyes look classy. It's a great look for weddings too, provided you do it with lighter colors. You want your eyes to look feminine and bridal but not punched. You are better off without colors like black, brown, grey, charcoal, etc. The key is to know which feature you want to bring focus to.
7. The most important thing about bridal makeup is that whether natural or bold, it should always be soft. This applies to skin as well. If you have oilier skin, than you will want to stick with a long-lasting foundation that provides a matte finish to your face. You can always add a slight shimmer to the tops of your cheeks, inner eyes and under the brow bone. Any more than that and you'll be looking like a disco ball. If you have dryer skin, you will want to go with a more dewy look to the skin without looking greasy. Set skin with a makeup setting spray to ensure that your makeup lasts throughout the ceremony and into the reception.
8. If deciding whether or not you should wear artificial eyelashes, check with a professional before your wedding day – especially if you have never worn false eyelashes before. If you are not used to them, they can not only irritate your eyes, but also ruin your makeup. So include this in your trial run if possible. Also, make sure to wear everything waterproof. It's so easy to find waterproof mascara and eyeliner and you will feel safe knowing that if tears happen to fall, you will at least look pretty crying. Also, choose a lasting lip color. If it doesn't last, make sure it matches your groom's outfit, because he'll be the one wearing it. Lip stains work really well as they give a nice color to the lips that you need for pictures, plus it lasts for hours.
So there you have it. Eight important tips for your special day. Utilize them all and you'll hear gasps from your guests and know that years from now, your friends and family (not to mention your beloved) will still talk about how radiantly beautiful you were as a bride.