Growing Traditions
26 Jan 2014
At Peanut Butter & Jelly, you'll find stylish maternity-wear and children's clothes along with classic furniture for the nursery
By CECE NUNN » Photos by ERIN WHITTLE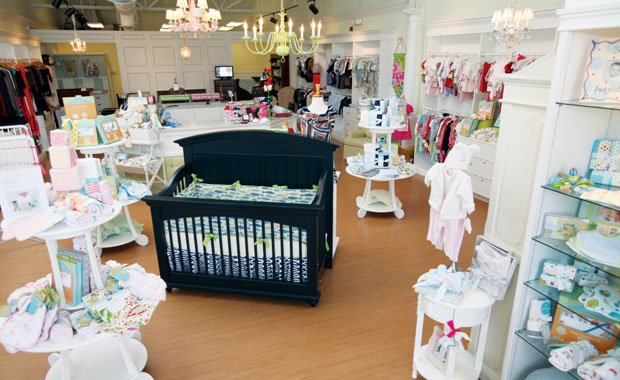 Before she had a baby of her own, Shanna Blue never changed a diaper, or even touched one.
"I had never done anything like that. I was the first of all my friends to have a baby," said Blue, a Wilmington resident who married her college sweetheart. "I didn't know one person who was pregnant."
These days Blue cares for her 8-year-old son and 10-year-old daughter.
"They're my everything," she said.
Becky Seegers, mother of a 2-year-old boy, felt the same way about parenthood at first.
"I was clueless," she said. "But I learned."
Seegers and Blue put their first-hand knowledge of pregnancy and caring for babies to use every day as co-owners of Peanut Butter & Jelly, an upscale store in The Forum at Landfall that caters to the needs of parents and parents-to-be, selling a variety of items from formal outfits for infants and small children to nursery furniture and maternity clothes.
"There's no dumb question because we started from Pregnancy 101," Blue said about being able to relate to customers who are beginning what can be an intimidating journey, as well as those who need a present for the parents or their baby.
Blue and Seegers took somewhat different paths on the way to settling in the Port City. Seegers grew up in the Outer Banks, where her parents ran their own glass business. She attended Pitt Community College in Greenville, studying business, and then worked for a real estate company. She met her husband when she went home for the summer one year, and the two found jobs in Wilmington―Becky at an interior design firm while she attended interior design classes at Cape Fear Community College.
"Then the economy went all crazy," she said.
She and her husband were laid off from their jobs. On Craigslist, Seegers found an opening for a position at Peanut Butter & Jelly, and she was hired during her interview.
Blue was raised in Fayetteville and attended the University of North Carolina Wilmington, majoring in sociology. Having worked in retail while in high school and college, Blue was ready to pursue her dream of owning her own business, one that Seegers shared. Blue and Seegers started working at Peanut Butter & Jelly on the same day, and it wasn't long before they decided to buy the business from its previous owner, who had expressed an interest in selling.
"Shanna and I started talking about it...and probably about a year and a half in to working at the business, we ended up owning the business," Seegers said.
People told them not to go into business with a partner.
"I strongly feel that a team is so much more powerful than one person, if it's the right team," Blue said. "Becky and I are opposites but we have the same values when it comes to work ethics."
Peanut Butter & Jelly doesn't follow trends when it comes to the children's clothing it sells.
"We have the baby classics," Seegers said.
The classics include smocked clothing and special occasion dresses and outfits (think Easter and christenings). In addition to selling nursery furniture and accessories, they meet with parents who want help with the design of those nurseries.
Moving forward, Blue and Seegers are embarking on a new, but related, venture in the works for 2014. Traditionally, Wilmington has been the home of a Baby Expo, usually held downtown each year. Peanut Butter & Jelly served as a title sponsor, giving away a complete "nursery of your dreams" to a lucky participant. This year, Seegers and Blue, along with AMommysJourney.com, have been working to transform that event into the Family and Maternity, or FAM, Expo, to be held March 8, 2014, at The Schwartz Center in downtown Wilmington. More information about the event is available at www.theFAMexpo.com.
"We're always coming up with something, always have ideas," Seegers said. "Not all of them work out."
"If you don't try, though, you never know," Blue added.