Perkeo Wine Bistro
26 Jan 2014
114 Market Street, Wilmington, NC
910-769-3338; perkeowine.com
By LIZ BIRO » Photos by JAMES STEFIUK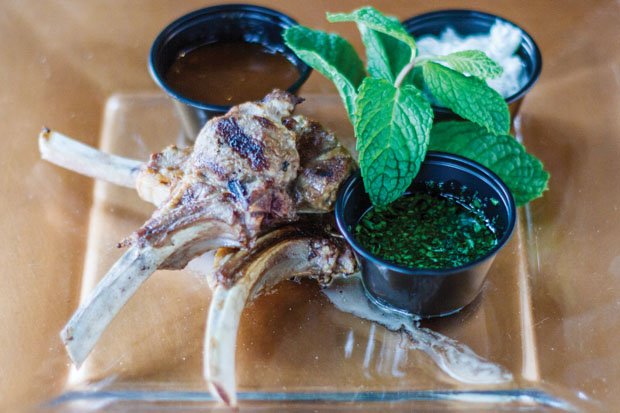 Whenever someone offered 18th century Heidelberg court jester Giovanni Clementi a drink of wine, the Italian almost always answered "Perche no?"
Pronounced "per-kay no," the Italian phrase means "Why not?" Clementi said it so often, he earned the nickname Perkeo (per-kay-o).
Chef Lynn Adkins and sommelier Malissa Mashburn appreciate Clementi's reply. The pair use it often when they're sampling wine and food.
Dining around the world for years, first as co-workers then as friends, the women never refused delicious things. When Adkins and Mashburn left the U.S. defense contracting careers that brought them together for food, wine and travel and decided to open a wine-centric restaurant in downtown Wilmington, they named the place Perkeo.
"People come to us and say, 'We haven't had a bad glass of wine from your list,' and it's because we've tried everything" Adkins says.
"And it's a daunting task trying all those wines, let me tell you," Mashburn adds, causing the duo to break into laughter.
Their ready joy signals the fun atmosphere Adkins and Mashburn want patrons to experience at Perkeo, no matter its serious wine inventory.
Fifty wines by the glass or bottle and another 75 wines just by the bottle (plus 10 beers: domestic, import and craft) populate the Perkeo list that Mashburn manages. She seeks impressive but unfamiliar labels, whether easy pinot grigio or thought-provoking blends.
"I like to introduce (people) to something that is a little outside of their comfort zone," Mashburn says.
Amusing headings divide selections and put wine novices at ease. Sparkling wines fall under "The Fizz," reds below "Shall We Paint the Town Red." "The Deliciously Drinkable Reds" catalog indicates easy-to-drink red wines.
"We have wine from all over, and we have wine that's going to be for the person who has had a lot of wine and the person who hasn't had a lot of wine," Mashburn says. "We have suggestions on our glass list that would have anyone enjoying wine."
Equally particular Adkins tends Perkeo's menu. Inspired by her Vietnamese heritage and its French influences along with Adkins' travels, the chef fashions an "eclectic" mix of small plates and full entrees. She chooses premium ingredients and digs into their history as well as the stories of the purveyors who supply them.
The dish perhaps closest to Adkins' heart is a nosh named Pork Belly. Heritage Farms Cheshire Pork, a top-chef favorite N.C. farm for natural pork, supplies the belly. Adkins trims and grills it just so to provide a lovely balance of crisp skin and unctuous meat. The pork is presented lettuce-wrap style with pickled vegetables and fresh mint.
"It's my grandmother's recipe," Adkins said of the Vietnamese woman who influenced much of Adkins' cooking style.
Saffron Chicken is another blend of Adkins' culinary journeys. Grilled chicken breast crowns rice and a cassoulet riff of white beans, caramelized onions and stewed tomatoes. Saffron and white wine-seasoned bechamel sauce finishes the dish.
Adkins hand-cuts Certified Angus Beef rib-eyes and the fries that go with them. Lightly seasoned New Zealand baby lamb chops arrive with three homemade dipping sauces: chimichurri, barbecue and cucumber dill made with thick Greek yogurt.
Lump crab Creole sauce naps fresh grouper, available Thursday-Saturday only. Blue crab fills each spoonful of silky, sherry-laced cream of crab soup.
Each dish brings "Mmm's" from Mashburn as she imagines pairings. Justin cabernet sauvignon, "not too peppery, just delicious" is her choice with the steak or lamb chops. She likes "well-balanced, very floral but not too" Acquadoro viogner from Italy with the grouper.
Innocent Bystander pink moscato's "nice effervescence" and "not overwhelmingly sweet" flavor pairs perfectly with Adkins' carefully constructed meat and cheese plate, Mashburn said. The dish, ideal for sharing, includes Adkins' herb and blue cheese spreads, fine cured meats, dried Bing cherries and famous Beecher's Pike Place Market Flagship cheddar, among other nibbles.
Perkeo's wide-open space and bold turquoise walls, a lighted waterfall hanging up front, announce Adkins and Mashburn's exuberance. They bill the restaurant as a "bistro" to indicate patrons should make themselves at home. A long, cozy, white banquette lining one wall and puffy pillows on benches by the front windows welcome loungers. Modern copper sculptures reflect copper-top tables. Patrons find quiet niches or lively sections begging conversations.
Various theme nights provide opportunities to mingle.
Wine Down Wednesday means half-price bottles.
Mashburn selects three bottles for the free 6-9 p.m. Tasting Thursday. She recently uncorked highly rated Rodney Strong Symmetry red blend.
Foodie Friday gives diners 25 percent off anything on the menu.
On Sassy Saturday, guests get their second glass of wine at half-price. Live music is scheduled every other Saturday.
Brunch happens each Sunday, and twice a month features colorful drag shows. Three performers mix comedy, song, dance and bright costumes during two programs. Mimosas ― cranberry, apple and classic orange ― and off-menu offerings, perhaps caramelized onion quiche and shrimp and grits, are among Drag Show Sunday brunch specials.
The spirited presentations indicate Adkins and Mashburn's sense of play. "We're fine-dining but we're relaxed," Adkins said. "We're not snobs."
As Clementi himself would surely say about Perkeo's quirky combination of entertainment, thoughtful food and excellent wine, "Why not?