The Dirty Martini
26 Jan 2014
Stylish, sophisticated night spot with a twist
By JASON FRYE » Photo by ERIN WHITTLE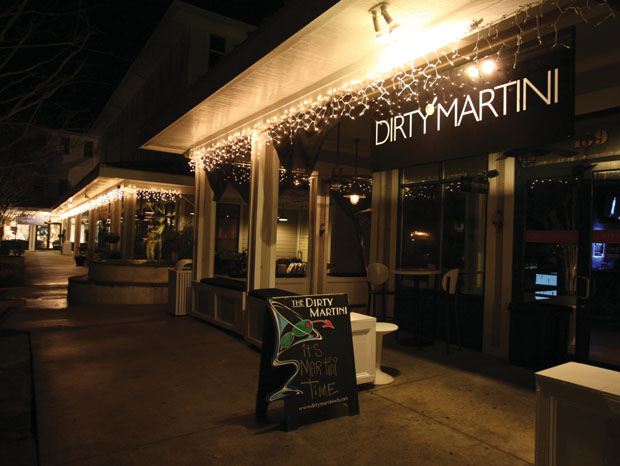 It's clear from the moment you meet Darren Cansler, owner of the Dirty Martini, that he loves his job. Run into him on the street, and he invites you to come in that evening. Meet him at The Dirty (as the bar's affectionately known) and he'll point you in the direction of one of the tastiest cocktails around.
Cansler fell in love with The Dirty several years ago when he came in as a customer. "I liked it so much, I wanted to work here, so I ended up working the door for a while," he says. Then, in mid-2011, he purchased The Dirty and began running it as his own, the ultimate act of devotion.
"I've been working hard to return The Dirty to what it was when I first came here: a fun, beautiful gathering place with great martinis. I want to draw people in the way I was drawn in," says Cansler.
His efforts are working. While much of the staff stayed after Cansler purchased the bar, others have discovered it as customers and now work behind the bar.
The cocktails at The Dirty support the professional vibe of the bar. The chic décor feels at once comfortable and luxurious, and Cansler says that to get in, "you have to be dressed right. That means no flip-flops, no board shorts. The Dirt's not a 'just hopped off the boat' or 'day at the beach' bar, it's a place for professionals."
Behind the bar is where the magic happens at The Dirty Martini. There, the bartenders, who Cansler calls "mixologists," create perfectly crafted cocktails five nights a week. Top-shelf liquor and fresh ingredients go into every glass, many of which go beyond simple vodka and vermouth.
The Cucumber Basil Martini builds on that classic martini base, but twists it up with cucumber flavored vodka; adds muddled cucumber, basil and lime; is shaken together and poured over thin cucumber slices. The result is a flavorful, refreshing drink that's devoid of that vodka burn.
The Jalapeno-Mango Martini adds the cloying sweetness of mango and the spicy heat of jalapeno, to make a balanced drink that's fiery-sweet and delicious. The Blackberry Martini takes a turn and uses blackberry whiskey instead of vodka, but it drinks as smoothly as anything on the menu, and the sweetness from muddled and fresh blackberries makes this a great finishing drink.
The Dirty plays host to several private events – from birthday parties to business mixers – every month, and DJs spin top contemporary dance songs and 80s and 90s hits on Thursday, Friday and Saturday nights. On the final Thursday of the month, The Dirty Martini sees a number of young professionals interested in networking at one of the more unique networking events in town. The group is divided in half, with one half mixing with vendors and one another, and the other half completing a teamwork-based game that helps build the bonds that make for strong business connections.
Stop in at The Dirty for a surprisingly good cocktail and a relaxed evening, or show up later for some time on the dance floor. Whatever you choose, after one visit, you'll be counting the days until your second.
Dirty Martini
1904 Eastwood Road, Wilmington
910-679-8050; facebook.com/dirtymartiniwb
Secrets for a Memorable Martini
While the Dirty Martini's signature 'tini recipes are kept under wraps, Cansler and his bartenders have some things to say on what makes a great martini.
"Start with high-quality ingredients, that's always the first thing," says Cansler. That means no cheap vodka or gin, you'll want something that drinks smooth.
Don't be afraid to be bold. That means when you add olives to a classic martini – which is made from gin or vodka and dry vermouth – don't just add green olives, add something interesting. Stuffed olives, like ones filled with blue cheese, go a long way to making a martini into something more, and you can elevate your drink even further by using a flavored vodka. The addition of jalapenos or jalapeno vodka can add bold spice to a drink in the same way a blackberry can add sweetness, so be bold and play with flavors.
Settle on a style and stick with it. Some bartenders swirl the vermouth in the glass, others the shaker. Some bartenders shake, others stir, their martinis. Some stick to gin, others vodka. Whatever your preference, stick with it and become automatic when making a martini at home and you'll soon be making perfect drinks. Practice makes perfect, and practicing for the perfect martini hardly seems like work.
Ice makes a big difference. Dirty Martini uses pebble ice, so each shaker can be filled with cubes that will quickly chill the drink during shaking without adding too much water to the finished product. Other ice cubes affect the way the mixing process influences the resulting drink.
If you're muddling fruit or herbs for a martini, a splash of soda water (or club soda) will help brighten flavors and make for a better muddle and drink.