Golden Moments
03 Mar 2018
Art is a family affair at the Golden Gallery
By KIM HENRY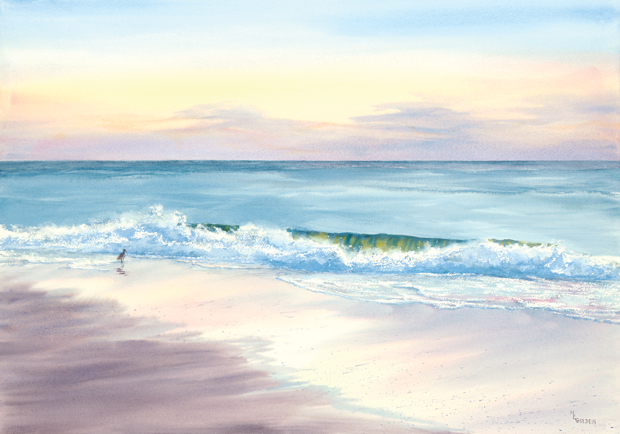 Compelled to paint from the young age of ten years old, local watercolor artist Mary Ellen Golden discovered her calling early in life. She is one of the lucky few who always knew what she wanted to do, and has managed to do it. The Golden Gallery, home to her impressive body of work, is the oldest originally owned shop in Wilmington's historic Cotton Exchange. The gallery has just celebrated its 40th anniversary and at the grand age of 75, Golden is as prolific an artist as ever.
Born in Rose Hill, NC, Goldens' artistic path began under the skilled guidance of Margaret Cooper, her first art teacher. "Ms. Cooper gave me a knowledge of mixing color that is just innate. I can mix any color I want, just by thinking, what does this need?" explains Golden in appreciation of her first mentor. Naturally, color is an integral aspect of her work. The interplay between different tones and shades of light, is the magic that keeps Golden coming back to her canvass again and again.
Moving from Charleston to Wilmington with her husband and two young children back in 1977, Golden opened her dream gallery within three months of arrival. She fell in love with the adaptive restoration of the Cotton Exchange and the rest as they say, is history. The gallery has moved within the Cotton Exchange five different times but has never left the building.
Now happily settled into a beautiful space on the first floor, the Golden Gallery is full of Goldens' collection of watercolors and photography. In fact, her work often begins with a photo and is then transposed into an atmospheric illustration of all that catches her artistic sensibility. Nature is a major source of inspiration for Golden, so what better place to live than the North Carolina Coastline?
Many of her most beloved paintings feature the ocean, coastal birds, moonlight, sunrise, and seasonal flowers. Golden can often be found photographing the moonrise at Wrightsville Beach or watching the sun set over the water. "We experience all sorts of beauty in nature - color, shape, fragrance, the associations and memories which come crowding in. This seeing and feeling experience is the most important part of being an artist," smiles Golden, blue eyes sparkling in delight.
Another preoccupation that inspires Golden is the reflection caused by light and shadow playing on glass. Windows feature in a number of her pieces. Branching out, Golden also dipped into the mixed medium genre with the discovery of a technique using paint, sea salt and hair. The salt causes the water and paint to bleed across the fine strands of hair in an unusual way, creating an ethereal feel to the scenery. This slightly dreamy effect gave way to a series of mermaid paintings.
Artists sometimes pass their love of art on to their children and this is exactly what happened for Golden and her son John. In fact, the original idea behind the gallery was that it would only carry the work of the Golden family. This meant that John Golden began selling his block printing work at 11 years old and has been an avid artist ever since. A successful graphic designer, working for companies such as Nickelodeon and Cartoon Network, and named one of the Top 20 best art sellers on Etsy, Mary Ellen Goldens' artistic eye has clearly been passed down to the next generation.
Keeping it in the family, Goldens husband also adds his spice to the family artistic pot, as a noted songwriter and storyteller. His CDs of local Ballad's and folklore, including the civil war era songs such as, 'The Battle at Moore's Creek," can be found at the gallery. "Everything in here is ours," says Golden, "except for some jewelry by Melissa Manly and some pieces of work by our managers' autistic son."
Golden is a member of the Wilmington Art Association, the Watercolor Society of North Carolina, and is an associate of the American Watercolor Society. Her work appears in many corporate collections including Bank of America, IBM, and Murphy Farms―and may be found in private collections throughout the world. Showing no signs of slowing down any time soon, Golden is an inspiration to us all―when you find what you love to do, keep doing it! thegoldengallery.com