Spring into Blooming Season
03 Mar 2018
NC Azalea Festival raises Wilmington's spirits and economy
By JUDY ROYAL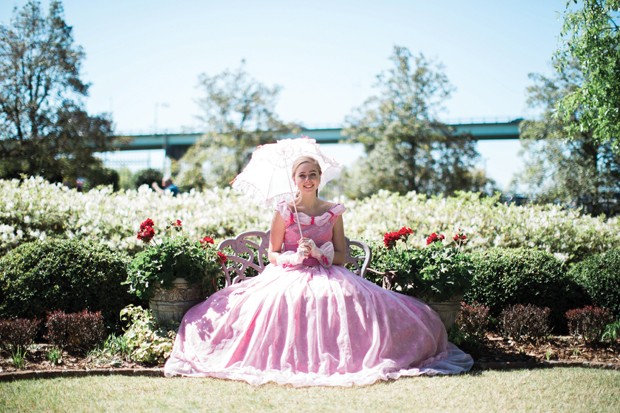 A countdown on the website of the North Carolina Azalea Festival tells, down to the second, how much time remains before Wilmington's premier event kicks off. But long before the counter reaches zero, organizers are operating at warp speed to pull off this annual celebration of spring, that has been a firmly rooted Southeastern North Carolina tradition since 1948. In fact, as soon as one festival ends, planning for the next year begins immediately.
"The break between ending one festival and starting to work on another is getting shorter and shorter," said Justin Wolfe, president of the current Azalea Festival Board of Directors. "We used to take April and some of May off, but we don't have that luxury lately. There's too much to do."
Part of the challenge from year to year is to strike a balance that mixes up the festival's offerings, without deviating too sharply from the aspects of what people have come to love and expect.
"We try to tweak events every year to make sure they are a little different, a little better," Wolfe added. "The big thing this year that we're trying to focus on is keeping events fresh, refining them and making sure that we're meeting the expectations of sponsors as well as festival-goers."
Despite the parade, street fair, home and garden tours, fireworks, nationally known entertainment and the coronation of a queen and princess, Mother Nature has been the simple inspiration for the event since its inception. After heading up the transformation of Greenfield Lake to a landscaped park from 1934 until about 10 years later, Dr. Houston Moore had the idea to launch an annual festival that would coincide with the blooming of spring flowers. The first North Carolina Azalea Festival was held in 1948 and drew over 60,000 spectators.
These days, the festival attracts 200,000 to 300,000 people and has an economic impact of well over $50 million―a figure that was determined during a 2011 study. Organizers expect the total is much higher now due in part to a major move in 2013 – moving concerts from indoors with a capacity of about 3,000 to outdoors at a riverfront venue that can accommodate about 10,000, allowing not only for more ticket sales but a more diverse lineup of entertainment, which in turn attracts a larger number of sponsors from outside of the area.
"Everybody said it won't work, it can't be done, there's too many logistical problems," Wolfe said. "We got pushback from a lot of people, but we've pulled it off every year and that's been a massive change."
In February, he and the other five members of the board, as well as Azalea Festival Executive Director Alison English and her staff, were preparing for the announcement of the entertainment lineup and just generally gearing up for things to suddenly get a lot busier at the Azalea Festival office in Oleander Oaks. They depend on a cadre of committee chairs, co-chairs and other volunteers that help everything run smoothly. In May 2017, the Azalea Festival volunteers were honored by the State of North Carolina with the Governor's Volunteer Service Award.
"I think the greatest part of the Azalea Festival is the people who are involved with it," English said. "We call it our festival family, and that family is huge. It just really gets into people's hearts, and it really goes to show what kind of community Wilmington is and how hospitable we are."
The Azalea Festival has been involved with the International Festivals & Events Association (IFEA) for the past several years and is learning lots of tricks of the trade from national events such as the Indy 500, Kentucky Derby and Rose Bowl Parade and also competing in the largest category of events and winning awards against many of those big names.
Despite the widespread success of the Azalea Festival that causes thousands to flock to it every year, organizers go out of their way to bring a part of it to others who might not be fortunate enough to attend. The Thursday of the festival is Community Day and involves the queen and her court visiting a local school, the New Hanover Regional Medical Center Betty H. Cameron Women's & Children's Hospital and the Brigade Boys & Girls Club.
"I think it really helps raise the spirits of people who aren't able to get out and enjoy all the events," Wolfe said. "I think that's unique and special. For me, it really captures the spirit of what the festival is about and gives people a little brightness in their day."
Overall, the upcoming Azalea Festival promises to offer something for just about everybody, he added.
"I think we're going to have a great festival this year," Wolfe said. "I think people are going to be ready to celebrate spring once it gets here. Wilmington is a beautiful place to live and visit, and coming out of the cold weather season and with flowers blooming everybody's in a good mood."
The Azalea Festival this year is April 11-15. For detailed information about the North Carolina Azalea Festival, visit ncazaleafestival.org