Great Burgers
20 May 2014
Comfort food of the highest order. That's a great burger, and we've found 21 of them worth every big, messy bite. From Angus beef to fresh seafood, lamb, bison and vegetarian, these burgers fit the bill. We dare you to try them all.
By LIZ BIRO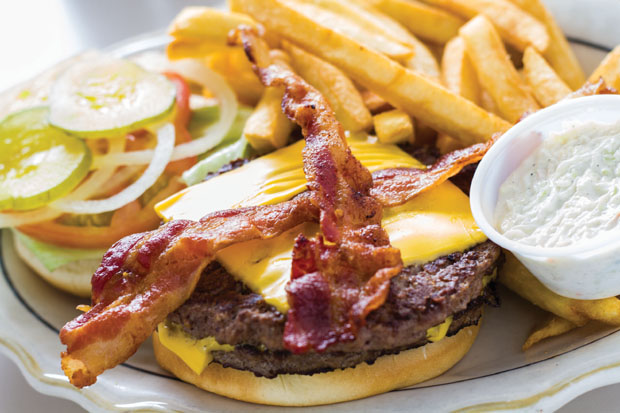 Winnie's Tavern
When pro cooks need a burger, many choose a Winnie bacon cheeseburger. The juicy, tender, half-pound patties made to order, are sandwiched with bacon, ultra-melty American cheese, lettuce and tomato, all between a sesame seed bun. Some people love it so much, they've been known to ask for a double Winnie. The special order, standing nearly six inches high, is rare. The single is usually enough for most people, which is why Winnie's offers Mini Winnies. On the side: Try sweet potato crinkle-cut fries. Did you know: Winnie's has been in business since 1962. Insider tip: Winnie's has appeared in movies, most notably "Blue Velvet." 1895 Burnett Blvd., (910) 762-1799, facebook.com/winniestavern
Copper Penny
Arrive at Copper Penny 10 minutes before the kitchen closes and still get a great half-pound burger – picked from the specialty list or made to order with a choice of toppings. Devoted cooks get the beef just right every time, making a perfect canvas for the likes of roasted red peppers, basil pesto mayo, blue cheese, guacamole, roasted garlic or good old lettuce, tomato and American cheese. Did you know: Kids eat free on Monday nights and Build Your Own Specialty Burgers are just $8.99. What to drink: Numerous beer taps offer a regularly changing array of craft beers. Insider tip: Philadelphia Eagles fans find a refuge here. Team colors are a prominent part of the décor. 109 Chestnut St., (910) 762-1373, copperpennync.com
Wayfarer Delicatessen
Thick, juicy, all-American burgers earn added stars and stripes at this little, downtown deli. A half-pound of organic, free-range, Carolina Bison from North Carolina's Blue Ridge Mountains shapes every half-pound, hand-pattied burger. Bison has fewer calories than beef, but diners wouldn't know it. The chef's creations change regularly. The Southern Bourbon' Bison Crunch Burger features applewood-smoked bacon, from-scratch slaw and bourbon barbecue sauce, red onions, N.C. sharp cheddar and crunchy salt & vinegar potato chips. Did you know: Bison has less fat and cholesterol than beef. Insider tip: Check Wayfarer's Facebook page for pictures of bison burger specials. Save room for: Raspberry-Chipotle-Chocolate 'n' Bacon N.Y. Cheesecake. 110 S Front St., (910) 762-4788, wayfarerdeli.com
Poor Piggy's BBQ & Catering
Pitmaster Ed Coulbourn holds titles for best ribs and pulled pork, but he's equally famous for his Smokehouse Angus Burger. Coulbourn hand-patties a half pound of Angus beef, seasons it and then smokes the burger in his wood-fired cooker. Sharp, aged cheddar, smoked bacon, pickles, crispy fried onions and thick barbecue sauce crown the chef-d'oeuvre. Don't miss: An alternate to fries – a basket of hot-from-the-fryer hushpuppies. Did you know: Poor Piggy's food truck schedule is posted on Facebook /PoorPiggys and Twitter @PoorPiggysBBQ. Insider tip: Poor Piggy's will come to you. The food truck is available for private events. Food Truck, (910) 632-4229, PoorPiggys.com
Rx Restaurant
The chili cheeseburger is an eastern North Carolina classic, so it's fitting that Goldsboro born-and-bred Rx owners would feature one. Stacked three-thin-patties high – each perfectly cooked to order – and oozing with American cheese and housemade chili, plus obligatory mustard, onions and slaw, the burger is a Sunday brunch favorite, especially with a little hair of the dog at the bar. Insider tip: Top the burger with a side of Heritage Farms bacon, locally produced, no hormones, no steroids, no artificial processing. While you wait: Sip a DIY Mimosa. Juice and sparkling wine are provided to custom mix. Keep a lookout for: Bacon cinnamon rolls. You never know when they'll show up on the brunch menu. 421 Castle St., (910) 399-3080, rxwilmington.com
Jimbo's Breakfast & Lunch House
Stop for lunch or roll into town in the wee hours. This classic 24-hour diner will put a burger on the grill for you. That's the kind of Mom service that has made Jimbo's famous. The burger is like one Mom hand-pattied, lovingly cooked and stacked exactly to her baby's order. The waitress will probably deliver it with a "Here you go, Honey." Someone's mom may be at the cash register to say "Drive careful." This family diner spans two generations. On the side: Good conversation. Customers are as friendly as staff. Did you know: Jimbo's has been open for nearly 40 years. Insider tip: Patty melts are just as yummy as the burgers. 1529 S. College Road, (910) 799-2211
Lovey's Natural Foods & Café
Think there is no such thing as a healthy burger? Think again. Lovey's free-range turkey burger is just one choice. Get it with classic lettuce, tomato and red onion. Not good enough for you? Opt for one of four vegetarian burgers, including a grinder with a veggie burger, lettuce, tomato, onion, carrots, sprouts, cheese and Goddess dressing, all tucked into a whole-wheat wrap. That and a side of kale chips is almost a day's worth of vegetable servings. Did you know: Lovey's has vegan cheese, gluten-free bread and an extensive, all-organic hot and cold food bar. What to drink: Fresh fruit and vegetable juice blends made to order on-site. While you wait: Check out the grocery section's grass-fed and free-range meats and poultry for burgers at home. 1319 Military Cutoff, (910) 509-0331, loveysmarket.com
Rucker John's
Watching the carbs? As Rucker John's says of its Texas Burger, "No buns about it." The hefty patty arrives smothered with homemade chili, grated cheddar and Monterey jack cheeses, chopped tomatoes and scallions, all topped with a dollop of sour cream. Bun? Who needs a bun? No one. That's why there's no bun. On the side: What the heck. Sneak in some carbs. Order mac and cheese instead of fries. While you wait: Try the Crab Fingers appetizer. Battered and deep-fried crab claws are served with homemade cocktail sauce. When to go: Tuesday nights feature Live Music and Half-Price Bottles of red wine. 5564 Carolina Beach Road, (910) 452-1212, ruckerjohns.com
Courts & Sports Bar & Grill
Fans turn up the heat on game day, whether their watching the play-by-play on televisions or on the live volleyball court outside. Nothing matches their fire like the Cracked Pepper Burger. The black pepper-coated, half-pound patty's spice is barely tamed by melted provolone cheese, sweet balsamic onions and sautéed mushrooms. Did you know: You may burn off your burger by playing cornhole, bocce, volleyball or sand soccer. Insider tip: Sacks of five, 10 or 15 sliders with fries and sodas are available to-go. Save room for: Deep-fried Oreo cookies. 3525 Lancelot Lane, (910) 228-5791, courts-sports.com
Dixie Grill
If you can't decide between breakfast or a burger on those mornings after partying until the wee hours, consider the Stafford Burger. Part apple-sage pork sausage, part ground sirloin, the char-grilled patty, topped with lettuce, tomato, onion, mayo and melted provolone on a toasted kaiser roll, is the perfect in-between to help stop the spinning and get the weekend back on track. Introducing its new burger menu, Chef Mayberry aims to please meat eaters, pescatarians, vegans and vegetarians alike with a line of new burgers. What to drink: A Bloody Mary, of course. When to go: Sunday mornings can be busy. Arrive early or after lunch. Insider tip: Biscuits are fresh-baked. Get a few to-go. 116 Market St., (910) 762-7280, thedixiegrillwilmington.wordpress.com
Catch The Food Truck
Coastal North Carolinians have a thing for seafood burgers, and Wilmington chef Keith Rhodes satisfies their cravings. Rhodes is well-known for crab cakes at his award-winning Catch restaurant. The meaty little morsels land in sliders on Rhodes' food truck of the same name. Never at a loss for ideas, Rhodes may serve the sliders BLT-style or crown them with cilantro slaw. The truck makes regular rounds and is available for private events. On the side: Try chicken-fried, organic, local okra. Pair up: A crab cake slider with a lobster slider featuring cilantro slaw and curry mayo. Did you know: Chef Rhodes has been a James Beard Award semi-finalist. 6623 Market St., (910) 799-3847, catchthefoodtruck.com
Temptations
Lots of Wilmingtonians get their old-fashioned pimento cheese fix here. The sharp and creamy housemade blend, with ample sweet red pepper, is especially sought after on the Pimento Cheese Burger served at the Porters Neck Center store. A thick layer coats a half-pound, grilled Angus beef patty along with lettuce and tomato ― no mustard, ketchup or mayo required. Insider tip: Keep your napkin close for this juicy, cheesy burger. Did you know: The pimento cheese is available in to-go containers. What to drink: Temptations carries around 300 wines from around the world. Might we suggest a fruity pinot noir? 8207 Market St., (910) 686-9343, temptationseverydaygourmet.com
P.T.'s Olde Fashioned Grill
The best burger in Wilmington or anywhere is a matter of personal tastes, but P.T.'s consistently wins citywide polls. Certified Angus Beef burgers are never frozen and always cooked to order. Patrons grab an order form at the counter and pencil in their preferred burger size (four- or eight-ounce) and toppings, and whether they want to eat outside, inside or take the burger to-go. Sitting inside and watching cooks work the grill is most fun. Did you know: P.T.'s fries earn nearly as many accolades as the burgers. The fresh-cut-daily, Idaho potatoes come with every burger. Insider tip: P.T.'s operates a food truck available for private events. What to drink: Each cup of lemonade is individually fresh-squeezed. Locations throughout Wilmington and one in Leland, ptsgrille.com
The Cork 'n' Fork
Chef James Smith made a name for his burgers via The Patty Wagon, one of Wilmington's most popular food trucks, especially on Friday and Saturday nights downtown. In spring 2014, he turned the business into a full-fledged restaurant, scheduled to open in April. Smith plans upscale pub foods like lobster pie, brisket layered mac and cheese and duck burgers. But no worries. Smith's always tender and juicy, Angus beef, 1/3-pound burger on a brioche will remain on the menu. Insider tip: Smith's thick, homemade meatloaf sandwich on sourdough nearly rivals the burger. Did you know: Smith has clocked time at Wilmington's Ruth's Chris Steak House. He understands beef. Keep an eye out: Look for a Cork 'n' Fork website and Facebook page this spring. 122 Market St.
Pender's Café
The Pender Burger consists of two beef patties that start as balls of ground beef. The meat is dropped on a hot griddle, cooked a bit and then flattened with a spatula, providing some exterior crispness against the burger's soft interior. The no-frills burger is cooked in an open kitchen behind the old-fashioned diner counter lined with red stools. Did you know: Pender's has been in business since 1977, but a soda shop first opened at the address in the early 1900s. When to go: Pender's is open for breakfast and lunch only, Monday-Saturday. Insider tip: Solo diners love Pender's for its friendly staff. They make everyone feel like family. 205 N. Front St., (910) 762-4065
Pine Valley Market
What better place to get a burger than a café that runs its own butcher shop? One-third pound of Certified Angus Beef chuck is hand-pattied for each burger, each one cooked perfectly to order. Toppings are up to diners. Bacon? Cheddar? Mushrooms? A fried egg? Maybe fried green tomatoes? Choices and combinations abound. While you wait: A butcher is always available to answer questions, and beef is aged in-house. Save room for: A hunk of cake. Local bakers supply luscious pound cakes and tall, scrumptious layer cakes like coconut mousse and mint chocolate mocha. Where else is the beef?: Ready-to-cook, take-out family meals include beef pot pie, shepherd's pie and meat lasagna. 3520 S College Road, (910) 350-3663, pinevalleymarket.com
The Original Salt Works
Locals are loyal to this Wilmington institution, which boasts that its burgers have been curing hangovers since 1971. Everyone from grandparents to teenagers, construction workers, attorneys and office workers keep coming. Burgers, especially the double cheeseburger, are among reasons they return. Thick, fresh, homemade patties are well-seasoned, have true flat-top griddle flavor, always hot and always made exactly to order. Insider tip: Arrive early at lunch to help avoid a wait. On the side: Don't miss housemade onion rings. While you wait: Keep your ears open. You're likely to hear lots of news and friendly opinions. 6301 Oleander Dr., (910) 350-0018
Merritt's Burger House
Leave your debit and credit cards home. Bring cash. Old-fashioned style dictates this drive-in spot. Pick a parking place and wait for a server to come take your burger order. No-frills, thin patties are topped with lettuce and tomato on soft, squishy buns, nothing fancy – although cheese, chili, slaw and other burger dressings are available. The burgers arrive wrapped in wax paper and lined up neatly on a tray that hooks to the car window, just like the old days. Crinkle-cut fries in paper boats and low prices add to the nostalgia. Insider tip: Look for the food paintings on the outside walls. Merritt's has been in business for more than half a century. What to drink: Locals prefer a Sun Drop soda. Save room for: A hot apple turnover. 2338 Carolina Beach Rd., (910) 763-5844
Brasserie du Soleil
Lunchtime sliders at this cozy, French-themed Wilmington favorite are much more than just mini burgers. Salmon, short ribs and ground brisket are among selections, but the merguez lamb sausage slider stands out. Chilled cucumber salad and fresh tomato confit cool the spicy patty. Goat cheese adds soft zest. When to go: Lunch begins at 11:30 a.m. Monday-Saturday. Did you know: Brasserie du Soleil is a leader in its use of local produce and meats, and is devoted to from-scratch fare. What to drink: A nice wine list and full cocktail bar are available. 1908 Eastwood Rd., (910) 256-2226, brasseriedusoleil.com
Hell's Kitchen
When Burger Day comes around here, fans needn't break their piggy banks. Any of the Certified Angus Beef burgers on brioche buns cost just $6.99 each, but the signature Hickory is a spicy, sweet favorite. Award-winning Sweet Baby Ray's Barbecue Sauce and its little kick flavor the stack's bacon, cheddar, lettuce, tomato and beef layers. Simple with a twist. What to drink: Fresh-squeezed juice cocktails like the Ruby Red Crush with citrus vodka, triple sec, grapefruit juice and a splash of lemon-lime soda. When to go: Game days are especially fun at Hell's Kitchen. Televisions and outdoor speakers broadcast the play-by-play. Did you know: Hell's Kitchen was created for the college bar setting depicted on the final season of the CW Network show "Dawson's Creek." A restaurateur purchased the site and much of the decor after the show's run and turned the set into a real pub. 118 Princess St., (910) 763-4133, hellskitchenbar.com
Tazy's Burgers & Grill
A fine-dining chef traded in his fancy whites for a no-fuss, from-scratch menu close to his beloved golf and surfing. Tucked inside a shopping strip, fans know to find this place where Angus burgers are made-to-order, dressed with a choice of toppings ― including remoulade and chili ― and served on buns baked in-house. The kitchen is keen on fresh ingredients and from-scratch cooking. On the side: Fries are great, but cooks pride themselves on premium pasta and potato salads. Did you know: You can ask for a burger patty on a garden salad. Save room for: Housemade chocolate chip cookies or bread pudding with sabayon sauce. 4107 Oleander Dr., (910) 397-2944, tazys.com