Summertime Getaways
20 May 2014
Wherever you want to go – alone, romantic escape, family trip or girlfriend weekend, these destinations offer fabulous ways to relax and unwind.
By Katie McElveen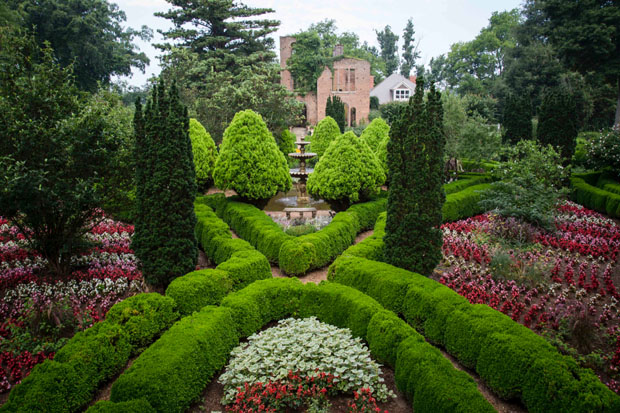 Some people start planning their summer vacations in September. Others wait until May. Or maybe June. If you fall into the second camp and are just starting to think about where you'll spend your precious time away from work, we've got you covered. Each of these seven locales, some near, some far, offers something special, be it a fabulous culinary scene, lots of history or remarkable scenery.
Barnsley Resort, Adairsville, Georgia
When Prince Hubertus Fugger Babenhausen of Augsberg, Germany purchased the former Woodlands Plantation outside Adairsville, Georgia, in 1989, the gardens were overgrown and the historic buildings in ruins. After two years of painstaking restoration, he opened it to the public as Barnsley Gardens, naming it for Godfrey Barnsley, who owned the original plantation. Today, the 3,300-acre property (pictured above) has been transformed into Barnsley Resort, a garden-filled retreat where, beyond pursuits like golf on the Jim Fazio-designed course or treatments in the spa, guests can, among other activities, hunt for quail, pheasant and turkey, shoot sporting clays, ride horseback through cool meadows, fly fish, kayak and play tennis. A full-time historian cares for the on-site museum, which is filled with artifacts from both the Barnsley family and the Civil War and sits next to the ruins of the plantation's original home; walking trails lead past additional 19th-century structures that dot the property. Dine at one of the resort's two restaurants – one of which is located in an 1850's plantation house – or find your own perfect spot within the resort and let the staff create a dining room just for you. There's even a European-style beer garden.
Sophisticated but beautifully rustic, Barnsley's 73 rooms, suites and cottages are individually decorated and come with amenities like oversized soaking tubs, pine floors, working fireplaces and window seats. Choose from single rooms, or rent one of the charming multi-bedroom timbered homes within the property. For more information, visit barnsleyresort.com
Bald Head Island, North Carolina
There's nothing like a week at the beach, but between finding parking and battling traffic, having a car, though necessary, can be a hassle. This year, instead of fighting the battle, give up, and head to Bald Head Island, where you'll park your car in a lot, hop onto a ferry and, 20 minutes later, emerge in a blissfully car-free zone where visitors and residents get around on bikes, golf carts and their own two feet. And where can those modes of transport take you? First stop is the beach, 14 miles of golden sand lapped by the seemingly endless Atlantic, positioned so that you can see the sun rise and set over the ocean every day. During the summer, the Bald Head Island Conservancy offers sea turtle walks for members several nights during the week. Then there's the M. Kent Mitchell nature trail, which winds through an ancient maritime forest and a sunny tidal salt marsh. Finally, climb the 108 steps to the top of Old Baldy, the 1817 lighthouse that was commissioned by Thomas Jefferson. There's also shopping, golf, tennis and a spa. When it's time to get off the land, hit the creeks on a kayak or canoe, charter a boat for a day or fishing or try your hand at sailing, kiteboarding or stand up paddleboarding. Island rental homes come in all shapes and sizes, from cozy cottages to sprawling beach houses. For more information, visit baldheadisland.com
Park City, Utah
It's no secret that Park City, Utah is one of America's top ski destinations. But come summer, when the mountains shed their wintry coats, the temperature hovers around 80 degrees and hotel room prices plummet, a new different Park City emerges. Hikers and mountain biker replace skiers and snowboarders on the chairlifts, passing over horseback riders on their way to the top. Activities abound: Mountain roller coasters and slides, bobsled runs and ziplines keep adrenaline junkies happy, but there's also fishing, golf, free summer concerts, Park City's Olympic Park and a zillion activities for kids.
Park City actually comprises three resorts: Deer Valley, Canyons and Park City Mountain, all lined up along a seven-mile stretch of roadway. Within each resort, you'll find easy access to activities along with hotels and restaurants at every level. Park City's historic Main Street, where Robert Redford's Sundance Film Festival takes place every January, sits between Deer Valley and Park City Mountain resorts. Boutiques, galleries, coffee shops and restaurants line the streets. For dinner, head to the stylish Riverhorse on Main, where chefs work wonders with preparing regional dishes like buffalo tartar, Snake River Kobe beef, sockeye salmon and elk. Still, the potstickers and panna cotta are worthy competition. Saunter into the saloon-like High West Distillery for stick-to-your-ribs eats updated with chef-driven twists—burgers are a blend of organic bison and beef and come with house-cured pickles—and creative bourbon drinks crafted from the distillery's own hootch. Top stays include the St. Regis and Montage in Deer Valley, in town, the historic but chic Washington School House Inn. For more information: visitparkcity.com
Sonoma, California
Most people experience Sonoma as part of a wine-fueled day trip from nearby San Francisco, but the county, which is about the size of Rhode Island, is worth getting to know better. Beyond more than 400 wineries, you'll find a dramatic Pacific coastline, majestic redwood trees and winding rivers.
With shops, tasting rooms and restaurants arrayed around a pretty town square, Healdsburg is a charismatic base camp. Bed down at Hotel Healdsburg, which is steps away from dining and shopping. Rooms are edgy but comforting thanks to fluffy down comforters on the beds, colorful Tibetan rugs, mustard-hued walls and oversized soaking tubs.
For dinner, beeline to Dry Creek Kitchen, where local, seasonal ingredients give New American cuisine a dose of California cool, or to Scopa, for homestyle Italian specialties in a hip, bustling space.
Biking is one of the best ways to explore Sonoma County, for a real workout, try the Coleman Valley Loop, a scenic 30-mile round-trip from Healdsburg to the seaside town of Bodega Bay. While you're there, kayak with harbor seals or check out scenery from Hitchcock's classic movie [The Birds,] which was filmed in town.
When it's time to visit a winery, make it special with Jordan's Estate Tour and Tasting, a moveable feast through the 1,200-acre estate with stops like Chardonnay pairings at Jordan Lake and a seated Cabernet Sauvignon pairing on Jordan's highest hilltop with 360-degree views of three wine valleys. For more information, visit Sonomacounty.com
Anguilla, British West Indies
Surprise! When the temperature and the humidity have both reached 98 in Columbia, chances are it's a breezy, sunny 88 in the Caribbean, with a lot less humidity. And if it's low-key luxury you're after, head to Anguilla, a diminutive isle located just a few miles, yet a world away, from bustling St. Maarten.
Rimmed with billowy pale-pink sand lapped by evanescent turquoise water, Anguilla is a star in its own right, as beautiful as any island and as tranquil as a daydream. And whether it's served in an elegant dining room or yards from the beach, the island's food is some of the best in the Caribbean. Diners flock to Veya's for crayfish in ginger beurre blanc and shrimp in a coconut curry sauce, all served on a second-story porch tucked into a tropical garden. At Blanchard's in Meads Bay, order anything bathed in the restaurant's signature red thai curry sauce and the cracked coconut dessert – a handmade chocolate shell filled with coconut ice cream and a nip of Bailey's.
The island's top resorts have also gotten into the culinary scene. The hippest spot in on the island is the Sunset Lounge at Viceroy Anguilla, where creative sushi, salmon poke and kobe beef sliders are served on low-slung couches with views over the infinity pool to the ocean. If you decide to stay the night, book one of the rooftop studios, which sports a spiral staircase to a very private top-floor balcony set with a plunge pool and lounge chairs. For more information, visit ivisitanguilla.com
Savannah, Georgia
With Charleston less than two hours away, Savannah is often overlooked by many Carolinians, but the city, with its checkerboard of 22 leafy squares and riverfront location, has a personality all its own.
There's plenty to do beyond the squares, too. If it's just too hot to be outside, check out the modernist Jepson Center for the Arts, the more classic Telfair Academy and the interactive children's ArtZeum. Or just shop. Broughton Street is the city's best-known block, and for good reason: locally-owned boutiques like Paris Market, Villa Savannah and 24e are fresh, friendly and chic. Closer to Forsyth Park (and just around the corner from Mercer House, which was made famous by the book [Midnight in the Garden of Good and Evil]), Savannah's design district runs along Whitaker Street. Here, you can check out modern edgy designs at Custard or Trunk 13, immerse yourself in antique furnishings, peruse E. Shaver's twelve rooms of books or check out home design trends. Save time for shopSCAD, where you'll delight in the works from the artistic minds of the students and instructors from the Savannah College of Art and Design.
Savannah is filled with unique stays: Perched above the Savannah River, the Bohemian Hotel echoes the city's maritime heritage with nautical artwork and river-inspired elements like driftwood and industrial ironwork ; rooms have shell-covered chandeliers, furnishings built to resemble old sea chests and large, modern granite baths. Occupying a prime spot in front its namesake green space, the Mansion on Forsyth Park is both exuberant and eclectic: one-of-a-kind Versace furnishings and 200-year-old pink marble columns fill a lobby that peeks into a pool area covered with a dramatic white canopy. For more information, visit visitsavannah.com
Beaufort, South Carolina
Beaufort gained fame for its starring role in the movie [The Big Chill] (you'll recognize the house at 1 Laurens Street); star Tom Berenger loved the city so much that he stayed. It's no wonder: attitude-free galleries, boutiques (a few chocolate alligators from the Chocolate Tree make snappy gifts for your dog sitter and plant waterer), coffee shops and restaurants are tucked under the city's ancient live-oak trees and along the pretty waterfront; stroll the neighborhoods behind New Street and just try to choose a favorite among the rambling historic homes that sit shaded under veils of Spanish moss. Locals flock to hip Breakwater for tapas and grilled mahi; cruise east on the Sea Island Parkway to the Shrimp Shack, where you can feast on signature shrimpburgers on the back porch. That same road will also take you to the Penn Center, which was founded by Quaker missionaries as a school for freed slaves in 1862 and has become a museum and center for Gullah culture. The 50-acre site includes historic buildings (including the cottage where Martin Luther King stayed) and old burial grounds; at the museum, you can listen to the recorded voices of students sharing their stories.
Beaufort's maze of rivers and tidal creeks are easily explored by kayak; choose nature tours where you'll be eye-to-eye with alligators and snapping turtles, or get a different perspective on the town's graceful downtown and view it from the water via kayak.
Stay at one of the city's many historic inns, or go modern and book one of the two rooms at Greyhound Flats, with their funky bright-and-brown color scheme, heavenly bathrooms and central downtown location. For more information, visit beaufortsc.org
Big Canoe, Jasper, Georgia
Family vacations can be daunting. Too much to do, and you come home more exhausted than when you left. Too little, and the television or computer becomes the sole source of entertainment. And then there's your lodging. It's tough to relax when everyone is sharing a single hotel room. That's why families flock to Big Canoe, an 8,000-acre private community an hour outside of Atlanta. There are lots of cool activities for kids and their parents to pursue together, while summer camps give parents time on their own for golf on the 27-hole championship course, a massage at the community's own spa or tennis. Three lakes, one with a sand beach, mean families can spend time swimming, fishing and exploring by electric boat, kayak, canoe or even pedal boat. Landlubbers can discover the landscape on the 22 miles of hiking trails that loop through a property filled with deer, woodpeckers and other wildlife. Community activities – canoe races, holiday festivals and movie nights – offer a place to visit with other families. Lodging options are equally varied, from one and two bedroom condominiums to spacious five-bedroom homes with screened-in porches, large designer kitchens, Jacuzzi tubs, playrooms for the kids and large flat-screen televisions. Whatever you choose, bed linens, towels and the final cleanup are all included in the price. Best of all, some of Big Canoe's home can be rented for less than a week, making the community an easy weekend getaway. For more information, visit bigcanoe.com