Home Away From Home
19 May 2014
Sea Scape Properties offers top-notch rentals and personal service that puts their homeowners at ease
By TERESA A. MCLAMB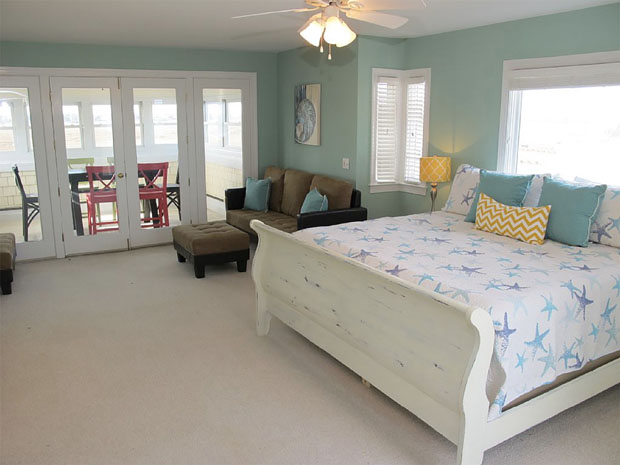 Taking a cue from all-inclusive resorts, a local property management company is making its mark by stocking their rental properties with all the amenities of vacationing. Customers just need to bring their clothes, their food and their beach attitudes.
Founded a year ago by Bobby Huckabee, Sea Scape Properties manages long-term rental homes from Southport to Holly Ridge. Many are inland, but vacation rentals is an important piece of their business. Their vacation homes have "all the amenities of home," said Nicole King, property manager and broker-in-charge. "The linens are included. We have beach cruisers, coolers, umbrellas. The kitchens are fully stocked. We can even buy groceries for them."
Through Wrightsville Beach Adventures, they offer discounted half and full day cruises and fishing charters. "For people who are not from here, it gives them a different perspective by being in a boat," said Jessica Elliot, marketing manager. Sea Scape is developing a concierge service for expanded services. "I think it's also important to know that as we grow the inclusive packages, we use local companies so we can grow together. Huckabee is a local, so he's invested in the community. We're invested in helping local small businesses. Many are run by people who have been here their whole lives, and can share their knowledge of history with the customer."
Clientele for the rental properties – which are on Wrightsville, Carolina and Topsail Beaches – come from across the country. They're often here for a wedding or family reunion. The area's popularity as a destination includes the many activities available in Wilmington and the environs. Prior to their visit, King or Elliot introduce them to the area. "We handle a lot of questions by phone. Especially for those coming for the first time, we provide advance information and planning to help them feel comfortable."
Some renters are locals who have family coming in for the holidays or other special events. They get a large house that can handle the entire family so everyone can gather in one place.
The properties they represent can sleep from six to seventeen. They all have ocean views; one has a boat slip. Keyless entry systems allow vacationers to go directly to the house rather than an office to check in.
The properties are important, but King said the key is the people. "They're spending a lot of money and coordinating two or three families. They appreciate that when they get here the property is beautiful, and everybody loves it, and they see their money was well spent. These are important events in families' lives. If you can help them to make it perfect, it's very important."
The company is beefing up its marketing through advertising on multiple websites and participating in travel expos and local events. Guests who meet them at an expo and make reservations within 30 days get a discounted rate. They're re-making their website, and promoting the staycation to locals.
To further distinguish themselves, Sea Scape spends a lot of time getting to know their property owners. "They need and want to know the property manager is getting the right guest in place, is spending the time needed to get the property booked and making sure the homes are taken care of," said Elliot. "We know what recommendations to give to home owners if the property needs to be updated and what will make a difference in their bottom line." The better condition a property is in, the better the tenant it will attract, she noted.
They also work with investors wishing to purchase rental properties.
Deciding whether to use a property manager often goes to the bottom line rather than convenience. King said she generally is able to get more from a property than the owner can. "It frees their time, and they're not losing any money in the deal either." Often, the owners do not realize how much of their own time they are spending managing their property.
"Sometimes people don't want to use a property manager because they're afraid it won't be looked after properly," said King. "Especially with vacation home owners, some feel they might lose the personal touch they want for their renters if a management company takes over. As a company, we strive to give that personal touch. Our guests, long-term rental tenants and property owners know we care about their property. We take the time to build a relationship with them." 910-332-7284, seascaperealestate.com