Ho, Ho, Ho-ly Hungry
07 Nov 2019
Where to feast your eyes and stomach this festive holiday season

By FANNY SLATER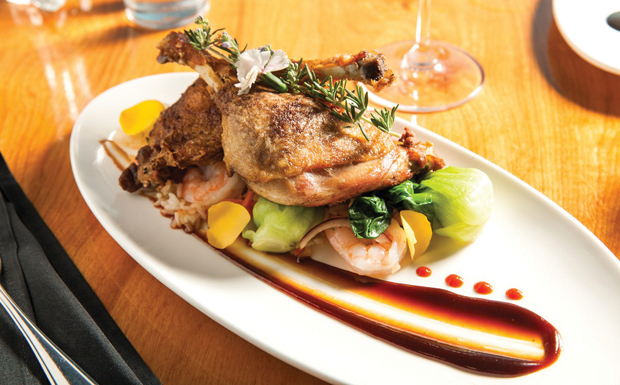 The holidays are upon us, and our beloved city's culinary scene offers no shortage of spots to feast on all the festivities. Aside from the jolly ambiance, many of the restaurants below offer specialty menus, seasonal cocktails, and—of course—decorative declarations of holiday spirit.

So ring the babysitter, dust off your trendiest threads, and save room for dessert. Just ahead: our top twenty picks for Wilmington's most fabulously festive places to dine this holiday season.

Tarantelli's
910-763-3806, tarantellis.com

This Second Street Tuscan trattoria isn't just known for their handmade noodles and slow-simmered sauces. Tarantelli's spacious, brick-walled dining room is doted on for being one of the most majestic places to twirl pasta downtown. Call out for another glass of red as you enjoy live arias sung tableside and watch your spaghetti get tangled to cheesy perfection in a colossal wheel of Parmesan. Lose yourself in pillowy homemade ravioli or go for the signature Ziti Al Forno—a family recipe of ricotta, garlic, and Italian sausage.

Pinpoint
910-769-2972, pinpointrestaurant.com

When it comes to a kitchen that's acclaimed for its use of local, seasonal ingredients–there's no better example than Pinpoint. Perfect for a momentous evening out, this Lowcountry hub centers its menu around regionally-sourced, sustainably farmed fare. Not to mention killer cocktails and a local draft list. Each diverse dish is an experience to behold, and if you don't splurge on the raw oysters with tangy mignonette—you've made a mistake. Another melt-in-your-mouther: the Crisp Smoked NC Catfish with nutty lemon brown butter, silky grits, and tart green tomato slaw.

City Club
910-343-1880, cityclubofwilmington.com

There's no denying that City Club is downtown's classiest members-only establishment. Though it's on the exclusive side, when it comes to dining and private events—joining is worth every penny. Located inside the lovely de Rosset House (one of Wilmington's earliest residences), City Club is notorious for its historic elegance and aptitude for making its guests feel right at home. Holidays bring themed, multi-course meals and seasonal buffets, and the regular lineup includes impeccably-prepared entrees like grass fed beef and mushroom ragout gnocchi with white truffles.

Benny's Big Time
910-550-2525, vivianhoward.com/bennysbigtime

Nothing says happy holidays like hot honey, and Benny's has got you covered. This inventive South Front pizzeria (brainchild of celebrity chef Vivian Howard and husband Ben Knight) became an instant success after opening its doors in 2018, and things haven't slowed down since. The wood-fired pies are epic (I'm a sucker for the The One with the Shrooms), but don't miss insanely bold pastas like the Spaghetti All'Amatriciana with unctuous guanciale, and sharp pecorino. Reservations are key, but if you show up last-minute for a table—pop over to Satellite Bar & Lounge or New Anthem for a pre-dinner libation while you wait.

Catch
910-799-3847, catchwilmington.com

Superior in all-things-seafood, Catch is a no-brainer when it comes to dining somewhere special for the holidays. Not only is chef and owner Keith Rhodes somewhat of a celebrity in the food television world compliments of Hell's Kitchen, the native kitchen genius is also a master of producing edible masterpieces. Bring your friends and saddle up to the Dirty South Oysters on the Half Shell with bacon, spinach, pimento cheese, and butter crunch. For your main: Rhodes' trademark lump crab cakes over velvety root vegetable purée with lobster cream.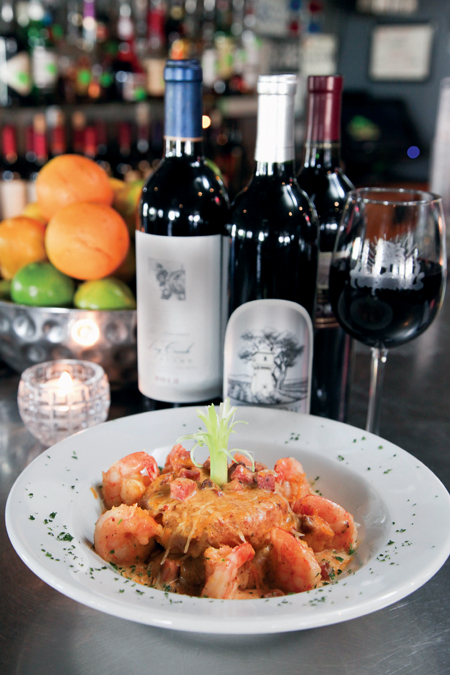 Havana's
910-458-2822, havanasrestaurant.com

Havana's may be branded for its casual beachy vibe and unrivalled brunch offerings, but this cozy CB cottage is equally praised for its ability to dish out an exceptionally jubilant meal. Dig into the magnificent (and multi-award-winning) clam chowder while you bask in the restaurant's decorative Christmas décor and wonder if there are any oyster crackers under the tree. Calories don't count in the winter, so don't be shy. Order the buttery Scallops Casino with applewood bacon or Louisiana Mac & Cheese with andouille sausage and a blackened chicken-shrimp-combo.

Circa 1922
910-762-1922, circa1922.com

A longtime and well-loved staple, Circa is clutch for its distinctive ambiance, reasonably priced small plates, and divinely prepared, globally-inspired entrees. Get out of the chilly hustle and bustle of Front Street between 5–7pmand warm up with five-dollar bar bites like fried okra featuring chaat masala, lime, and crispy garbanzo noodles. For a solid sit-down dinner, be sure to call ahead for reservations as rotating prix fixe holiday menus are as popular as the five-star seafood paella with chorizo and saffron rice.

Cousin's Italian Deli
910-343-3354, cousinsitaliandeli.com

There's one word for the cheer that rings through Cousin's garlic-scented walls during the weekend-only family-style dinners: contagious. Though this unassuming deli is a humble hoagie haven by day, on Friday and Saturday evenings—the tables are outstretched with friends and families feasting and BYOB-ing in their finest attire. From the fresh, oniony bruschetta to the zesty, bottomless salad and pasta-of-the-evening (often perfumed by sharp, salty Parmesan), Cousin's is a dynamite way to kick off the holiday season. Don't wait too long to reserve your spot. They book up faster than you can finish off the Montepulciano.

Dram Yard
910-782-2400, dramyard.com

Dram Yard's thoughtful, progressive provisions are large (not small) plate-style, worldly expressions of unsubtle masterpieces. Whether you're splurging on a fancy date night, treating out-of-towners to a bite in the lavish outdoor garden, or simply looking to casually revel in za'atar-dusted focaccia and cocktails by a firepit with your friends—Dram Yard is your one-stop shop. Chef Kat Myhand is the gastronomic genius behind the kitchen curtain, and you'll want to marvel in every morsel of her enormous, gloriously golden Pork Tomahawk Schnitzel nestled onto herby caper aioli.

Smoke on Water
910-833-5069, smokeonthewaternc.com

If basking in the sunset sights of the Cape Fear River is how you want to wrap up the year, let Smoke on the Water bring you home (and cure your hunger). From dynamite shareables like crispy, duck fat-fried Brussel sprouts doused in parmesan and garlicky green goddess dressing to an epic 14-hour smoked brisket sandwich–this coastal eatery is the answer to your belly's blues. My favorite? Thanks for asking! The unmatched hickory-smoked trout-jalapeno dip dotted with sharp shallots and fresh dill. Yum.

RX Restaurant and Bar
910-399-3080, rxwilmington.com

Hungry for some of the best locally-sourced, seasonal ingredients this time of year has to offer? RX has got the prescription your palate needs. Praised for being one of the Port City's original farm-to-table restaurants, this 5th and Castle supreme supper venue has daily changing offerings and a rotating list of cocktails that are as fresh as it gets. For snacks, the smoky ham, creamy pimento cheese, briny pickles, and fluffy biscuits are a transcendently tasty ode to the south. RX never fails to disappoint with specialty menus, so keep an eye out for what they have up their sleeve this season.

Manna
910-763-5252, mannaavenue.com

When it comes to dressing-to-impress (and enjoying an extraordinary meal), there's no question that this eclectic lounge is at the top of everyone's list. Manna's from-scratch culinary philosophy is centered around American cuisine with a dash of French technique. Every innovative dish, like pan-seared local fresh catch with buttery potato confit and leek-and-lemon glazed veggies, is as artistic as it is delicious. Manna's equally known for their outrageous cocktail game, so don't miss the enchanting libations prepared with house bitters and syrups.


Jerry's Food Wine and Spirits
910-256-8847, jerrysfoodandwine.com

Just on the right as you cruise into Wrightsville Beach, this gourmet gem is awaiting your arrival. Despite the unassuming strip mall location, Jerry's is a beloved locals' paradise for all-things modernized fine dining. It's the idyllic landing zone for holidays, events, and extra-special extravaganzas where the food and wine are the highlight of the evening. The Roasted Bone Marrow with jam, tart pickles, and duck fat toast is out of this world, and the NC Pork Chop with butterbeans and sweet sorghum jus is a regionally-procured piece of heaven on a plate.

Second Glass
910-399-7486, secondglasswinebar.com

If you're craving a breath of fresh air from Wilmington's dining scene, inhale a sultry whiff of Second Glass and exhale happiness. Owner Celeste Glass's knack for eclectic bites and sips are apparent throughout the entire menu, and her impeccable design taste shines through every square inch of the ornate space. The wines are obviously top tier, and the cocktails and brews don't fall behind. As for the food, the airy root vegetable gnocchi and decadent duck fat fingerlings are unquestionable homeruns.

Roko Italian Cuisine
910-679-4783, rokoitalian.com

If a casual-upscale bistro with an intimate feel is right up your alley, make Roko your holiday dining destination. From the friendly, neighborhood atmosphere to the versatile selection of seafood, steak, pasta, and salads—Roko is the place for family traditions and quality Italian eating. Totally fall into the temptation of the homemade cheese ravioli with peppers and onions in a delicate sherry sauce, but save room for dessert. The rich, coffee-scented tiramisu is fearlessly fluffy.

Caprice Bistro
910-815-0810, capricebistro.com

Holidays are a totally acceptable time to indulge, and if you're going to give yourself the slack—might as well splurge on French food. From the chic spread of European fare (butter-bathed garlic snails in Roquefort cream, anyone?) to the posh second floor cocktail lounge, it's no surprise Caprice was named one of the nation's most romantic restaurants. If it's seafood you're after, I can't brag enough on the Mussels Marseillaise and frites—nestled in a white wine broth and laced with lemony fresh thyme. For the real Julia Child experience, keep an eye out for the weekly Beef Bourguignon and ask your bartender to let the finest Beaujolais breathe.

East Oceanfront Dining
910-344-2513, blockade-runner.com/dining-br/east-oceanfront-dining

Housed inside WB's Blockade Runner, this lively waterside landmark is a mecca for meticulously crafted menu items like exotic chicken pho with licoricey Thai basil in a zippy lemongrass broth. When chef Jess Cabo (Hell's Kitchen star and culinary extraordinaire), grabbed the reigns, the direction of East's creative, global cuisine took a turn for the awesome. Cabo's polished dishes rely heavily on regionally ingredients, but draw inspiration from Mexico, Asia, and California. Snag a seat near a palm tree and a spoonful of bacon-collard dip and you'll think that Christmas came early.

Brasserie Du Soleil
910-256-2226, brasseriedusoleil.com

Brasserie's Parisian spirit and extraordinary European delicacies are just the beginning of their charm. This Lumina Station bistro not only boasts an extensive lineup of classic French fare, but they've got the digs to back them up. The dining areas embody the charm of a faraway land, and the helpful staff is never without a smile. Paté, escargot, steak au poivre, bouillabaisse? Yep, they've got that. Seriously though, the Bouillabaisse (a saffron-infused broth brimming with fish, mussels, and clams) is a trusted treat that will whisk you straight to Marseille.

Double Happiness
910-313-1088, 910-686-1988, chinesedoublehappiness.com

So nice you'll want to eat it twice, Double Happiness is like a snuggle for your stomach and a hug for your soul. If you thought that Chinese food was only meant to be devoured from the comfort of your couch, think again. This distinguished Asian eatery takes familiar flavors and elevates them with a modern flair. The enormous meals (and sake bombs) are meant for sharing, and the authentic oriental floor seating makes for a memorable experience. Dim Sum is a must-have, and the blazing Firecracker Chicken in Szechuan red chili pepper sauce is worth every sweat bead.


Port City Chop House
910-256-4955, chophousesofnc.com

What's more mouthwatering than a bone-in ribeye with all the fixins? PC Chop House is an obvious date-night choice for Wilmingtonians, but the relaxed atmosphere caters just as well to patrons seeking a casual evening with friends. Gather around the outdoor fireplaces with the other hungry guests while you await your Certified Angus Beef. If red meat isn't your thing—the Seafood Sampler with jumbo shrimp, oysters Rockefeller, oysters on the half shell, and jumbo lump crab meat with honey aioli is sure to satisfy.