Holiday Fashion
09 Nov 2014
The holidays are upon us! We've gathered some festive styles of the season, from casual to cocktail-ready.
PHOTOGRAPHER: Mira Adwell FASHION STYLIST/EDITOR: Kristin Wood STYLIST ASSISTANT: Bonny Allison MODELS: Kady M. with Marilyn's Model and Talent, William Haywood with Locke Management, Kingsley Dunn HAIR AND MAKEUP: Amy Kennison LOCATION: Downtown Wilmington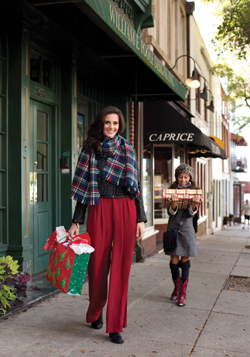 Out & About Town
This season leather remains the perfect complement to any ensemble. During a long day of gathering gifts, a simple leather jacket can keep you feeling stylish and put together. Paired with an easygoing jumper and a warm wool scarf, this look can transition from shopping to stopping in to meet up with the girls.
Fate quilted leather jacket, $88; Ya Jumper in red, $48; plaid scarf/shawl, $36, at Island Passage Elixir.
---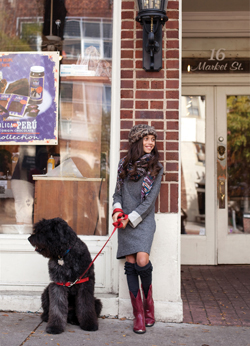 One Stylish Little Gal
Check out your favorite shop for the sweet petite! A bold patterned scarf, a fun hat, even a cute fringed bag or flirty knee socks can make her feel like a day out with you is the only thing she'll want to do!
Free People high socks, $28; Free People Leopard Co. hat, $48; paisley scarf, $24; FC jeans in light grey (can be worn as a girl's dress or woman's tunic), $125; leather fringe purse, $46, at Island Passage Elixir.
---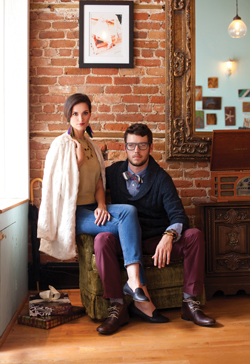 An Attractive Look for the Casual Couple
Keep your relaxed holiday fashion in vogue with the perfect pair of jeans and a chic coat for her, or a great bow tie with a handsome sweater for him, combined with a few key accessories.
Women's ensemble: Minkpink Powder Room coat in ivory faux fur, $162; Res Denim Wanda denim, $106; Leslie Fay Leslie Sweater in gold from the Missing Pieces Collection, $28; Signature feather earrings (customizable), prices vary (check store for details), all at Edge of Urge.
Men's ensemble: WESC Obama cardigan, $135; Original Penguin Color Block oxford, $89; Penguin PSS chinos, $89; Bed Stu Bryden boot, $110; Sewn to the Bone bowtie, $50; Komono watch, $100; Proof eyeglasses, $120, all at Bloke Apparel.
---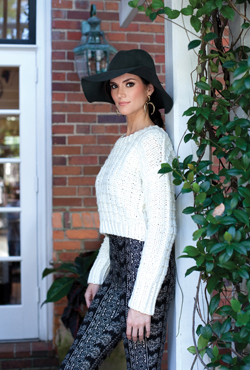 Throughout the Season
We adore beautiful days with a slight nip in the air. What could be better than a cozy sweater and an ultra-stylish wide-brimmed hat when outside enjoying this festive season?
Mono B Roam bell bottoms, $34; JOA Los Angeles Fireside Sweater, $75; Gold Horseshoe hoops, $12, all at Hallelu; Zima wide-brimmed wool hat in grey, $46, at Edge of Urge.
---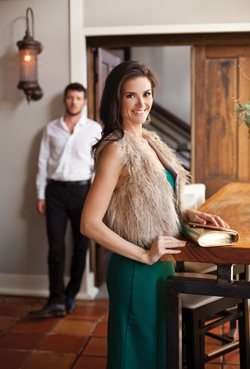 Any Evening Out
For those nights out when you're not expected to entertain, relax with a cocktail and effortless attire. This simple fitted dress and a quick faux fur vest keeps it simple and chic.
The Mermaid Maxi dress, $60; Yeti vest, $69; metallic clutch, $32, all at Aqua Fedora.
---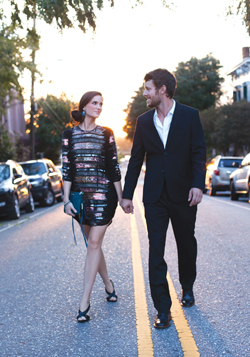 In The Moment with Your Holiday Best
The decorations are hung, the party is hopping and you can hear the music in the street… time for the holidays at their best! A little sparkle is always a good thing, and sequins are a go-to. His look is always perfection with a great suit and a crisp white shirt. Enjoy this special time of year and have fun with friends. You're always stylish with the ones you love!
Women's ensemble: Michelle dress, $396; Moto Rocker‐Petrol clutch, $165; Oval Double Skull ring, $288; Sinead bracelet, $341; Tahiti earrings, $350, all at Oliver.
Men's ensemble: Personal Jesus blazer, $199; Personal Jesus pant, $99; Hidden Placket shirt, $103, all at Oliver.