Hops Supply Co
29 Mar 2014
5400 Oleander Drive, 910-833-8867, hopssupplycompany.com
By LIZ BIRO » Photos by JAMES STEFIUK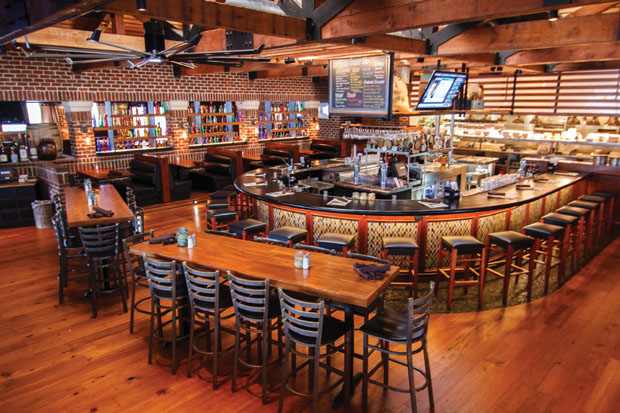 A couple of London restaurateurs looking to elevate the dining experience at British drinking houses in 1991 combined the words gastronomy and pub. The rest is delicious history that eventually found its way to Wilmington.
That London pair coined the term "gastropub" to indicate a place that served food well above typical pub fare such as peanuts, chips, pickled eggs and steak pies. They enhanced the menu but maintained the reasonable prices and casual atmosphere that have kept pubs popular since the first ancient Roman taverns in Great Britain.
The gastropub idea took off quickly in America, as evidenced by a recent Sunday brunch crowd at Hops Supply Co. American Gastropub in Wilmington.
As a solo guitarist strums Americana music, couples, families, singles and friends laugh and converse all around the exposed-red-brick dining room.
Some gather at tables and comfy booths near window walls and shelves full of colorful wine bottles and growlers. Many sit at the horseshoe-shaped bar, illuminated by skylights above the ceiling's exposed maze of redwood beams.
Beer lovers have a long list of decisions to ponder: wheat, lager, IPA, ESB, ale, amber, cider, stout. Should they choose a North Carolina beer, consider a flight of beer tastings or sample a beer cocktail.
And then there's the wine, four whites and four reds – on tap, a system that protects wine from air and light, thereby assuring oenophiles that each glass will taste as it should – as well as many bottle choices.
Craft cocktails are yet another option, perhaps a barrel-aged Manhattan with Elijah Craig 12-year-old bourbon and brandy-soaked cherries or the drink named Daddy Issues, a blend of Catdaddy Moonshine, amaretto and fresh-squeezed orange juice.
Nearly every seat in the house has some view of the open kitchen, which exudes aromas that remind diners of more choices: French toast baked with local honey; tender fried chicken on a soft black pepper biscuit with smoked ham gravy; a BLT with cheddar, pesto aioli and a fried egg tucked between the bacon, lettuce and tomato – and that's just the Sunday "brunch all day" menu.
The lunch and dinner menus, priced at $7 to $15 (brunch stands at $7 to $9), present more delicious selections, from pimento cheese and bacon deviled eggs to barbecue braised short rib nachos to creamy macaroni and cheese full of shrimp and Andouille sausage.
"Craft beer, craft cocktails, superior wines, and a culinary experience that focused on fresh simple ingredients," was the idea LM Restaurants owner and president Lou Moshakos had when he decided to develop Hops Supply Co. in 2012.
Hops' 24 beers on tap emphasize N.C. suds such as impressive Mother Earth green brewery's Dark Cloud, an old-fashioned Munich Dunkel-style lager made in Kinston and Huske Hardware Sledgehammer, an Imperial oat cream stout made in Fayetteville.
"I have the best job," Hops beer manager Joe Bush said of duty that requires he regularly select brews. One tap, the Rotator, changes weekly, monthly and sometimes more often. Can and bottle lovers get nods with classics like PBR and Rolling Rock or curious sharp and caramelly Green Flash Hop Head Red.
Some of the beers season the comfort-food preparations that chef Tiffany Eslien favors. The Wisconsin native, who graduated from Johnson and Wales culinary school in Providence, R.I., might braise short ribs and pork belly in beer or incorporate beer into soups. Grilled Bistro Steak comes with a dark beer reduction sauce accompanied by asparagus, forest mushrooms and mashed potatoes.
The brew Eslien chooses depends on her imagination and the changing seasons that constantly inspire menu ideas.
"We focus a lot on fresh and North Carolina ingredients," Eslien said. "We like to do twists on a lot of our specials. We want to keep it simple but we think, 'What can we do different?"
Eslien's pasta is one for-instance. Smoked chicken, spinach, mushrooms and roasted tomatoes go into her alfredo. A Bolognese-inspired pasta melds a large portion of cabernet-braised short ribs with asparagus, roasted tomatoes, roasted red pepper pesto and parmesan and jack cheeses.
Sandwiches are especially popular, whether the house-smoked turkey on wheat, the brie-and-bacon-stuffed burger or the Chicken 'n Brie Orchard Sandwich stacking fresh apples, baby spinach, red onion, garlic aioli and sweet chili peppers on French bread.
The roasted beet salad with mixed greens, goat cheese and candied walnuts or the salmon salad with strawberries, green apples, walnuts, red onion, blue cheese and balsamic dressing give diners a license to check large cookie jars by the front door or order the brownie sundae. The latter is garnished with dark beer fudge sauce, chopped pretzels and chopped Kit Kat candy bars, all under a Chantilly cream crown.
Sunday brunch all day feels like a special event, but brunch is served 10:57 a.m. to 3 p.m. on Saturday, too. Lunch and dinner menus are served daily.
Out-of-the-ordinary occasions happen lots of times at Hops Supply Co. A recent bourbon dinner featured five pours. The "porktastic" drink menu at a Bacon Bash dinner showcased creamy chocolate martinis made with bacon vodka. At one beer dinner, Eslien shared recipes.
Diners may learn about Hops events online at www.hopssupplycompany.com or, while they're at the website, by signing up to become part of the Hops Head Guild. Members receive email alerts not just about special tastings and dinners, but they also receive exclusive invitations.
"It may be a dessert that only our Hops Head Guild members will know to order or an invitation to an after-hours beer cask party," according to the Hops Supply Co. website.
The 279-seat restaurant, in mid-town Wilmington not far from Wrightsville Beach, includes a 75-seat space available for private events, anything from intimate baby showers to large meetings or rehearsal dinners.