Hunkered and Hungry
06 May 2020
Port City eateries persevere despite the pandemic

By FANNY SLATER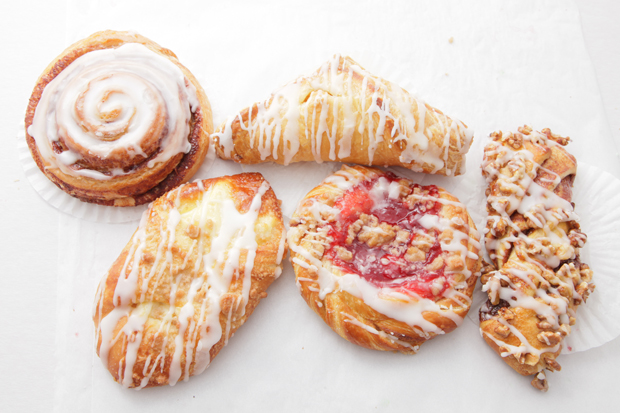 COVID-19 can shut down our dining rooms, but it can't close the hearts or take away the spirit of this culinary community. From flying grilled cheese sandwiches to softshell crabs served curbside, every food and beverage establishment has adapted in its own way.

We salute the many restaurants who have chosen to close their doors in this critical time, as well as those listed below who have hunkered down and safely hustled on.

Here's your cheat sheet of who's still open.


Apple Annie's
910-799-9023 | appleanniesbakeshop.com

For nearly forty years, Apple Annie's has been Wilmington's most beloved bakery—providing our town with everything from strudels to sourdough to customized wedding cakes. Although their practices have changed during these uncertain times, their mission of uplifting the community's spirit through outreach (and of course, the finest edible art) has stayed the same. Curbside pick-up, online ordering, and delivery are available for their full product line, and Apple Annie's dedicated team members are on-site to walk customers through the process via phone. If, like many others, you're dusting off the rolling pins in your own kitchen—you'll love Apple Annie's new DIY options. The cupcake decorating kits, cookie mixes, and take & bake treats (like their famed cinnamon croissants worth every calorie) are delicious activities for the whole family.
Block Taco
910-399-2796 | block-taco.business.site

Though Block Taco began as a compliment to its adjacent South Front neighborhood bar, Satellite, in 2017—the hip eatery quickly cultivated its own faithful audience of fans. Also, it's hard to miss the led-lit 1981 Toyota Corolla sporting a multi-colored donkey on its roof. With consistent COVID updates flowing through their website, Block Taco has kept everyone in the loop regarding shifting hours, UberEats delivery, and curbside pick-up (though they were already experts in that category). The modest, fast-casual menu of modern Mexican street food remains at the highest level of freshness. Coffee and cinnamon-rubbed carnitas braised in Colt 45 (well played, sir) with caramelized onions are a meat lover's paradise, while veg-heads go gaga for the crispy Brussels sprout taco with pumpkin seed salsa and chile-toasted pecans.
Catch Restaurant and Catch the Food Truck
910-799-3847 | catchwilmington.com | catchthefoodtruck.com

With an outspoken, perpetual love for his community—Chef Keith Rhodes is predictably doing all he can for the Port City in this period of need. And when it comes to wants vs. needs, there's no question about it—we need his crab cakes. From easy online ordering (featuring half-priced bottles of wine) to delivery through several apps, Catch's contemporary southern seafood is still as bountiful and off-the-hook (pun intended) as ever. Rhodes is even taking it upon himself to feature classic Asian takeout items—outfitted with his signature fusion flair—like golden-fried shrimp with wontons and Chinese roast pork with Carolina gold rice and sweet soy. Craving some of the hometown chef's usual suspects? Catch's always-popular crispy calamari, parmesan-dusted Brussels, and even seasonal soft-shell crabs are all still on the guest list.


CheeseSmith Co
910-231-0808 | cheesesmithco.com

My love for this spunky sandwich truck is undeniable and I have no doubt you all feel the same way. In a time when the world is desperately longing for comfort, Molly and Brendan Curnyn have showed up anything but empty-handed. Although—does it count as using your hands if the delivery was dropped off by a drone? That's right, the CheeseSmith duo actually transported one of their famous handhelds via unpiloted aircraft. Flying grilled cheese? That's a bizarre 2020 occurrence I think we're all okay with. Through the help of their new to-go website (cheesesmithtogo.square.site), they've made it wildly simple to safely pass out patrons' familiar favorites. I don't stray from the buttery Buffalo Baby, but The Duke with house-made pimento cheese comes in at a close second.
Chicken Salad Chick
910-613-6605 | chickensaladchick.com

Reaching surrounding neighborhoods and communities through large mobile curbside drop-off (about five locations per week), catering, and delivery through Door Dash—this chicken salad hub ain't callin' it quits anytime soon. Got a hankering for a scoop of old southern tradition? Try your CS Olivia's-style with sweet pickles and chopped egg. In the mood for something savory? The Barbie-Q is a hickory-smoked taste of Carolina that will have you coming back for more. Wilmington's own Chicken Salad Chick is even brightening up everyone's quarantined suppertimes with special items like Quick Chicks and Family Meal Packs. Don't forget to help them feed the frontlines through their 'donate a meal' initiatives where you can spread the chicken salad love around. Download their app for more info.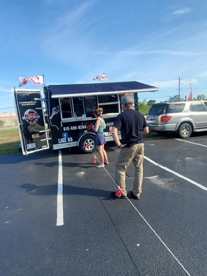 The Copper Penny
910-762-1373 | copperpennync.com

Though you can't currently belly up to the Philly-themed bar while waiting for your provolone-smothered Chestnut Chicken Sandwich, you can still order Copper Penny's sought-after pub grub for curbside takeout. Modified menu selections like their award-winning jumbo wings, melty cheese steaks, and juicy Angus-short rib burgers are still available and in need of empty bellies. Got four of those at home? CP now offers rotating family-style meals (think: smoky sausage trays with peppers, onions, and roasted potatoes) on Fridays and Saturdays after 5 PM. From giveaways to healthcare workers to gift card raffles, this cherished downtown saloon is giving back in any way they can. See you soon, CP, for Tropical Lightning on draft and shared baskets of sweet potato fries.


Drift Coffee & Kitchen
910-679-4374 | driftcoffee.kitchen

Drift set the coffeehouse bar mighty high when they donated limited-time breakfast and lunch bowls to healthcare professionals. Now, through the launch of their very own order-ahead loyalty app, they've made grabbing a green tea as easy as pushing a button. Like many other social hot spots, this vibrant brunch-and-beans café has had to close their storefront for the time being. But don't fret—the staff at Drift is still showing up for their regulars in every way possible (even if that means dishing out avocado toasts completely contact-free). Self-isolation got you hurting for a ham, egg, and cheese toasty on brioche and a foamy chai tea latte? They've got you covered. Stay tuned to Drift's social media to keep up with the varying hours at both their Mayfaire and Autumn Hall locations.
Folks Cafe

All hail the much-needed-caffeine crusaders during this crisis, and no one serves up fresh roasted Sumatra with a smile better than the folks at Folks. Owners Juan and Tammy Pacini have been pouring the love into Wilmington for years and their small batch, fair-trade, organically roasted brews are as soul-soothing as the couple themselves. Whether you're longing for their savory empanadas, swirly, icing-drizzled baked goods, or a pound of their perfect beans (whole, or roasted and ground daily)—the Folks' family is showing up to make sure you get your fix. Pick-up (or delivery) is up for grabs Monday through Friday, and call ahead to talk customized blends.
For the Shell of It

Thanks to mobile eateries already being super compatible for takeout (and food trucks like For the Shell of It), Hampstead and Wilmington locals don't have to go without authentic New England lobster during this crisis. From velvety bisque to buttery rolls and creamy mac and cheese, this coastal seafood staple has been blessed with continued opportunities to crank out food and give hard-working employees a raise. Keep an eye out for Shell of It in your neighborhood common areas (where they're doling out dinners) or at partnering bars and breweries who have also implemented carryout and curbside pick-up. Though they're cautiously avoiding pre-orders that elicit a crowd, careful social distancing procedures are set in place so customers have the option to be spread out in line or wait in their cars.
K-38, tower7, and KBueno (Live.Eat.Surf.)
liveeatsurf.com

While it's slightly devasting to not be able to dive into a salty basket of freshly-fried chips and limey, scallion-speckled pico at Tower7's beachy bar, you can still enjoy the restaurant's zesty Baja cuisine in your own home. Bowl of gooey queso? Dos Equis-battered fish tacos with yogurt ranch? You got it, brah, and you can still get it all through curbside pick-up or drop-off from Cape Fear Delivery. Devoted fans of the Live.Eat.Surf brand jumped for joy when they heard that K-38 Porters Neck, K-38 Oleander, and Tower 7 Baja Mexican Grill were still whipping up their notoriously tasty Tex-Mex. I dig washing down the Malibu Shrimp Taco with one of their citrusy, hand-crafted margaritas—which PS. they're now offering to-go as a mix (sans tequila) by the pint. What are you still doing here?
The Lazy Turtle Oceanfront Grille
910-278-7725 | @LazyTurtleBarandGrill

Up until the town of Oak Island announced it was closing its public shores, the crew at this tropical waterfront hangout was going above and beyond to extend its southern American fare to the locals. Who wouldn't want a basket of coconut shrimp brought directly to their Tommy Bahama beach chair? Although Lazy Turtle's ardent team members have had to back off the sandy-toed drop-offs, the laidback eatery is still open for carryout and regular delivery. Coronavirus couldn't cancel Fish Fry Fridays at the Turtle, and daily specials like appetizer trios, wings by the pound, and seafood feasts are all still on deck. Not so lazy after all, LT. Hats off to your steadfast hustle.
Rosalie's Trattoria
910-399-5769 | rosaliestrattoria.com

Nothing screams "sit on your couch in your sweatpants" like a mouthwatering tower of marinara-drenched lasagna and buttery garlic knots appearing at your front door. Rosalie's Trattoria may have only hit Market Street in late 2018, but this family-owned Italian hub has quickly climbed the charts as a top comfort food contender. In addition to being incredibly active on social media since the outbreak, Rosalie's owners have been pulling out all the stops with mega lunch and dinner discounts like two entrees for $5 off or four for $15 off. The pizzas are exceptional, portions are abundant, and everything from the in-house sauces to the soups, dressings, desserts, and wait for it—handmade mozzarella are still available. Mangia!
Rebellion
910-399-1162 | rebellionnc.com

Despite many other surrounding downtown establishments indefinitely closing their doors, Rebellion has relentlessly pressed on in all kinds of creative ways. The delightful dudes behind this whisky-walled bar have taken it upon themselves to dish out their imaginative gastropub grub in new forms—like epic family meals consisting of ready-to-cook ribeyes or smoked adobo chickens. Side of toilet paper or disinfectant spray bottle, anyone? Yep, they're even selling hard-to-find supplies. I personally melt into a puddle for their mac-and-cheese divinely dressed with Gruyère Mornay. For that Sunday Funday buzz we've all been missing, Rebellion is rocking out a "weekend Bloody Mary kit" equipped with a house-made mix, zesty rimmer, and cocktail olives. Follow along with their Facebook and Instagram to stay up to speed. Until we meet again, Mornay.
Savorez
910-833-8894 | savorez.com

Even a global pandemic can't slow down Sam Cahoon. The Savorez chef and owner is not only maintaining his regular menu for curbside carryout and home delivery—he's still meandering to fish and farmer's markets to avidly support those who do the firsthand sourcing. The bold Latin eatery is a North 4th Street treasure, and if you haven't tasted their Langousta Y Coco (lobster ceviche in a brain-altering citrus-coconut ginger marinade spiked with habanero), now is the time. Epic, ever-changing lunch specials (like a smoked tuna salad melt on grilled Cuban bread with bacon jam) are only the beginning. For dinner, how does blackened shark with goat cheese cream sound? There's also been plenty of softshells to go around.