Southwest Meets Farmhouse
06 May 2020
Putting the finishing touches on forever with Big Sky Design

By CHRISTINE HENNESSEY » Photos by MEAGAN FORBES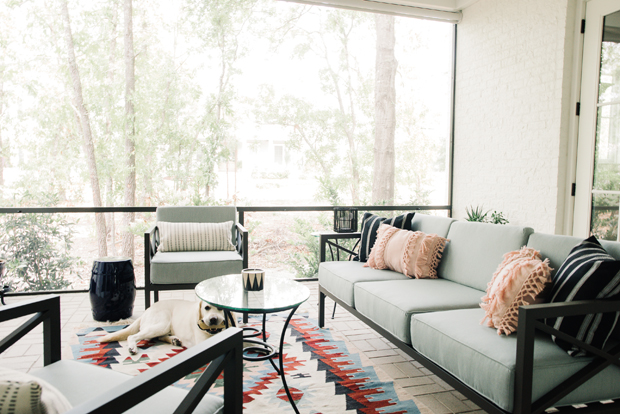 After years of working and living all over the world, Yvonne and Tim Kroenke moved to Greensboro, North Carolina for a job position. "We lived in Greensboro for the longest part of our marriage," Yvonne says. "That's where our two daughters went to middle and high school. When they were in college, we started thinking about our last and final move."

Yvonne had spent the first 20 years of their marriage living wherever Tim's career led them, so when it was time to build their forever home, it was her turn to choose. "He wanted to honor me and move to a place that I loved," Yvonne says, "and I love the beach." During their time in Greensboro, they frequently visited Wrightsville Beach and it seemed like the perfect place to spend their golden years. "You have Wrightsville Beach and Wilmington, lots of things going on downtown and at the beach and everything comes with that."

Active and adventurous, the couple wanted to live in a part of the city where they could enjoy everything the area has to offer, from training for triathlons to taking surf lessons. They ended up building a house with Bell Custom Homes in Autumn Hall, right off the Gary Shell Trail and less than four miles from the beach.

"Building a house is a long process," Yvonne says. After the build was finished, she was eager to settle in and interviewed a few local designers to help them get their forever home over the finish line. They found their perfect match in Big Sky Design.

A Chance to Go Big

Big Sky Design has been in the interior design business for 24 years. Led by owner Jennifer Kraner, their work is evenly split between residential and commercial work. "We are client-driven in our design process," says Rileigh Wilkins, Big Sky Design's Shop & Studio Manager. "We have a range of designers with a variety of backgrounds and experiences, so we can tailor our design to our clients and not the other way around. From the start, we get to know our clients' lifestyle, what's important to them day to day, and how they want their homes to feel and function."

Big Sky Design accomplishes this through a questionnaire and a walkthrough of the space. They want to hear, in the clients' own words, things like how they plan to use the space, whether they entertain often, if they need a spot to read quietly, room to entertain friends, or maybe an art collection that's important to them. "We put together a design concept based on what we learn from these conversations and where we think the project should go, taking what they told us and putting our ideas and thoughts into it," Rileigh says. After that, it's just a matter of bringing the vision to life.

Yvonne and Tim were impressed with this process, and it was one of the reasons they ultimately chose Big Sky Design. "From the first conversation I had with Big Sky Design, I could tell they were different from other designers," Yvonne says. "They were more personable, willing to come into our house and meet with us without a fee. But even before that, they had me fill out a questionnaire which really helped me focus. Bethany and Rileigh came in and talked with Tim and me, and that said a lot. It felt like a relationship, not a client or a job. If they were going to put that kind of time into the beginning of a project, I felt like they would take care of us throughout the whole process. And that's exactly
what happened."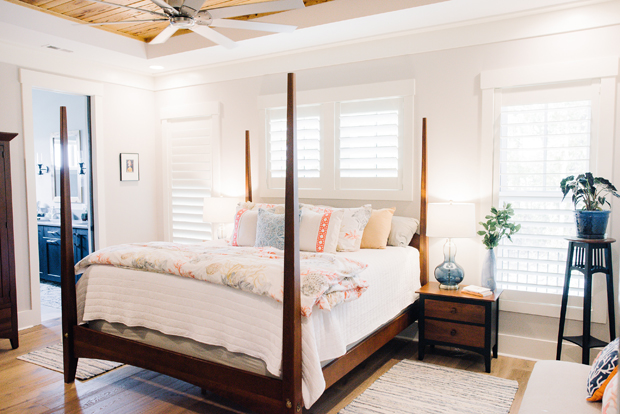 "Another great thing about Big Sky Design is that they also have Big Sky Shop & Studio," Yvonne adds. "We wanted some bigger pieces, a dining room table and rugs, as well as help with smaller pieces, like end tables and lamps." In an effort to serve all scales of client projects, the Big Sky Shop & Studio was born. "We've sorted through our broad range of resources to curate a list of tried-and-true vendors that offer quality product at reasonable prices and ship quickly," shares Interior Designer Bethany McLaughlin. "Through our collaborative approach to design, Rileigh and I were able to source a variety of items that fit their style and needs yet could be installed quickly." For the Kroenkes, who wanted to settle into their home sooner rather than later, Big Sky Shop & Studio was the perfect answer.

An Open Invitation

While the Kroenkes had built custom homes in the past, it was always with the intention of reselling them later. Their Autumn Hall home was their first time building and designing a home purely for themselves and their lifestyle. This created new opportunities and also new pressures. "Knowing it was our forever home made it a lot harder," Yvonne says. "You have to think, this is it! Trying to get all our wishes into one house was difficult."

One of those pressures was the overall "theme" of the house, which created an opportunity for compromise. "Tim loves the west but I love the beach," Yvonne says. "We ended up with a design that Big Sky describes as 'southwest meets farmhouse'. They got it right!" The final look and feel is that of a modern farmhouse with western flair, a perfect balance of Yvonne and Tim's separate styles.

Although the couple had different ideas of how the house would look, they were in complete in agreement about how it should feel. "Warm and inviting," Yvonne says.

Rileigh enjoyed finding ways to work these feelings into the home through touches big and small. "The style of their home is clean and modern. Black frame windows, industrial style lighting, lots of neutrals and wood. Our concept was to incorporate their personality and their travels into the overall design."

One of the biggest ways they accomplished this was by focusing on the Kroenkes extensive art collection. During their years of travel, the couple collected art from all over the world, including pieces from the United States, Europe, Africa and South America, resulting a colorful and eclectic mix of work. "They had so many pieces of beautiful pottery, artwork and artifacts, and we wanted to show that off," Bethany says. "A lot of it had accents of cobalt and honey, and those were Yvonne's favorite colors, so we incorporated those throughout the house."

One example of this is the beautiful custom bench that provides plenty of extra seating and a pop of color. Centrally located between the open kitchen, dining and living room, Yvonne and Rileigh had a lot of fun picking the fabric out together. "We played around with fabrics and chose a beautiful pattern that has deep indigo, cobalt, and honey colors that we both loved," Rileigh says. Unique touches such as the cushion, textured pillows, and custom window treatments offered a perfect opportunity to bring pattern and color into the home.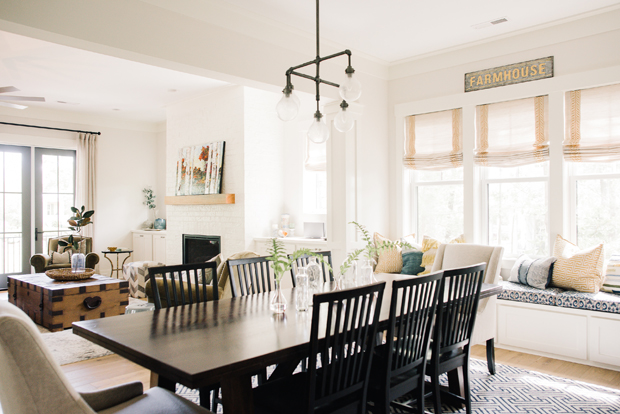 While color and pattern were important, the ability to share their space with others was the ultimate mission. "We love family, and close friends are like family to us," Yvonne says. This was something the team at Big Sky Design took into account and made sure to prioritize. "Our goal was to create a space that would be warm and inviting for company," Rileigh says. "It was really important to get that right."

And get it right they did. The Kroenkes have been living in their finished, furnished home since December of 2018, and they absolutely love it. The dream they had of a warm and inviting space in which they could live, work and entertain has come true in all the best ways. From hosting a life group and monthly prayer meetings through the Bridge Church, to entertaining family in their ample guest space, to sitting in the common area and enjoying the beautiful colors and custom touches such as their window seat and draperies, they could not be happier. "It feels warm and cozy," Yvonne says. "It feels like family."

While Yvonne and Tim are enjoying life in their forever home, Big Sky Design is preparing for their own new beginning. After a few years of growth, the firm is transitioning to a new location. "We've been on Masonboro Loop Road for twenty years," says Rileigh. "But later this summer, we'll be moving into a new space in Bradley Station, on Oleander." The new space will include 4,000 square feet of amazing furnishings, lighting, accessories, and even unique gifts to take home with you. "Beyond the items available on the floor, you'll have the opportunity to dream alongside our experienced design team to find or build that piece that will bring daily joy and inspiration to your home," Rileigh says. "I don't want to give too much away, but it'll be unlike anything else out there. It will be an experience."